For senior business student Febin Bellamy, attending a school like Georgetown was never a given. Having graduated from high school in the bottom ten percent of his class, with a 1.2 GPA, Bellamy spent two years at a community college before transferring to the selective institution.
When he arrived on Georgetown's Washington, D.C. campus, Bellamy was determined to make the most of the academic opportunity. That meant spending late nights finishing assignments and studying for exams in Georgetown's McDonough School of Business.
Chance would have it that at the same time Bellamy settled into his preferred table each night, university maintenance worker Oneil Batchelor would enter the building to begin his overnight shift. The men took notice of one another from afar, but each shied away from saying a first hello. After a few days, Bellamy worked up the courage to introduce himself to Batchelor—a man he would soon consider a close friend and who would inspire a campaign that would change several Georgetown University workers' lives forever.
As the nights passed, Bellamy was surprised to learn that Batchelor had immigrated to the United States from Jamaica and had dreams of opening his own catering business—an entrepreneurial spirit not so different from the student's own. Bellamy discussed his own experience of re-adjusting to the United States after spending most of his life in India, and thus formed a common bond. Where he once saw an invisible worker, Bellamy was pleased to discover an individual with a story as complex and aspirations as commendable as his own.
Inspired by his new friendship, Bellamy started a Facebook page titled Unsung Heroes, with the aim of promoting awareness and appreciation for the under-acknowledged individuals in the Georgetown community—the men and women who work behind the scenes to ensure the university's famed hilltop runs smoothly.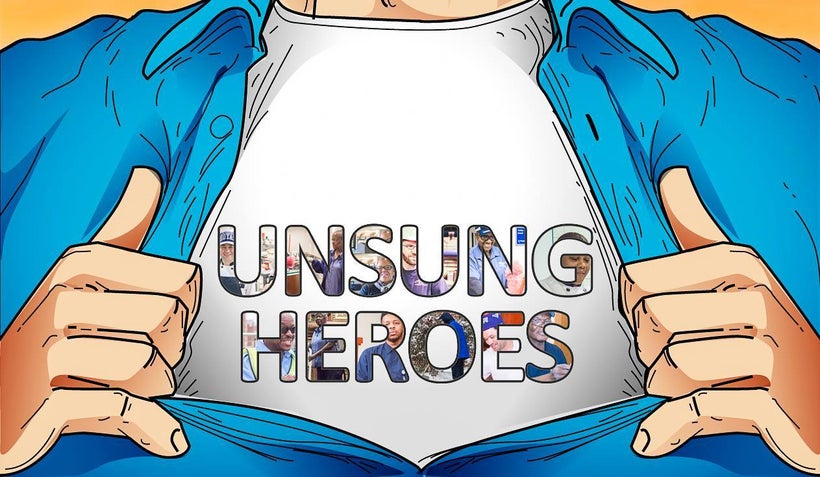 "These workers often do not get the appreciation they deserve, despite the fact that many of them have a high level of responsibility to care for our campus. Our university would not be running without them," said Bellamy.
In a style similar to that of the popular Facebook page, Humans of New York, Unsung Heroes features the portraits and stories of Georgetown University janitors, construction workers, food workers, bus drivers, custodians, utilities workers and security guards.
Each interview aims to glean a piece of information that will humanize the faces students see as they walk around campus.
"When we talk to workers, we try to talk to them one-on-one, once they have finished their shift. We start with what role they occupy at Georgetown, move to more personal questions, and end with what advice they would give to students. We try to facilitate an environment that makes them comfortable sharing their stories," said Bellamy.
Since Unsung Heroes launched last year, the Facebook page has racked up nearly 8,000 likes, with each individual post garnering more social interaction than the last. More than twenty heroes' stories have been told, and another eighty or so remain in backlog.
Oneil Batchelor's story has been viewed over 22,000 times on Facebook. It moved one group of Georgetown students so much that they reached out to resources on campus and raised over $2,500 to contribute to Batchelor's dreams of running a successful catering business. To spread the word, the same students hosted him for a catering event in a popular spot on campus.
"I've never felt so appreciated. The students showed me so much love," Batchelor said.
Georgetown students' commitment to help make university workers' dreams a reality didn't end there.
When students found out that "Unsung Hero #17," Umberto "Suru" Ripai, a food and service worker at the university's dining hall, hadn't been home to visit his family in Southern Sudan in almost 45 years, they quickly started a GoFundMe campaign to buy Ripai roundtrip tickets home. By the time the money was awarded to him a few short weeks later, more than 328 members of the Georgetown community had donated $6,031, far exceeding the campaign's $2,000 goal.
Upon receiving his life-sized check for the amount, Ripai was brought to tears.
Bellamy is ecstatic with Unsung Heroes' success. In the future, he hopes the organization will spread to other Washington, D.C. universities—perhaps George Washington University or American University, he suggests. In the meantime, Bellamy and the team he has amassed plan to keep shining a light on the incredible human beings who keep Georgetown University running day-in and day-out.
"This project has taught me that everyone has a story, no matter who you are or where you come from. Even though we may not be from the same socio-economic or cultural backgrounds, we all have things that bring us together."
Febin Bellamy knows what it's like to be given the opportunity to make your own life better. And now he's inspiring the Georgetown University community to give that opportunity to others.
Calling all HuffPost superfans!
Sign up for membership to become a founding member and help shape HuffPost's next chapter
This post was published on the now-closed HuffPost Contributor platform. Contributors control their own work and posted freely to our site. If you need to flag this entry as abusive,
send us an email
.