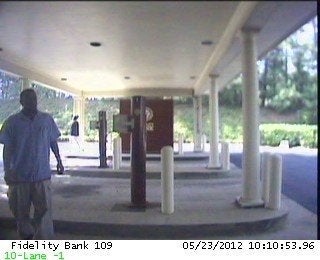 Two OB/GYN clinics in Georgia that suspiciously caught fire this week appear to have been the victims of arson, the Federal Bureau of Investigations said in a statement Wednesday night.
On Wednesday morning, firefighters were called to Alpha OB/GYN in Marietta, Ga. after smoke began billowing out of the building. The firefighters cleared the fire in about 20 minutes and nobody was hurt, but a spokesperson for Cobb County Fire and Emergency Services told The Huffington Post that the building had been badly damaged.
"Pretty much all of the third floor was severely burned, and the second had a lot of water and smoke damage," said Denell Boyd, the department's public information officer.
While the police department has yet to apprehend a suspect, employees of the clinic told Channel 2 Action News that two men went upstairs and then left the building minutes before the fire was discovered. The FBI has released surveillance pictures of a man they said is a person of interest in the case, who they described in a press release as "a black male, approximately 5'10 - 6'1, wearing a blue polo shirt with an emblem on the left chest, and khaki pants seen in the vicinity talking on a smart phone."
Another fire was reported at an Atlanta clinic, Atlanta Gynecology and Obstetrics, at 4:20 a.m. on Sunday, but it is unclear whether the two incidents are related. FBI officials said the front window of the clinic was broken, and a police dog indicated that an "incendiary substance" was in the building.
The Georgia Obstetrical and Gynecological Society reported a burglary earlier this year, in which two laptop computers that contained private information about the group's members were stolen from its office. A nearby jogger told investigators at the time that he saw a black man in his mid-to-late 30s, about 6 feet tall and 250 pounds, run out of the closed building with a black bookbag and flee down a hill.
A worker at Alpha OB/GYN told HuffPost that the clinic will be up and running again next week and that none of the workers there are intimidated by protests, threats or violent attacks.
"We're going to have stricter surveillance, and we're just going to keep treating patients with respect and dignity," she said. "Their end result will be the penitentiary, and ours will be maintaining patients and taking care of them."
Popular in the Community