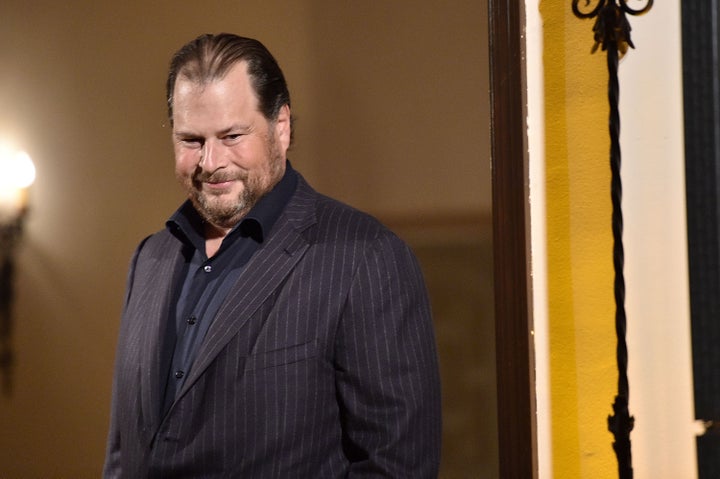 Salesforce CEO Marc Benioff is strapping on his boxing gloves again.
Nearly a year after the cloud-computing giant led the charge to topple a law in Indiana that legalized discrimination against LGBT people in the name of religious freedom, Benioff says he is gearing up for a fresh fight against a similar bill in Georgia.
"Nobody wants a discrimination law in America today," Benioff told The Huffington Post in a phone interview on Friday. "But there are still bigots out there fighting for people to be discriminated against."
The bill, passed by the Georgia Senate in a 38-14 vote last Friday, allows religiously affiliated groups to refuse to "rent, lease, or otherwise grant permission for property to be used by another person for an event which is objectionable to such religious organization." Dubbed the First Amendment Defense Act, the legislation actually takes Indiana's Religious Freedom Restoration Act a step further, barring government authorities from bringing civil cases against organizations accused of discrimination.
"The law that was adopted in Indiana was a balancing act, where at least the government had the chance to go to court and make an argument that they should be able to penalize someone for discrimination," Sarah Warbelow, legal director at the LGBT advocacy group Human Rights Campaign, told HuffPost. "With the FADA, there's an absolute right to discriminate, and that right is based on your view that marriage is between one man and one woman."
The law in Indiana was amended last year to include protections for lesbian, gay, bisexual and transgender people after Benioff launched a scorched-earth media campaign, rallying some of the country's most powerful executives behind him. Salesforce ― the largest tech employer in Indiana ― vowed to pay to move any employees at risk of discrimination out of the state. Benioff also threatened to scale back the company's operations in Indiana unless the law was altered to protect LGBT people.
Salesforce may only have about 1,000 workers in Georgia, but in May it is scheduled to host its annual Connections conference in Atlanta. The event draws about 15,000 Salesforce clients each year for three days. On Friday, Benioff posted a poll on Twitter, asking if he should change the event's location if the FADA bill becomes law. By early evening, 75 percent of the roughly 2,500 voters supported the move.
"Come out and say you want equality for all, and we'll get off your case"
"We will bring economic consequences," Benioff told HuffPost. "We will deliver a rolling thunder of economic sanctions against the state, in this case Georgia, which is waging a war against LGBT people."
Benioff said he already contacted the chief executives of Home Depot, Coca-Cola, email marketing service MailChimp and shipping giant UPS about the issue. Home Depot spokesman Stephen Holmes said in an email that "we've been clear for some time now that we won't support anything that discriminates." The other three companies did not immediately respond to requests for comment.
But Benioff plans to bring other corporations into the battle, too.
"Look, this is about providing an environment for our employees and our customers that's nondiscriminatory, that's all," Benioff said. "Come out and say you want equality for all, and we'll get off your case."
One of the bill's co-sponsors, Georgia state Sen. Joshua McKoon (R), doesn't plan to back down. He sent out a flurry of tweets on Friday afternoon criticizing Benioff for threatening to pull out of his state while continuing to do business in India and Singapore, where LGBT people face draconian laws that even outlaw sex between consenting adults.
"To threaten this economic extortion to influence the public policy process is not only incredibly wrong, but hypocritical," McKoon told HuffPost by phone on Friday. "It's unbelievably hypocritical for someone who I'm not convinced has even read the legislation that's under consideration here to make the suggestion that businesses should leave the state because he has some interpretation that this is in some way anti-gay."
McKoon said the law would protect religiously affiliated adoption agencies, for instance, from losing state or federal funding for refusing to place a child with a same-sex couple under the auspice of their religious doctrine around marriage.
The bill explicitly says it is designed to protect "belief that marriage should only be between a man and a woman or that sexual relations are properly reserved to such a union." But that language could allow for discrimination against unmarried couples and single parents, too, according to Warbelow.
"This means that a government-funded homeless shelter or an emergency center could turn away an unmarried couple and their kids, or a same-sex couple and their kids. It means that a therapist couldn't lose their license from the government if they're engaging in conversion therapy," she said, referring to the controversial practice facing bans across the U.S. "It also means that an adoption agency could place a child in a group home rather than put them with a loving, committed same-sex couple or a single mom for that matter, and that the government couldn't do anything about it."
Benioff isn't alone. Last week, Georgia-based telecom company 373K said it planned to relocate now that the bill has passed in the legislature.
"I'm gay, our CFO is gay, we have people from every walk of life working here," co-founder Kelvin Williams told The New Civil Rights Movement, a news site devoted to LGBT rights. "I've got Muslims, Buddhists, atheists here. We've got great Christians working for us. They've never thought of not serving anyone -- that's not the message of Christ."
Jenny Che contributed to this report.
CORRECTION: An earlier version of this article misspelled Kelvin Williams' given name, and misstated that 373k planned to move if the law passed. It has already decided to move based on the bill's passage in the state Senate.
Related
Before You Go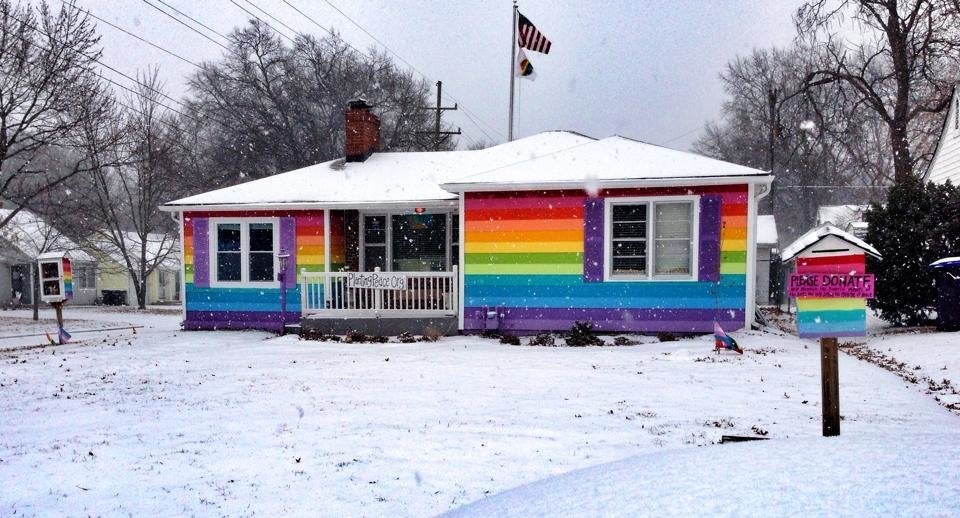 11 People Who Took On Anti-LGBT Bigots With Awesome Results