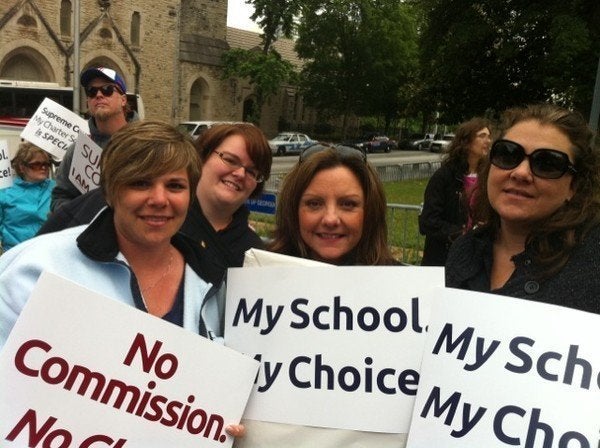 Hundreds of Georgia's parents and educators gathered across the state Tuesday to protest a court decision that leaves the fate of state-approved charter schools in question.
The decision gutted a state-level commission established to give redress to charter schools denied by local school boards. Two days later, stakeholders still scramble to figure out what it all means -- and lawmakers are prepared to retaliate.
"The fight has only just begun," Rep. Jan Jones (R), speaker pro tem of the Georgia House of Representatives, said at a rally. "One size doesn't fit everyone," she added, arguing that charter schools provide more choices.
On Monday, Georgia's Supreme Court struck down a 2008 law that established a state-level charter school authorizer as an alternate route for building charter schools, which are publicly funded but can be privately run. The law had created the Georgia Charter School Commission, a group that had the power to green-light and then fund charter schools with money that would have otherwise paid for public schools in local districts.
Monday's decision deemed the 2008 law unconstitutional, hinging on the interpretation of a statute in the Georgia constitution that restricts the term "special" schools to education specifically for the disabled.
Yesterday, stakeholders descended upon the state's capitol building in Atlanta, protesting a decision that has the potential to shake up the education of thousands of students. More than 400 of them traveled to Atlanta, joining state lawmakers to voice their concerns.
The ruling's reach could extend beyond Georgia, as other states seek to augment similar charter-school authorizers.
The decision touches upon a national debate about the viability of charter schools and the role they play in public education. Advocates say charter schools provide more choices to families with special educational needs or students who feel underserved by local schools. Critics assert that charter schools sap local districts' resources, outsource education into the hands of external organizations and represent part of a broader turn to privatize public education.
Georgia's decision doesn't affect the 65,000 students enrolled in charter schools approved by local school boards. But the status of the 16 schools whose applications were denied by school boards and allowed by the state commission is now questionable, as they, too, have been deemed unconstitutional. The fates of the thousands of students enrolled in such state-approved charter schools also remain uncertain.
According to the Atlanta Journal Constitution, up to half of these schools' budgets could be cut, forcing a spate of teacher layoffs and other losses.
The pain and confusion feels particularly sharp in Cherokee County, a district that had its first charter school, Charter Cherokee Academy, approved by the state commission in order to open on time for the new school year.
On Saturday, 995 students out of about 2,500 lottery entrants won spots to attend the school, according to Canton-Sixes Patch.
"Whether our kids got in or not, we are here to support," parent Kelly Marlow, who attended the protest, told Patch.
In Avondale Estates, a new charter school, the Museum School of Avondale Estates, also falls within the purview of the decision.
"Our number one priority today is to let our voices be heard," Katherine Kelbaugh, principal of The Museum School, told Decatur-Avondale Estates Patch. "Our students, staff, teachers and current and future parents and our community are here supporting us."
Georgia's schools superintendent, John Barge, has said he would do what he could to support the schools affected by the ruling.
The quickest immediate solution appears to be scrambling for authorization by local school boards.
The state's legislature will convene in a special session this summer, and might weigh the potential fix of amending the language of the state constitution to satisfy the court. But that solution is long term, as it would require a referendum on the ballot of Georgia's next statewide elections, in November 2012.
Seth Coleman, a spokesman for the Georgia Charter Schools Association, which helped organize the Tuesday protests, said state legislators, Georgia's attorney general, and the state Department of Education are examining the ruling.
"Just like everyone else, we're waiting to see how it will impact the future," he said. "We still don't know."
Calling all HuffPost superfans!
Sign up for membership to become a founding member and help shape HuffPost's next chapter