The Georgia Department of Corrections confirmed for HuffPost this week that one of its employees resigned after an investigation into his alleged membership in the neo-Nazi group Vanguard America.
"The GDC received information that the individual might be associated with Vanguard America and took immediate, proactive steps to investigate," said spokeswoman Joan Heath. "While we did not have probable cause to go any further with the investigation as a criminal matter, he made admissions and resigned."
Heath did not elaborate on the findings of the investigation. She did not name the employee who resigned, reveal what position he held in the state's prison system or say whether he was ever disciplined for misconduct during his employment.
Vanguard America was a white supremacist organization with members across the U.S until late last year, when infighting led the group to splinter into factions. Vanguard America's manifesto stated that America should be a whites-only country and that nonwhites should be forced into "mass exodus, isolation, apartheid, segregation and/or separation." The group was deeply anti-Semitic, and used the Nazi Germany chant "Blood and soil" as its slogan.
The organization was among the neo-Nazi and white supremacist groups to march at the August 2017 violence-marked Unite the Right rally in Charlottesville, Virginia, where James Alex Fields Jr. allegedly drove his car into a group of counterprotesters, killing Heather Heyer and injuring 19 other people. Fields was pictured earlier that day standing with Vanguard America members, wearing the group's uniform and holding a shield bearing the fascist group's symbol.
He faces a state charge of first-degree murder. He pleaded not guilty to federal hate crime charges.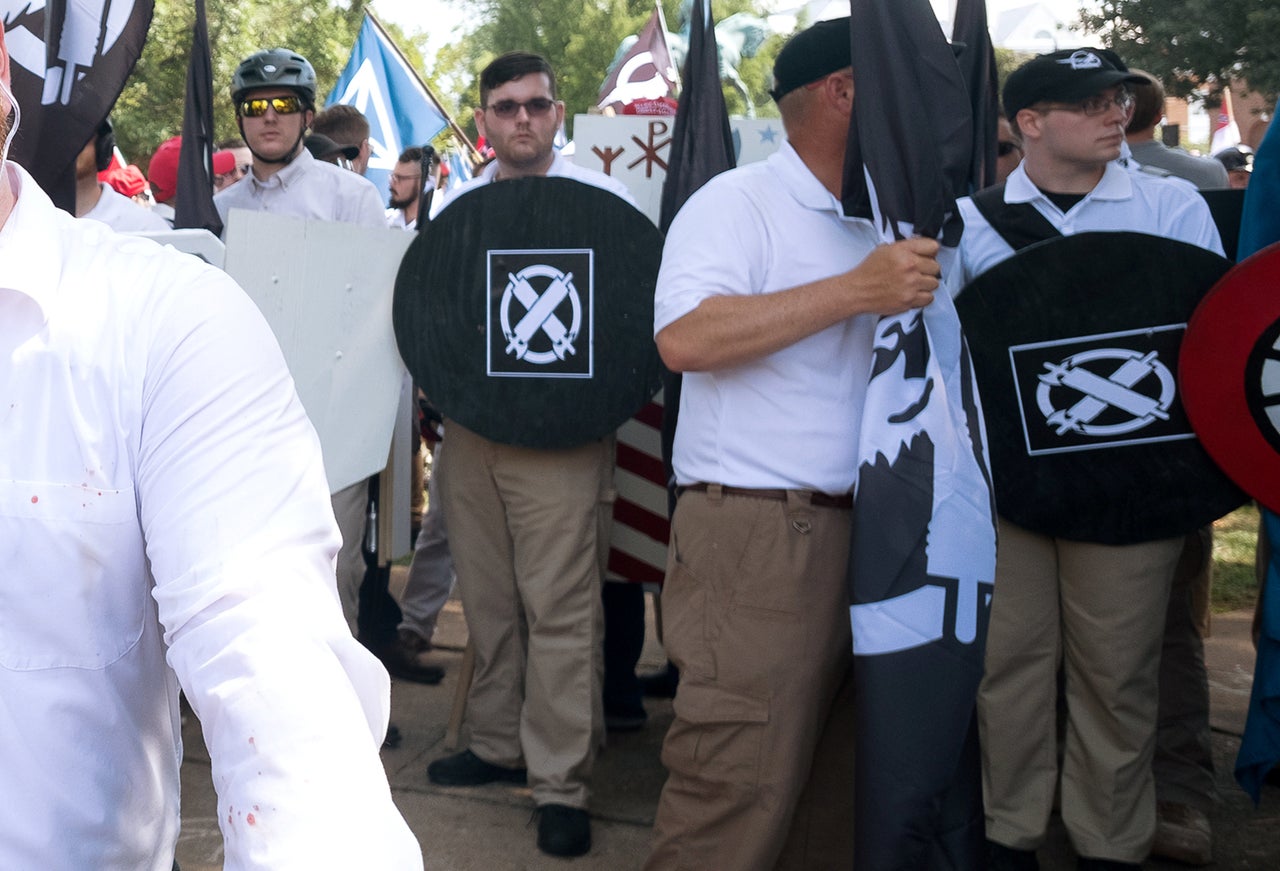 In November 2017 the independent media organization Unicorn Riot published chat logs it obtained from a Vanguard America Discord server called Southern Front.
In the chat logs, one Vanguard America member, writing under the username NateTheGreat, told the group he had a new job.
"Hey I'm gonna be away for about 5 weeks," NateTheGreat wrote on July 1, 2017. "I'm gonna be a correctional officer for the Georgia Department of Corrections. I have to go to training."
NateTheGreat returned to the message board on July 12, 2017, with an announcement: "I am now a member of the Georgia Department of Corrections."
Georgia has one of the largest prison populations per capita in the U.S., which locks up more of its population than any other country in the world. A disproportionate number of inmates in Georgia prisons and jails are black. According to the Prison Policy Initiative, while blacks make up 31 percent of Georgia's population, they account for nearly 60 percent of its population behind bars.
NateTheGreat's messages in the Vanguard America chatroom repeatedly use racist slurs and anti-Semitic memes, some of which are included below in uncensored screenshots. At least eight times, he refers to black people as "niggers." In a July 18, 2017, posting, less than a week after he said he started working for the GDC, he referred to an inmate by a racist slur.

He often expressed glee at what he described as his girlfriend's embrace of racism and white nationalism. "The other day, we were driving through Atlanta," he wrote in one post, "and I heard something that touched my heart, she said, 'call animal control, the niggers got out again.'"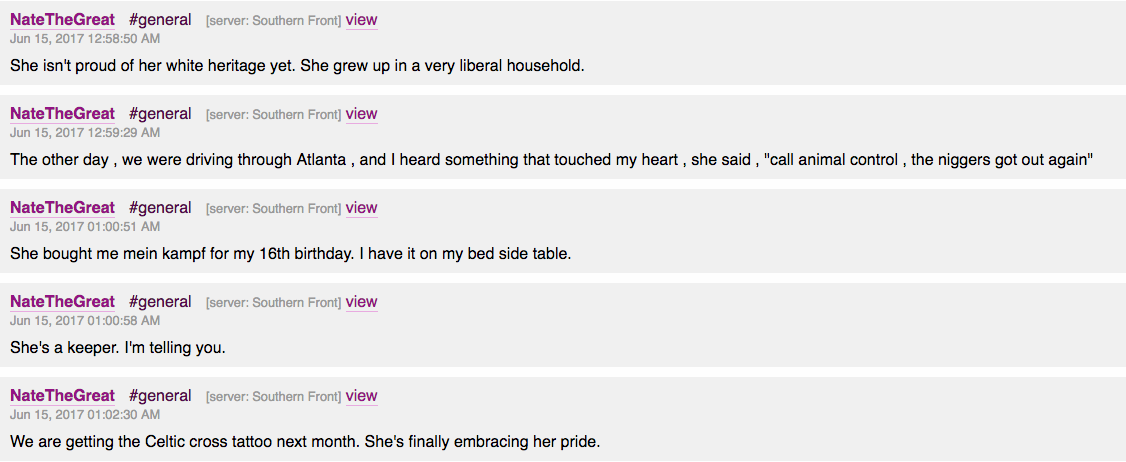 In June 2017, the chat logs show one Vanguard America member wrote, "I've hated niggers since I was 5 and I can't/don't wanna stop now. They're getting the ovens too if I have any say in the new Reich."
NateTheGreat responded a short time later, writing, "That and those towel wearing sand niggers."
In other posts, NateTheGreat rails against Jews, whom he blames for controlling the media and sending a wave of Syrian refugees and immigrants to the Atlanta region — common white-nationalist conspiracy theories.
"My fiancée just asked, if another holocaust happened, which side would you take?" he wrote in one post. He then posted a meme showing a Star of David with a "highly flammable" warning — a reference to exterminating Jews.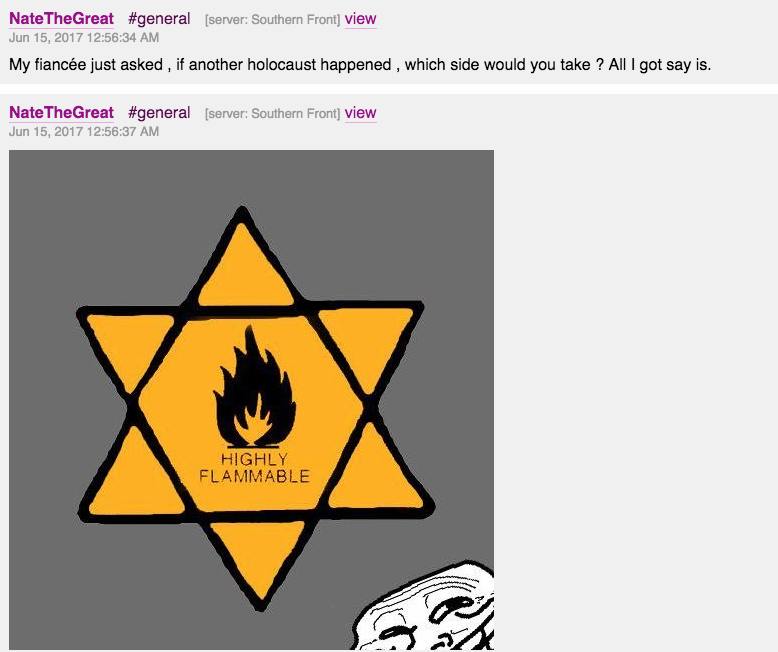 NateTheGreat reveals some personal details in the chat logs, including a photo of him and his girlfriend. He said that he was 19 years old as of June 2017; that he participated in a program called Georgia Boys State, a one-week course in how state and local governments operate; and that he lives just 10 minutes from Chattanooga, Tennessee, which is on Georgia's northern border.
He posted a photo of his grandfather on his 75th birthday. "This man protested and fought against MLK and the Civil Rights garbage in the 1960's," NateTheGreat wrote. "A proud white nationalist."
"White nationalist whole life, was in the klan, fought against AntiFacism, fought against multiculturalism," NateTheGreat wrote of his grandfather. "Just carrying the torch that the world tries to extinguish."
The GDC did not respond to questions about whether it has procedures in place to screen new employees for membership in hate groups.
America does not do a good job of tracking incidents of hate and bias. We need your help to create a database of such incidents across the country, so we all know what's going on. Tell us your story.
Popular in the Community