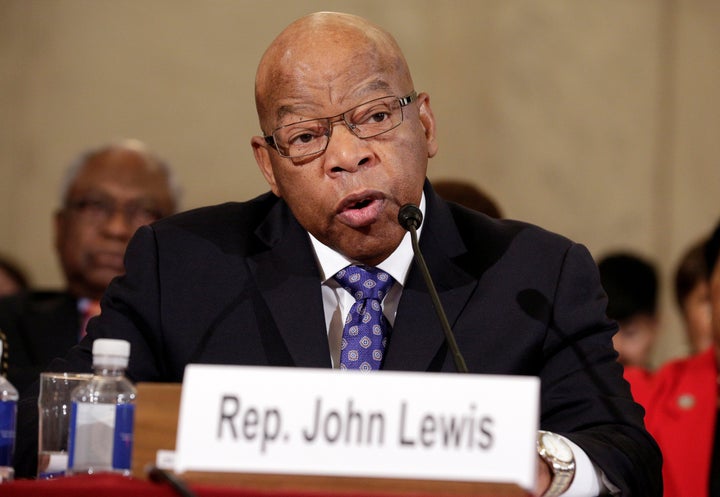 A white Georgia county commissioner is rejecting calls to resign after he called Rep. John Lewis (D-Ga.) a "racist pig" on Facebook over the weekend.
Tommy Hunter, a Republican on the Gwinnett County Board of Commissioners, wrote two Facebook posts about Lewis and "Demonrats" on Saturday and Sunday, The Atlanta Journal-Constitution reported. Both were deleted as of Monday morning.
"John Lewis is a racist pig," Hunter wrote on Saturday, according to a screenshot posted by the Journal-Constitution. "There ain't one political pundit that didn't say on November 9 that this would be Demonrats EXACT response to Trump winning. Like I heard Rush, I believe say, Demonrats DO NOT live in reality. They believe polls were right and THE REAL VOTES were wrong. What a bunch of idiots."
Hunter, who did not respond to The Huffington Post's request for comment, told The Atlanta Journal-Constitution that the "racist pig" remark was "probably an overreaction out of aggravation."
"While I am grateful for what the Congressman did in Selma and other times during the civil rights movement, you get respect by showing respect," Hunter told newspaper. "He is using his fame as a way to continually divide the races and in this case standing on the very much unsubstantiated claim that the guy I voted for [Trump] is racist and only won because of Russians hacking the election—which, of course, we all know didn't occur."
On Monday, Hunter told WSB-TV in Atlanta, "I didn't mean it to be derogatory. I meant it to make him mad."
On Sunday, Hunter also wrote that "Lewis' district is drawn to keep him in power. His wins are all illegitimate."
Gwinnett County, where Hunter serves, has been accused of district-drawing problems of its own. Civil rights groups and voters filed a suit against the county in August 2016 accusing it of violating the Voting Rights Act of 1965 ― which Lewis fought for at the time, even suffering beatings by police in a march to demand equal access to the polls.
The lawsuit alleges that the county drew district lines that make it harder for minorities to be elected. The entire Gwinnett County Board of Commissioners is white, as is the County Board of Education. About 40 percent of the county's population is white, according to 2015 Census estimates.
Democratic presidential nominee Hillary Clinton defeated Trump in Gwinnett County with about 50.2 percent of the vote to his 44.4 percent.
Hunter held off his opponent by a slim margin ― 51 percent to about 48.9 percent. Lewis received a whopping 84.4 percent of the vote in his 2016 reelection bid.
Popular in the Community