The illustration, shown during a freshman biology class at Henry W. Grady High School in May, also associates humanism, homosexuality, pornography and abortion with evolution, and thus, Satan.
The high school's student newspaper, The Southerner, first reported the controversy surrounding the cartoon (shown below).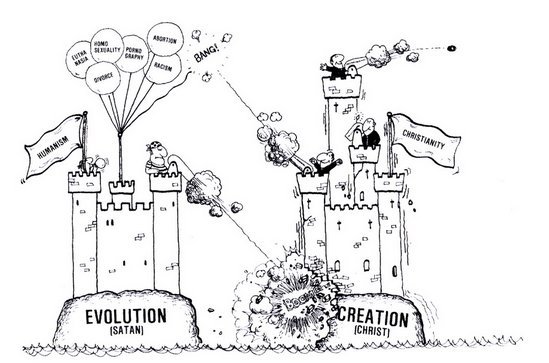 "[I] have gay parents, and [the cartoon] said that evolution caused homosexuality and it implied that to be negative, so I was pretty offended by it," freshman Seraphina Cooley told the paper.
"It appears that this science lesson plan was not properly vetted prior to being uploaded to the district's SharePoint website last summer. When the district learned of the PowerPoint presentation and worksheet that is in question, the lesson and supporting documents were reviewed, and they were immediately removed," Luse said in an email to the Atlanta Journal-Constitution. "The district is currently reviewing the vetting process for all lesson plans prior to uploading them for instruction. In addition, the curriculum coordinators will review lesson plans with teachers as part of their pre-planning session later this month."
According to a 2009 blog post from Ken Ham, founder and president of Answers in Genesis, the organization that operates the Creation Museum, Ham first created similar cartoons 30 years ago "to illustrate, in diagram form, the concept of the foundational nature of the battle between Christianity and secular humanism."
"As I remind Christians, we know that Jesus rose from the dead because we take God's Word as it is written. Secular scientists have never shown that a dead body can be raised to life, but we don't reinterpret the resurrection as a nonliteral event. We take God's Word as written," wrote Ham in the blog post.
CORRECTION: A previous version of this story misrepresented the decision in Edwards v. Aguillard as having found it unconstitutional to teach creationism in public schools; rather, the court invalidated the law that required creationism to be taught alongside the subject of evolution.
REAL LIFE. REAL NEWS. REAL VOICES.
Help us tell more of the stories that matter from voices that too often remain unheard.
BEFORE YOU GO
PHOTO GALLERY
School Lunches From Around The World