A state senator in Georgia who is running for governor is asserting his stance on gun rights by giving away a bump stock "to one lucky winner" in the aftermath of the Las Vegas mass shooting.
State Sen. Michael Williams announced the giveaway of the rapid-fire device, like those used by the Vegas shooter on Oct. 1, through an email promoting his Republican campaign for governor on Monday.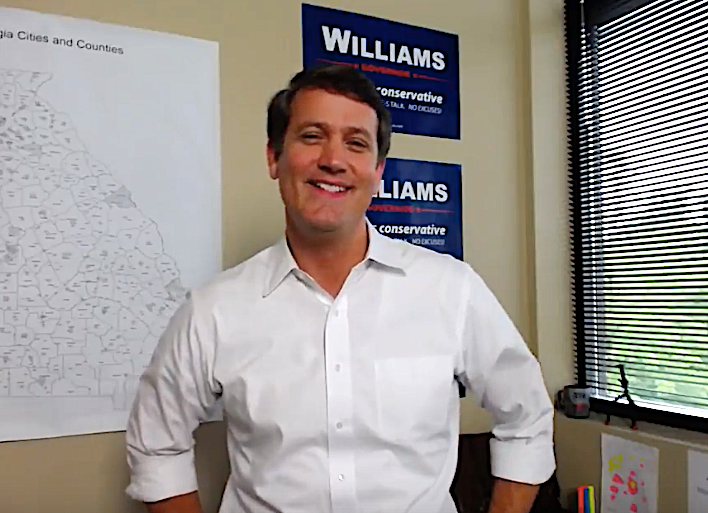 "The tragedy in Las Vegas broke my heart, but any talk of banning or regulating bump stocks is merely cheap political lip service from career politicians," Williams, a staunch supporter of President Donald Trump, said in the email received by HuffPost.
"In reality, the bump stock is the new, shiny object politicians are using to deceive voters into believing they are taking action against gun violence."
To enter Williams' giveaway, individuals simply have to enter their name and contact information, including address, into his campaign website. 
After the mass shooting in Las Vegas, which killed 58 people and injured hundreds of others, police found that gunman Stephen Paddock used an arsenal of weapons that included 12 firearms outfitted with bump stocks, a legal device that modifies the trigger of a semiautomatic weapon so that it fires nearly as quickly as a fully automatic weapon. 
In light of that discovery, Democratic and Republican members of Congress joined calls for a ban on bump stocks, introducing a bipartisan bill that would "prohibit the manufacture, possession, or transfer" of bump stocks and similar devices, such as trigger cranks that simulate automatic gunfire. 
Williams, a self-described "fearless conservative" who announced his run for governor over the summer, believes that bump stocks aren't as dangerous as people are saying.
In his giveaway email, the legislator claimed that "firearm experts" believe that Paddock's "use of a bump stock actually prevented more casualties and injuries due to its inconsistency, inaccuracy, and lack of control."
Williams blamed "liberals and Hollywood elites" for attacking gun owners' "fundamental rights."
"That's why I am standing for the Second Amendment and giving away a bump stock as a show of support," he said. 
Jill Snyder, special agent in charge of the Bureau of Alcohol, Tobacco, Firearms and Explosives, said in a news conference earlier this month that bump stocks simulate automatic fire but "do not actually alter the firearm to fire automatically, making them legal under current federal law." 
Williams was criticized over the summer for posing with heavily armed members of an anti-government militia during a rally in Georgia opposing the Islamic legal and moral code.
The Georgia senator is one of six declared candidates competing for the Republican nomination for governor. The primary will be held May 22.
CORRECTION: A previous version of this story stated Williams is running for governor in May against six candidates. In fact, he is one of six candidates in the Republican primary, which will be held in May.

Calling all HuffPost superfans!
Sign up for membership to become a founding member and help shape HuffPost's next chapter
BEFORE YOU GO
PHOTO GALLERY
Shooting At Route 91 Harvest Festival In Las Vegas