A Georgia grand jury found no evidence of "widespread fraud" in the 2020 election there, undercutting the rationale for former President Donald Trump's attempts to overturn his loss in that state, according to excerpts released by a judge Thursday.
The excerpts released do not spell out what charges the 23-member panel recommended be filed against which individuals, although they do believe that some of the 75 witnesses who appeared before them lied under oath.
"A majority of the grand jury believes that perjury may have been committed by one or more witnesses testifying before it," jurors wrote. "The grand jury recommends that the district attorney seek appropriate indictments for such crimes where the evidence is compelling."
The panel, which probed Trump's actions to coerce Georgia officials into falsely declaring him the winner of the state, finished its report for Fulton County District Attorney Fani Willis prior to its dissolution last month.
In the portions made public, the grand jury explained that it had heard testimony from witnesses and reviewed documents and other evidence over a seven-month period starting last May. It acknowledged the panel did not include any election-law experts or criminal lawyers and advised Willis to pursue criminal charges they may have overlooked.
They also refuted Trump and his allies' claims that he had actually won in that state. "The grand jury heard extensive testimony on the subject of alleged election fraud from poll workers, investigators, technical experts and state of Georgia employees and officials, as well as from persons still claiming that such fraud took place," they wrote. "We find by a unanimous vote that no widespread fraud took place in the Georgia 2020 presidential election that could result in overturning that election."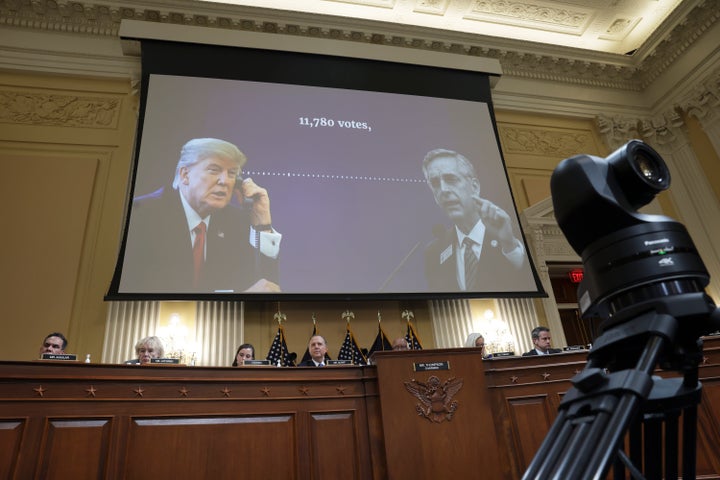 As a "special" grand jury, it lacked the authority to indict, but it did make recommendations for Willis about what charges to bring against which people through a regular grand jury, which meets for two-month sessions throughout the year.
Superior Court Judge Robert McBurney, who oversaw the special jury, ruled Monday that because of the great public interest in that panel's work, he would order that the report's introduction and conclusion be made public, along with the brief section detailing jurors' belief that some witnesses may have committed perjury during their testimony.
He honored Willis' request, though, that the names of specific individuals and details uncovered over the course of the investigation not be publicly revealed at this stage. Willis in court said that charging decisions were "imminent."
Trump campaign staff did not respond to HuffPost's queries for this story.
The coup-attempting former president, who is running for the Republican nomination in 2024, has repeatedly called the various probes into his post-election behavior a "witch hunt" and has called Willis, who is Black, a racist for investigating him.
He has also urged his followers to stage massive protests in Atlanta, the seat of Fulton County, and other cities should he be charged.
In Georgia, prosecutors in Willis' office have focused on Trump's attempts to reverse his 2020 loss to Democrat Joe Biden there and award him the state's 16 electoral votes, as part of his broader fake elector scheme to pressure his own vice president into awarding Trump a second term.
Trump on Jan. 2, 2021, called Georgia Secretary of State Brad Raffensperger and demanded that he come up with "11,780 votes, which is one more than we have," to undo Trump's loss, and threatened Raffensperger with the possibility of criminal prosecution if he did not do so. The call was taped by Raffensperger's office and released to The Washington Post, which sparked the criminal investigation.
Four days later, Trump incited a mob of thousands of his followers whom he'd asked to come to Washington, D.C., on the date of Congress' election certification ceremony in a last-ditch ploy to pressure Mike Pence. The attempt failed, with Congress certifying Biden's win. Trump's actions, though, caused the deaths of four Trump supporters and five police officers, with another 140 officers suffering injuries defending the Capitol building from his mob.
Trump is also under investigation by the Department of Justice for his fake elector scheme, as well as for his unrelated refusal to turn over top-secret documents he took with him to his Palm Beach, Florida, social club, despite a subpoena requiring him to do so.
Popular in the Community