WASHINGTON -- The national attention this week on Georgia's new gun law was an uncomfortable development for Jason Carter, who is running for governor in the Peach State against incumbent Nathan Deal.
Deal, a Republican, made national news Tuesday by signing a law that greatly expands the public places into which Georgians with concealed carry permits can take firearms.
Carter, a Democratic state senator and the grandson of former President Jimmy Carter, voted for the so-called guns everywhere bill in the state Senate. Carter has said he improved the bill in the legislature from its original version, eliminating language that would have allowed guns on college campuses, and specifying that churches would have to opt in to be subject to the looser law rather than opt out.
"Before I cast my vote, I worked across party lines to address the most pressing concerns that were raised regarding college campuses and to ensure that places of worship have a real choice on whether to allow guns on their properties," Carter said in a statement provided by his campaign.
Carter voted to pass the bill because, as a top political blogger in the state, Charlie Harper of Peach Pundit, put it in an email, "No one that wants to be elected statewide in Georgia wants to be on the wrong side of a 2nd Amendment issue. Because they can't be and still be elected."
If you doubt the degree to which Georgia Democrats are willing to embrace guns, watch this campaign ad for Rep. John Barrow (D-Ga.) from 2012.
But the new gun bill has nonetheless riled two groups that matter greatly to Carter: minorities in Georgia and national Democratic donors. Although Carter is neck and neck with Deal in polls, he continues to be viewed as an underdog by most observers in Georgia. To have a shot at beating Deal, Carter will need to raise large amounts of national money from donors attracted to Carter's last name, and then galvanize Democrats in Georgia -- especially black voters in and around Atlanta -- to turn out in above average numbers for a midterm election.
Carter, 38, has the makings of a star. He is a young, dynamic speaker. He has the potential to catch fire and become an inspirational figure to younger Democrats and to black voters in Georgia. But his campaign got off to a rough start because the state Democratic Party had been in disarray for years until a new chairman was installed last fall. Democrats are just now starting to build out a network of organizers and field staffers. It's a big reason many think Carter's 2014 run will be a good building block toward a run in 2018, as Georgia's demographics continue to become younger and less white.
Carter's vote on the gun bill complicates his hope for a surge of popularity among Georgia Democrats, and among the many unregistered Georgians whom Democrats would hope to recruit.
The Rev. Raphael Warnock, of Ebenezer Baptist Church in Atlanta, has been a leading voice against the gun law.
"Our politicians, tragically, are owned by the gun lobby," Warnock said this week. "We will remind them in November that they work for the people."
The vote also has riled national Democrats, whom Carter's campaign will depend on for funding. Carter himself alluded to this during his Monday appearance on MSNBC's "The Daily Rundown."
"I know a lot of national Democrats and others have been upset or angry about this, and I've heard from a lot of them," Carter said.
But an official at the Democratic Governors Association downplayed any significant impact on Carter's fundraising.
"He outraised Nathan Deal 5 to 1 in the first quarter of this year," the DGA official said in an email, asking not to be identified by name in order to speak frankly about campaign strategy. "It's had less than no impact. National donors (namely in DC and NYC) want him to win, and if he took every vote they wanted him to, he would most certainly lose."
Neither Carter nor Deal could raise money directly during the legislative session, so their first quarter fundraising number was based on only 11 days at the end of March, after the session ended. Carter raised $416,000 to Deal's $84,000, The Associated Press reported. But the governor has far more money on hand than Carter: $3.9 million to $1.6 million.
The unwelcome attention to the gun bill comes at a time when another big variable -- the Republican primary for an open U.S. Senate seat in Georgia -- is not going the way Democrats might have hoped. Rep. Paul Broun (R-Ga.) and Rep. Phil Gingrey (R-Ga.) have faded in recent polls to the back of a five-candidate pack. Both have records of controversial and provocative comments that would make them potentially galvanizing targets for Democrats, if either became the nominee. They would be running against an impressive female candidate on the Democratic side with her own famous name: Michelle Nunn, daughter of former Sen. Sam Nunn.
"What you don't want [if you're the governor] is a hot war out on your flanks," said Chuck Clay, a former chairman of the state Republican Party. "[If] you have Paul Broun out there trying to appeal to the hardest right on social issues, religious issues, that creates a danger" for Republicans.
The governor, said Clay, would "rather not have someone out there [in the Senate race] that makes an easy target for Democrats to use as a foil to generate interest."
The GOP primary on May 20 is likely to create a nearly two-month, two-candidate runoff, since there are five candidates and one must win at least 50 percent of the vote to claim the nomination outright. In the last month, businessman David Perdue and Rep. Jack Kingston (R-Ga) have led the handful of polls released.
The GOP primary could shift again. And minority voters in Georgia could move on and forget Carter's vote for the gun bill.
But for the moment, both factors are going the wrong direction for Carter.

Before You Go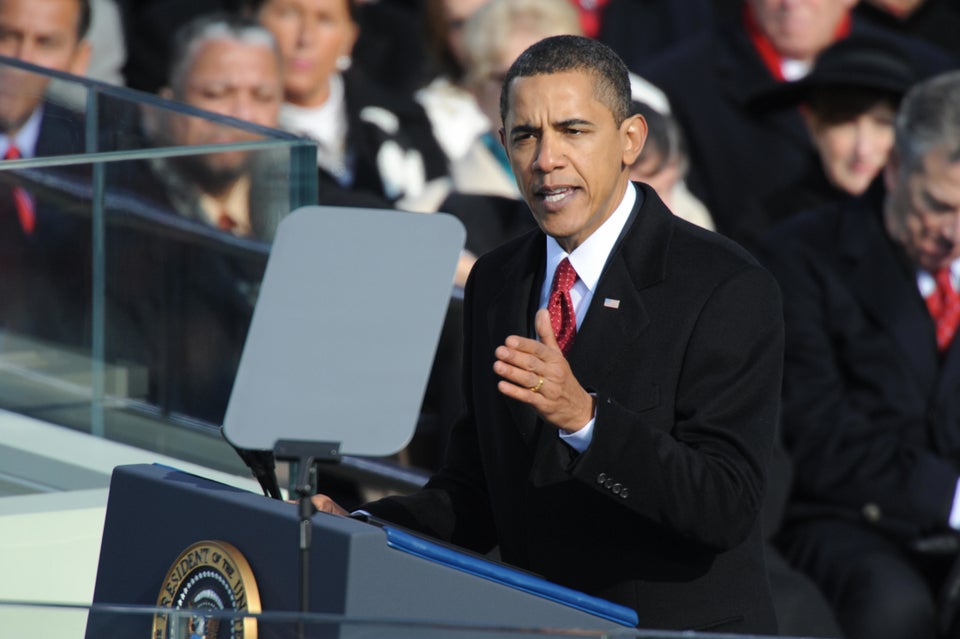 Presidents On Inauguration Day
Popular in the Community