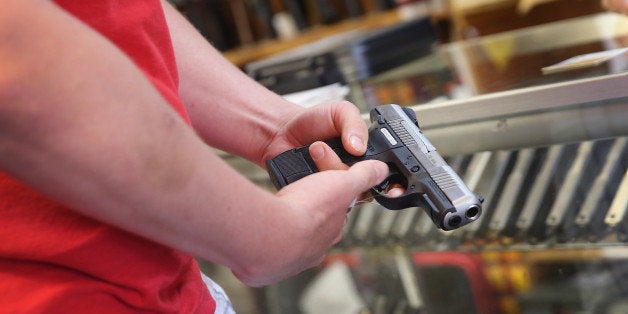 From this day forward, the only thing that can keep guns out of Georgia's bars are Georgia's bar owners.
Georgia's new gun-carry law, one of the nation's most permissive -- it's often derided as the "guns everywhere" law, if that tells you anything -- took effect on Tuesday. Under the the Georgia Safe Carry Protection Act, businesses will have to decide whether or not to ban guns, putting them at the center of a national furor about gun-carry rights.
Activists on both sides of the debate aren't making it easy for business owners, threatening boycotts of bars and restaurants that don't agree with their position. It's not yet clear how Georgia establishments will respond.
The Daily Beast quoted the owner of an Atlanta bar, Moe's and Joe's, as saying it will likely post a "no guns" sign.
Piyali Cole, the Georgia chapter leader for Moms Demand Action for Gun Sense in America, a gun-control advocacy group, said members are "canvassing communities and educating bars and restaurants that serve alcohol about their rights."
Moms Demand Action has had recent success in Texas, distributing videos of supporters of the state's "open carry" movement toting automatic weapons in national chain restaurants. A social-media campaign by the organization prompted Chipotle and Chili's to declare guns unwelcome.
Arizona, North Carolina, Ohio, Oklahoma, South Carolina, Tennessee and Virginia have all enacted laws in recent years that let concealed weapon permit-holders bring guns into bars and restaurants that serve alcohol, as long as they don't drink. In some of these states, gun-control groups have gone door-to-door to convince bars and restaurants to ban firearms, with mixed success. At the same time, pro-carry groups have pressured establishments that do ban guns to reverse their decision.
The Georgia law also lets school districts, churches and airports allow visitors to carry concealed guns. Catholic leaders in the state have already made up their mind, deciding in May to "officially restrict" the presence of weapons in churches and religious institutions.
"The last thing we need is more firearms in public places, especially in those places frequented by children and the vulnerable," Archbishop Wilton Gregory wrote in a church bulletin, according to WBS-TV in Atlanta.
The Episcopal Diocese of Atlanta has also announced that guns aren't welcome at its 109 parishes, a decision that doesn't sit well with at least one parishioner, according to a report by Georgia Public Broadcasting. The story quotes a Marietta, Ga., licensed gun owner identified only as Daniel as saying he has decided to stop attending his church because he disagrees with its no-guns policy.
"God put this in our path for a reason and for us to figure out where our priorities are," he said, according to the report. "Our priority includes church, so that's not in question. What it also includes is, you know, is having certain freedoms not curtailed and not decided for us."

Support HuffPost
The Stakes Have Never Been Higher
Related
Popular in the Community