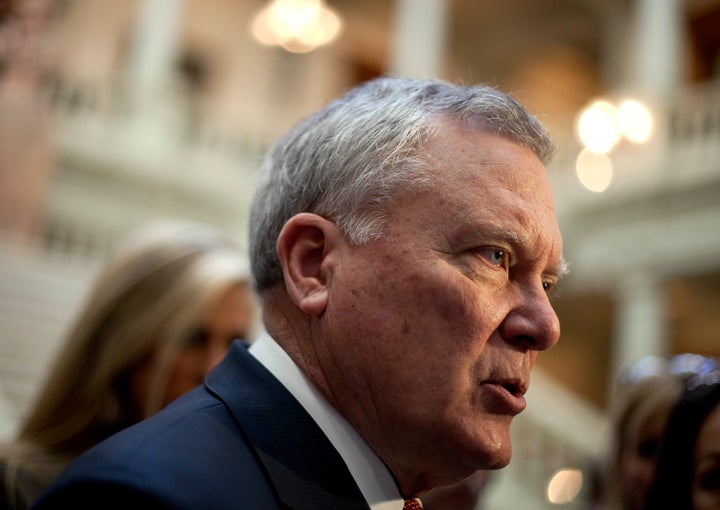 ATLANTA (Reuters) - Georgia Governor Nathan Deal signed into law on Friday an immigration bill giving police authority to question suspects about their immigration status which is similar to a controversial measure passed in Arizona.
The law also requires many private employers to check the immigration status of newly hired workers on a federal database called E-Verify.
"Today is a dark day for Georgia," said Jerry Gonzalez, executive director of the Georgia Association of Latino Elected Officials, or Galeo.
"Our concern stems from the very serious economic repercussions that will be felt against our state on numerous fronts and the very serious civil and human rights abuses that will also likely follow..."
Opponents predicted costly and drawn-out litigation similar to what has happened following Arizona and Utah laws.
In the absence of federal immigration reform, several states have followed Arizona in enacting or considering immigration laws of their own.
But last month, a U.S. appeals court agreed with an earlier court ruling that blocked parts of Arizona's law from going into effect, including the provision that would require police to determine the immigration status of a person they have detained and suspect is in the country illegally.
Arizona's Republican Governor Jan Brewer said she would petition the U.S. Supreme Court to lift the injunction.
On Tuesday, a federal judge temporarily blocked a milder immigration law in Utah. The ruling by District Judge Clark Waddoups came on the same day the Utah law, passed earlier this year, went into effect.
During a speech in Atlanta on Saturday, U.S. Homeland Security Secretary Janet Napolitano, the former governor of Arizona, said state laws cracking down on immigration are "based on a falsity" that the federal effort is ineffective.
"The falsity is that there has been nothing done, that the border somehow is out of control. That is incorrect," she said.
(Additional reporting by Tim Gaynor; Edited by Colleen Jenkins and Greg McCune)
Popular in the Community