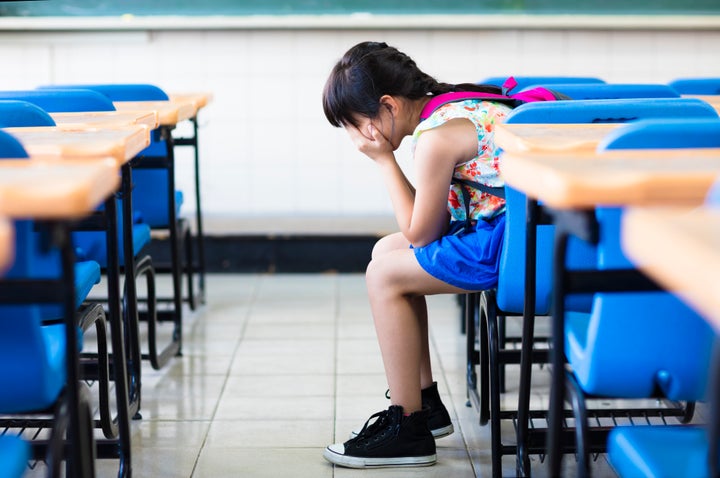 The U.S. Department of Justice is suing the state of Georgia over its harsh treatment of public school students with behavior-related disabilities, the agency announced Tuesday. The lawsuit "is the first challenge to a state-run school system for segregating students with disabilities," according to a press release from DOJ. 
The Justice Department completed an investigation into the Georgia Network for Educational and Therapeutic Support (GNETS) ― the state-run program that provides special education services to thousands of students ― in July of 2015. In a findings letter sent to Gov. Nathan Deal (R) and state Attorney General Sam Olens (R) at the time, the Justice Department said that Georgia violates the Americans with Disabilities Act "by unnecessarily segregating students with disabilities from their peers" and providing "opportunities to its students that are unequal" to those given to other students.
The complaint filed by the government in the U.S. District Court for the Northern District of Georgia this week echoes many of the letter's findings. 
The ADA prohibits public entities from unnecessarily segregating people with disabilities from the general population. However, GNETS separates children with special needs from their peers and places them in separate schools and classrooms, the complaint alleges. Often, these separate schools are poorly maintained, and in some cases, previously served as schools for black students in the Jim Crow era. In many cases, students in the GNETS program "could participate in the curriculum, instruction, elective courses, extracurricular activities, and other educational enrichment services in general education classrooms with their peers" if given the proper supports, the complaint notes. 
The GNETS program currently works with all of the state's public school districts. The program has served its students in mostly segregated contexts for more than 40 years, the complaint says. 
"Endemic to all segregated GNETS programs is a lack of access to equal educational opportunities, as ― unlike other students in general education settings ― students in segregated GNETS settings lack opportunities for grade-level instruction, certified teachers, access to elective and extracurricular activities, and classroom learning complemented by interaction with non-disabled peers," says the complaint. "As such, unequal educational opportunities remain a concrete and serious consequence of segregation regardless of the physical integrity of the building that students are placed in."
Georgia School Superintendent Richard Woods said in a statement that the state is "disappointed in the DOJ's decision to sue, especially given the tremendous efforts we've put into enhancing the educational experience for the small percentage of children who receive education services from GNETS programs."
"We just received the notification from DOJ and we are analyzing it. GNETS is a critical resource for the children it serves, many of whom would otherwise face isolation in residential treatment facilities," Woods said. "We believe these efforts are working, and we have communicated that to the DOJ. GNETS programs remain a legal alternative for children for whom placement in the general education population is not, at least for some period of time, an effective or appropriate option. We will continue to make the wellbeing of these children our first priority."
The investigation also found that students are sometimes abused in these facilities. While under the supervision of GNETS teachers, students have been restrained with leashes and placed in solitary confinement rooms. In 2004, a 13-year-old student hanged himself in one such room. He had been placed in the room ― which had no windows or furniture ― 19 times over 29 days.
This post has been updated with a statement from Georgia School Superintendent Richard Woods.
Rebecca Klein covers the challenges faced in school discipline, school segregation and the achievement gap in K-12 education. In particular, she is drilling down into the programs and innovations that are trying to solve these problems. Tips? Email Rebecca.Klein@huffingtonpost.com.
Calling all HuffPost superfans!
Sign up for membership to become a founding member and help shape HuffPost's next chapter