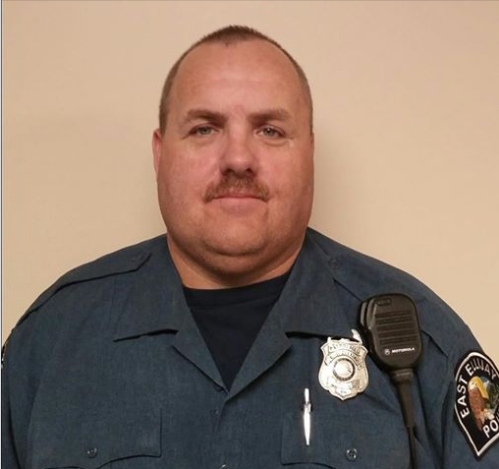 A Georgia police officer has been suspended after anti-fascists exposed his history of liking racist Facebook posts explicitly promoting the Ku Klux Klan, a violent white supremacist terror group.
East Ellijay Police Department Officer Tommy Long was put on paid administrative leave pending an investigation into any ties he might have to the KKK, Chief of Police Larry Callahan told HuffPost Thursday.
On Wednesday, Atlanta Antifascists — a member group of the Torch Network of militant anti-fascists, which confronts and exposes white nationalists across America — published an article with screenshots showing Long liking multiple Facebook posts promoting the KKK.
Callahan told HuffPost that Long admitted the Facebook page belonged to him, but either denied or claimed not to remember liking some of the KKK-related posts uncovered by Atlanta Antifascists. Long did not respond to a HuffPost request for comment. There is no evidence that Long himself is a member of the KKK.
Long was friends on Facebook with six accounts appearing to belong to two KKK members: Imperial Wizard Charles Geoffrey Denton (aka "Cole Thornton"), and Grand Dragon Justin Stephen Owens (aka Stephen Owens).
After Atlanta Antifascists published its article Wednesday, Long temporarily de-activated his Facebook account. When it was re-activated Thursday, he was no longer friends with the two KKK members. He has not, however, un-liked racist posts from the two white supremacists.
"Are you upset about blm [Black Lives Matter] being in Georgia?" Owens, the KKK member, wrote in a Facebook post in July 2016. "You like to sit back and watch yet another city destroyed by these mongrels? Our state! Georgia with this crap going on! TAKE A STAND, SAVE OUR LAND, JOIN THE KLAN!..."
The post links to the website for the United Northern and Southern Knights of the Ku Klux Klan. Officer Long liked this post.
In December 2016, Owens posted a photo of a gold ring inscribed with the initials of the United Northern and Southern Knights and the blood drop cross symbol of the KKK. Long liked this post too.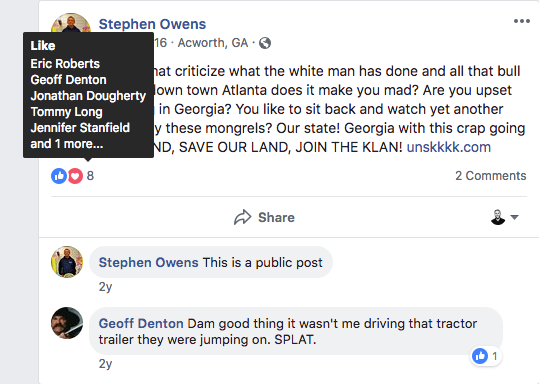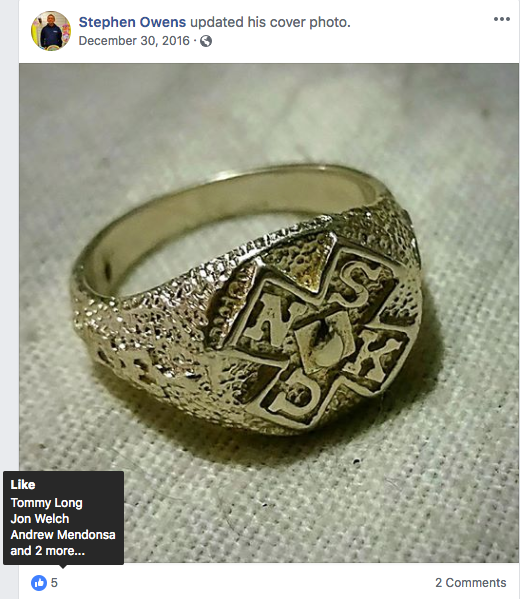 In February 2016, Denton (aka Thornton) ― who now lives in Ellijay, Georgia, according to public records — posted a photo to his Facebook page showing himself in a KKK robe with what appears to be a burning cross in the background. Long liked this post.
In January 2017, Denton confusingly wrote on Facebook that he was "really tired of being called a racist" just because he is "in the Klan."
The KKK are simply "separatists," he wrote, who "believe all races should stick together, and not mix..." (Although less active in recent years, the KKK has terrorized the United States and primarily the South for well over a century. KKK members have attacked, murdered and lynched black Americans.)
Long liked this post too.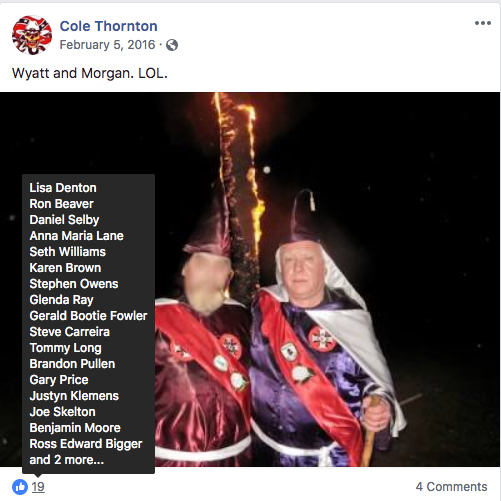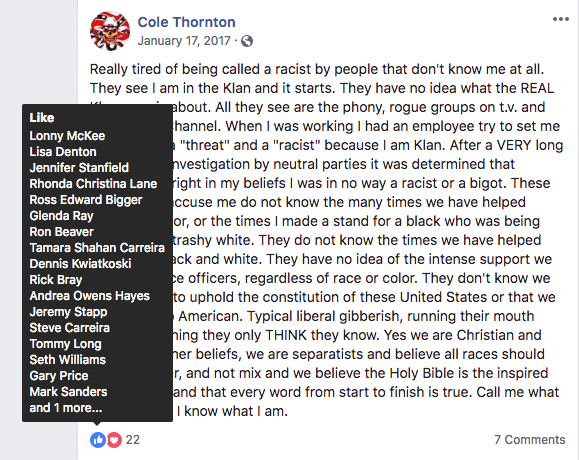 Long appeared to have a somewhat close relationship with Denton online. The two repeatedly commented on each other's posts. When Long wrote on Facebook about the death of his friend late last month, Denton commented to express his condolences.
Denton did not respond to a request for comment on whether Long is a member of the KKK. Owens, the other KKK member, couldn't be reached for comment.
Long is the fourth Georgia law enforcement employee over the last month to face professional consequences after being exposed for their alleged ties to, or sympathies for, white supremacist groups.
In late August, a Georgia Department of Corrections employee resigned after an investigation into his alleged affiliation with the neo-Nazi group Vanguard America. Earlier last month, two detention officers for the Spalding County Sheriff's Office were fired after online chat logs showed them expressing sympathy for Adolf Hitler and George Rockwell, the former leader of the American Nazi Party.
"The attractions of police work to white supremacists should be obvious, from opportunities to gather intelligence to furthering their agenda while wearing the badge," Atlanta Antifascists told HuffPost in a statement. "The United Northern & Southern Knights seem especially keen on attracting police members."
"We will always expose white supremacists within the police or the prison system as we encounter them."
Callahan, the East Ellijay police chief, told HuffPost Thursday that Long has been an officer with the department since 2010. Callahan said he had never witnessed Long act in a racist manner and that a review of Long's arrest records showed no evidence of discriminatory policing.
America does not do a good job of tracking incidents of hate and bias. We need your help to create a database of such incidents across the country, so we all know what's going on. Tell us your story.
Popular in the Community