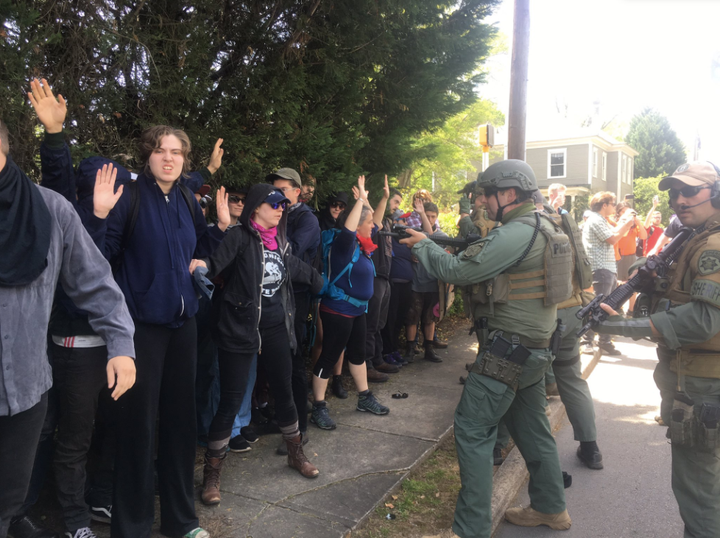 NEWNAN, Ga. — A heavily militarized police force of some 400 officers aggressively patrolled a small neo-Nazi rally in this city 40 miles southwest of Atlanta on Saturday and arrested about 10 counterprotesters, many for the crime of wearing a mask.
Police officers arrived before the rally began and approached a group of about 50 anti-fascist protesters. They demanded the protesters remove their masks or face arrest. The officers — who wore bulletproof vests and helmets, and carried semi-automatic rifles — cornered the anti-fascist protesters, then grabbed those who were still masked, tossing them to the ground and handcuffing them.
At one point, an officer pointed what seemed to be a modified AR-15 at the faces of counterprotesters, none of whom appeared to be armed.
The lead officer in the arrests said the counterprotesters were breaking a state law regarding masks, likely referring to a seldom-enforced 1951 law originally aimed at combating hooded Ku Klux Klan members. Anti-fascist protesters ― many belonging to chapters of antifa groups, known for sometimes violently confronting white supremacists ― often wear masks to avoid being identified by both law enforcement and neo-Nazis.
"The irony of enforcing masking laws to prosecute leftists is just incredible," said Molly, a counterprotester from Charlottesville, Virginia, who traveled to Georgia to protest neo-Nazis. She asked that her last name not be published for fear of retribution. "Those are anti-Klan statutes."
"And to be roughing up anti-Nazi protesters while handling literal Nazis with kid gloves... it's absurd," added Molly, who said she saw one of her friends get arrested Saturday.
The rally in Newnan was the latest, and one of the most pitifully attended, neo-Nazi events to be held in the South since the deadly "Unite The Right" rally in Charlottesville last August, when a neo-Nazi drove his car into a crowd of anti-fascist protesters, killing one person and injuring 19 others.
Certain seemingly innocuous items, including balloons, were not allowed at the rally. But Georgia has an open carry gun law, so people could bring their weapons; HuffPost saw one neo-Nazi and one anti-fascist protester carrying semi-automatic rifles.
The Newnan rally was organized by the National Socialist Movement, an older neo-Nazi group that favors explicit Third Reich iconography over the more coded racist memes of the so-called alt-right. Fewer than 30 NSM members, along with a small contingent of the white supremacist group League of the South, showed up for the event.
The city granted NSM a permit to hold the rally at Greenville Street Park, and security and police presence for the event is expected to cost taxpayers thousands of dollars.
NSM members arrived about an hour late for their rally. Then they stood on a stage in the park, looking out over hundreds of counterprotesters yelling from behind a fence some 100 yards away as police helicopters and drones circled overhead.
Jeff Schoep, the so-called commander of the NSM, rambled about the need to keep Confederate statues. He referred to himself and his companions as "Alpha males" and complained about men who look like "homosexuals" by wearing skinny jeans. He also lashed out against the "Zionist media" for portraying NSM as a hate group.
NSM members flanking him threw up Nazi salutes.
Schoep then left the stage to address a gaggle of reporters. When asked by HuffPost about NSM members throwing up Nazi salutes, Schoep claimed they were actually "Roman salutes." He then threatened to have HuffPost removed from the park for being "disrespectful."
At 5 p.m. local time, less than an hour after the rally had started, police appeared to pull the plug on the sound system. An officer speaking into a megaphone issued a dispersal order, warning the neo-Nazis that they would be arrested if they didn't leave the park. They left without incident.
The paltry NSM showing was indicative of the gradually diminishing strength of the so-called alt-right since the Charlottesville rally last year. That rally, the largest of its kind of over a decade, was attended by upwards of 1,000 white supremacists.
Since then, alt-right figurehead Richard Spencer canceled a planned campus speaking tour after being humiliated by anti-fascist protesters at the University of Florida and Michigan State University. Last month, a domestic dispute precipitated the collapse of neo-Nazi group the Traditionalist Workers Party. Infighting has also severely fractured the rest of the alt-right.
NSM and League of the South now appear to be the white supremacist groups most willing to hold rallies. On Friday night, they held a meeting at a bar in Bremen, Georgia. The annual gathering is typically held on or near April 20, the birthday of Adolf Hitler.
There were times on Saturday when Newnan looked as if it was under military occupation. Armored vehicles and heavily armed officers, some in military fatigues, patrolled the streets.
Ahead of the event, Newnan Police Chief D.L. "Buster" Meadows appeared to draw an equivalency between the racist and anti-Semitic neo-Nazis — who argue for creating a white ethnostate in America — and the anti-fascists showing up to protest them.
"Neither one of these groups represent who we are and what we stand for," he told local news outlet The Newnan Times-Herald.
It was a sentiment shared by some of the other 39,000 residents of Newnan, a town whose city square is home to two monuments exalting the Confederate Army.
Jeff Nelms, a Newnan resident who works as a millwright, went to a friend's gun shop Saturday to make sure no one vandalized the store during the day's chaos. He called both the neo-Nazis and the anti-fascists "scum."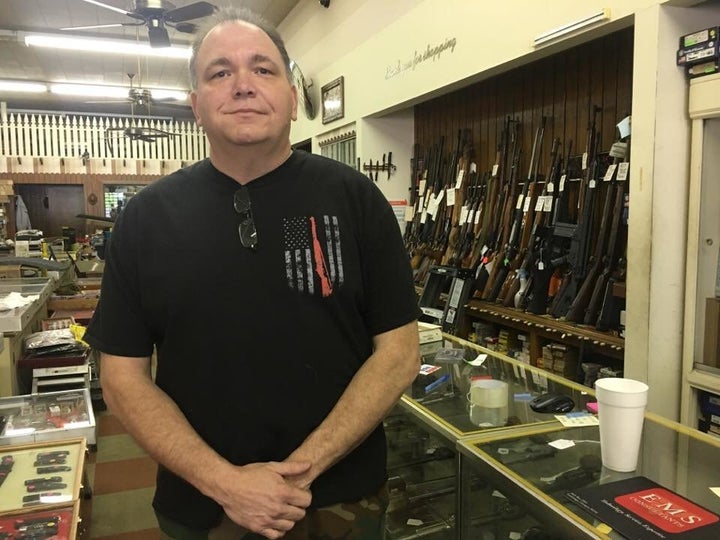 Julio Gilgorri, 26, who has lived in Newnan for five years, had a different take on the anti-fascists arriving to drown out the neo-Nazis. Gilgorri was among hundreds of residents who attended a festival in the city square on Friday night, at which local businesses, churches and charities handed out #NewnanStrong T-shirts. Children drew chalk hearts and rainbows on the sidewalks, while adults wrote messages like "Nazis suck."
"Newnan has taken me in as a Hispanic American and someone who's looking for a new home. I felt accepted since the moment I stepped foot here," Gilgorri said. "If we shut up and stay quiet and allow these guys to rally without any opposition, my opportunity might not happen for other people down the line."
"I'm absolutely glad that people are coming to be heard because, at the end of the day, there truly are more voices on our side than theirs," he added. "History has already shown who's right here."
America does not do a good job of tracking incidents of hate and bias. We need your help to create a database of such incidents across the country, so we all know what's going on. Tell us your story.
CORRECTION: A previous version of this story misstated the name of Greenville Street Park as Greenville State Park.
Support HuffPost
The Stakes Have Never Been Higher
Popular in the Community