Georgia O'Keeffe referred to herself as an "outsider," and in many ways she was, being one of the first women to demand serious attention in a male-centric art world. But after she had earned her place in the spotlight, she fled New York for the isolated deserts and mountains of New Mexico. A new exhibition at the Georgia O'Keeffe Museum focuses on O'Keeffe's time in the "faraway," capturing her intimate experiences with remote camping grounds in the southwestern United States.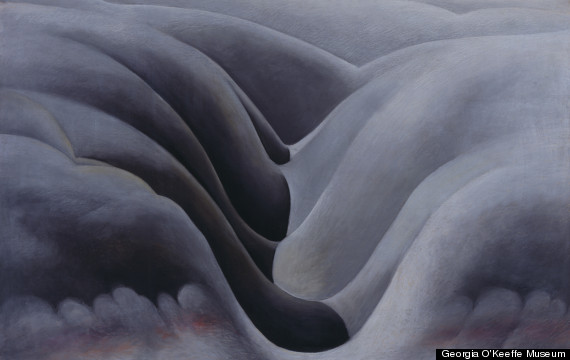 "Georgia O'Keeffe and The Faraway: Nature and Image" features O'Keeffe's works alongside photographs made by others of places she camped, and a recently made photographic panorama of her campsite reconstructed. The reconstruction features her real tent, lanterns, cooking equipment and other gear. The exhibition will juxtapose the ruggedness of circumstances with the elegance of natural and artistic forms.
O'Keeffe captivated the world with her mystical landscapes, charged with energy yet full of restraint. Her visual cannon of canyons, mountains and flowers were simultaneously sensuous and lonely. The artist herself was a combination of strength and grace, quickly becoming an icon for the modern woman as well as for the modern painter. Her obituary in The New York Times paints a beautiful picture: "She would wrap herself in a blanket and wait, shivering, in the cold dark for a sunrise to paint; would climb a ladder to see the stars from a roof, and hop around in her stockings on an enormous canvas to add final touches before all the paint dried."
The exhibition captures O'Keeffe's time at Ghost Ranch, and the nearby the New Mexican badlands O'Keeffe camped at with a friend in 1944. She described the rugged terrain as an "untouched lonely feeling place," one which she continually felt the urge to return to. Dubbed the "Black Place," the territory comes to life in her painting of the same name, in which hills roll as softly as storm clouds. Although the painting is in a black-and-white palette, her mastery of color is clear, as is her influence on later Color Field works like Mark Rothko's 'Black on Grey.' Her more colorful 'Road to Pedernal' resembles Paul Cezanne's 'Mont Sainte-Victoire.' But O'Keeffe's rendition features the peach-washed, dust-covered aesthetic that would come to categorize the Southwest -- the land that became her home.
PHOTO GALLERY
ジョージア・オキーフの作品 画像集
REAL LIFE. REAL NEWS. REAL VOICES.
Help us tell more of the stories that matter from voices that too often remain unheard.
BEFORE YOU GO