American school buses were not made with Istanbul's streets in mind. Our Wednesday morning departure was delayed a few hours by our collective inability to find streets wide enough to allow us to leave the city. We passed under and around the Bosporus Bridge many times and it stood there stoically - smirking at our inability to find our way onto its tarmac. Through a combination of process of elimination and pure random chance, we eventually found ourselves on an Ortokoy street that miraculously deposited us on the bridge, putting us face to face with Asia, our final frontier.
The following few days have seemed like a race. Not against the calendar, the other teams, or the longevity of our bus, but a race against development. Unfortunately for our schedule, but fortunately for views, we spent most of our time in the lead.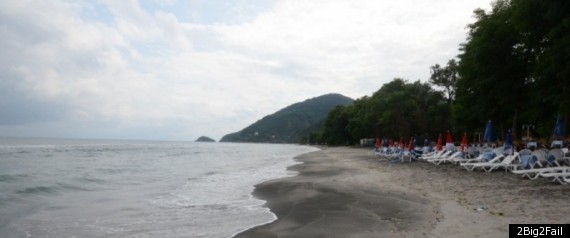 A Black Sea Beach near Tblisi
The minor routes and country roads we had plotted out for our trip between Ankara and Bakuwere are being widened, straightened, and flattened, so old roads now weave into 6 lane freeways for a few kilometers then revert back to small, pothole ridden fields as construction crews huddle roadside. Nearly open tunnels that will surely cut down on time between Batumi and Tbilisi will also render one of the more beautiful mountain pass roads I've ever been on obsolete. There were highway workers in sight almost perpetually from during our 1,200 mile journey through eastern Turkey and the Caucuses. The rate at which development has occurred in these areas renders two year old guidebooks nearly useless and creates the odd appearance on our satellite tracker that we have driven straight through the desert, as these roads of tomorrow have yet to be added to the database.
In Batumi, Georgia, entire neighborhoods and multiple acre developments were displayed only as empty lots on the most recent of maps. What will become of the Mongol Rally in a few years' time when one can drive straight from Hyde Park to Ulanbaatar on freshly laid concrete with sterile service stations positioned every 50 miles along the way? What will be the joy of driving around the world when the highways are continuously lined by half-finished high rises and gas stations? What will no doubt be a boon for locals will make adventure a near impossibility. Earth-bound travelers looking for a challenge are being pushed to smaller and smaller corners of the globe.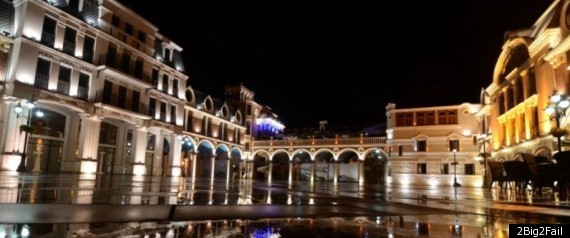 Batumi by night
Another thought that keeps coming back to me, as it does often when I travel, is how people around the world are truly so similar. Government, media and personal prejudices can build up arbitrary walls in our minds, but what makes people laugh and what makes people cry is the same everywhere. Nowhere was this more true that at a carnival in Bakulast night.
There I am sitting on the bumper cars with my team and a dozen Azeris I had never met. Sure we grew up very differently and appear to be very different people, but when you cut that all away, when you are just people laughing and driving around in a neon lit circle, fundamental similarities shine through.
We've come a long way since the Balkan forests and Greek beaches of a week ago. We've camped on the Black Sea coast of Turkey, ducked into Trebzon's hamams for a scrub on the way to Georgia, and spent a Friday evening inTbilisi running into Mongol Ralliers and throwing impromptu dance parties in the street. Within half an hour of entering Azerbaijan on Saturday, we were pulled over for "incorrectly overtaking another vehicle" and politely asked for $250 in exchange for our freedom.
Ten minutes of stalling later, the fine had been reduced to $25 and a pair of sunglasses.
The future promises to be far more uncertain and we are awaiting the next leg of the trip with great anticipation. We'll be camped out in Baku until we can hitch a ride on the cargo ship that makes the 18 hour crossing to Turkmenbashi, Turkmenistan. Stories of 60 hour journeys, drunk sailors, cockroaches, and no facilities ensure that this will certainly be a unique leg of the journey. Very much looking forward to submitting the next post fromTurkmenistan.