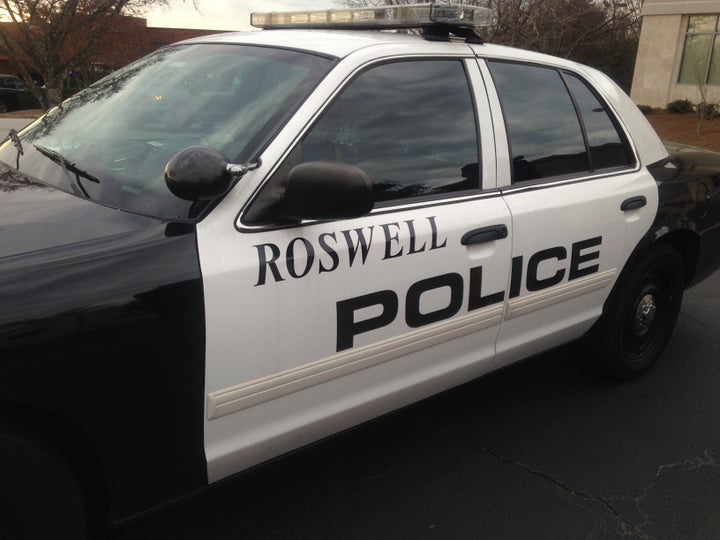 At a time when eagle-eyed journalists have eyes trained on police and reports of civil suits are more hourly than weekly, it seems prudent for officers to take extra care to follow the letter of the law.
But for whatever reason, officers in the Roswell Police Department cannot seem to stop screwing up. In the past month, it's emerged that:
The department kept a police dog in service after it ignored its handlers' commands and repeatedly attacked a teenager.

An officer taunted a teenager handcuffed in the back of a freezing squad car.

Officers flipped a coin to decide whether to arrest a crying woman.
Residents aired complaints about the incidents during an "open mic night" at the Roswell City Council Chamber on Monday, according to Atlanta NBC affiliate WXIA-TV.
"The problem with the department is the culture is overly machismo-istic, and I think it's forcing a sense of bravado," said local resident Patrick Cahill, who called for the resignation of Police Chief Rusty Grant.
"I think there is a virus and an illness going on as well in the police department that's leading to these atypical outcomes," Cahill added.
The council reportedly did not address any of the comments people made about the police department.
The most recent controversy is centered around footage from an officer's body-worn camera, recorded in January, that was not made public until this week.
The footage shows Roswell police stopping a 13-year-old boy driving a golf cart on a highway after midnight on Jan. 2. When the teen gives officers conflicting stories about whats going on, he's handcuffed and put in the back of a patrol car with open windows. The teen was wearing wet clothing and temperatures were in the 20s and 30s, the Atlanta Journal-Constitution reported.
"He won't say anything if he's sitting there in the back seat and it's warm," Sgt. Daniel Elzey is heard telling another office as he sits in another, heated, patrol car. "So, he can sit over there and be cold."
A few minutes later, the officer walks back over to the boy to see if he is willing to talk.
"Getting cold yet?" the officer asks the teen. "You can take it? Cool. So can I, because I've got heat in this car."
At one point the teenager complains, "I can't feel my wrists."
The boy was eventually released without charges, according to WXIA-TV. His mother reportedly said she was "going to be sick" after hearing how police had left him in a freezing car.
Elzey was placed on administrative leave on July 18. WXIA-TV, which broke the story, noted the officer was not placed on leave until after the station requested the video.
Roswell City Administrator Gary Palmer shared his thoughts about the video on Facebook, writing: "What you are seeing are symptoms of bigger issues; issues that we need to clearly identify and deliberately address as expeditiously as possible."
The same day that Elzey was placed on leave, WXIA-TV obtained another troubling video. It shows a Roswell police K-9 brutally attacking a teenager on Aug. 4, 2016.
According to an incident report WXIA-TV obtained, officer Lorne Alston was on patrol when he spotted what he believed to be a stolen vehicle with four people inside. When the vehicle stopped, two of the individuals took off running. Alston announced several times that he would release his K-9 if they did not stop. When they failed to take heed of those warnings, he set the dog, Robbie, free.
A 17-year-old in the video can then be seen obeying all of the officer's commands. But despite the teen's compliance, Robbie continues running toward him. The K-9 ignores Alston's commands to stop and latches his jaws onto the teen.
By the time the officer managed to get the dog off the teen, the boy had sustained numerous injuries that required him to be hospitalized. The charges against the teen were later dropped.
Even though K-9 Robbie ignored about 20 commands and severely mauled a teenager, the department did not take the dog out of service.
"It troubles me that the K-9 did not release sooner than what he did," Grant told WXIA-TV.
A message posted on the Roswell Police Department's website claims there have been no additional incidents with K-9 Robbie.
"After this incident occurred, the K-9 was given additional training and has not had any incidents with following commands since the additional training," the message read.
On July 26, roughly a week after the K-9 video surfaced, the Roswell Police Department fired officers Courtney Brown and Kristee Wilson. In a termination letter, Grant said the officers had "engaged in conduct … which adversely affects the efficiency of the department and has a tendency to destroy public respect."
After a joking about the app and whether "tails" meant arrest or release, the officers charged distraught driver Sarah Webb with reckless driving and driving too fast for conditions. The cops handcuffed a sobbing Webb and placed her in the back of a squad car.
Charges have since been dropped against Webb, who told "Inside Edition" she was unaware at the time the officers had used a coin-toss app to decide her fate.
"It hurts to know that these people are supposed to be looking out for you, and ... it was a game to them," Webb said.
Grant said he plans to conduct an assessment of the department.
"We will draft a formal plan to address what is found through this process," the police chief said in a video posted to the department's Facebook page.
REAL LIFE. REAL NEWS. REAL VOICES.
Help us tell more of the stories that matter from voices that too often remain unheard.
BEFORE YOU GO