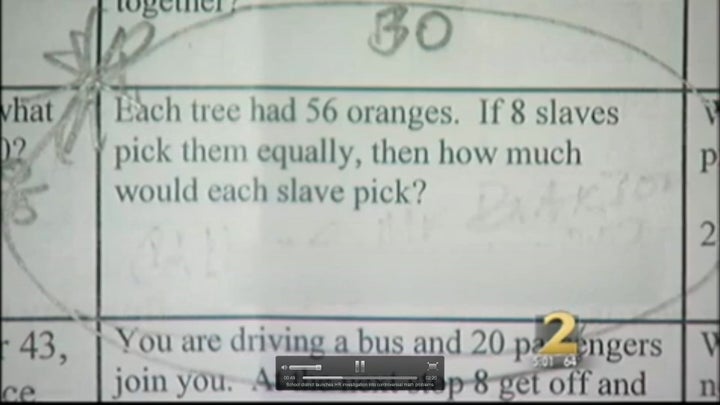 One problem reads: "If Frederick got two beatings per day, how many beatings did he get in 1 week?"
One of the affected classes has been taught by a substitute teacher for the last two days, pending investigations, according to the AJC. The teachers under investigation are not being identified.
District spokesperson Sloan Roach told WSBTV that one teacher wrote the questions, four of the nine 3rd grade teachers handed out the worksheets to a total of more than 100 students, but all nine educators saw the assignment. Beaver Ridge Principal Jose DeJesus is meeting and speaking with parents.
The district's initial response to parents earlier this week was simply that the elementary school's principal will "work with teachers to come up with more appropriate lessons." Roach said the math problems were written in an attempt to incorporate social studies lessons in math for a "cross-curricular activity" and that the teachers meant no harm.
Following parent outcry and national attention, Gwinnett Schools district officials are now investigating the incident to determine whether to pursue punitive action. Roach said the questions were inappropriate and the investigation would seek to ensure that teachers are creating assignments that are "appropriate and respective," ABC News reports. She declined to speculate on what action may be taken against guilty teachers or whether additional training would be required for educators.
She tells ABC News that there doesn't appear to be signs of intentional "maliciousness" or racism, and the incident was simply a matter of a teacher writing some bad questions.
"This was an isolated case involving these teachers at this school and at this grade level," she said.
WATCH:
Related
Popular in the Community