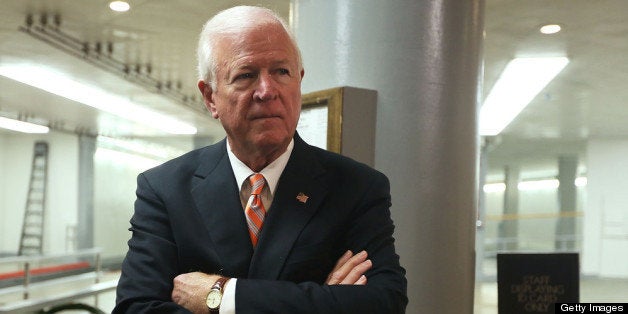 WASHINGTON -- Democrats may not be running with one of their top choices in Georgia's U.S. Senate contest, but they still think they have a formula to win there, as well as in Kentucky and seven other states where they face tough Senate contests in 2014.
Rep. John Barrow (D-Ga.) announced Tuesday that he would not seek to replace retiring Sen. Saxby Chambliss (R-Ga.), leaving Democrats without a Georgia candidate who has a proven record winning in GOP territory.
Barrow was one of the Democratic Senatorial Campaign Committee's top two potential recruits for the race. Now they're hoping that nonprofit executive Michelle Nunn, the daughter of well-regarded former Sen. Sam Nunn (D-Ga.), takes on the challenge.
If she does, Democratic Party operatives think they can plug her into a formula for victory in Georgia -- a formula they think can also win in Kentucky, where Senate Minority Leader Mitch McConnell (R) is up for reelection next year. They have similar hopes for seven other Republican-leaning states where Senate Democrats are up for reelection or retiring -- Alaska, Arkansas, Louisiana, Montana, North Carolina, South Dakota and West Virginia.
The DSCC plan includes picking good candidates, building on the party's technological edge in the last election and developing a ground game that brings every conceivable Democratic voter to the polls. Although the blueprint will be adapted to each individual Senate race, Georgia offers perhaps the clearest example of what Democrats are likely to do, especially with Barrow out of the equation.
There, the Democrats have (they hope) a moderate woman candidate who runs the Points of Light Foundation, launched by former President George H.W. Bush, and a landscape that is arguably ripe for producing new progressive voters.
The Atlanta metropolitan region has more than 400,000 unregistered African-American voters, and in rural parts of Georgia, there are more single white women (who trend Democratic) than there are single white men (who lean Republican). The state also has growing Asian and Hispanic populations, who tend to favor Democrats.
Party operatives, who pointed out those statistics, said that with a candidate like Nunn and a boosted turnout machine, they can win the Senate seat -- even though President Barack Obama lost the state by nearly 8 percentage points in 2012, and a Democrat hasn't fared well on the national ticket since Georgia native Jimmy Carter.
"The DSCC is focused on accelerating the demographic changes in the state by focusing on voter registration, particularly African Americans and women in the metro Atlanta area," Guy Cecil, executive director of the DSCC, told The Huffington Post.
Cecil is also hoping a boisterous, bruising GOP primary will aid the Democratic cause. At the moment, the leading Republican contenders to replace Chambliss are conservative Reps. Paul Broun, Jack Kingston and Phil Gingrey, all of whom have made eyebrow-raising comments about things like evolution and rape. Kingston recently insisted that he will not be portrayed as to the left of anyone in what will likely be a tea party-dominated GOP primary.
"I saw Kingston said in an interview, 'I will not be out-right-winged.' You're running against Paul Broun. If you are not out-right-winged, you are insane," said Cecil.
Former Georgia Secretary of State Karen Handel (R) could pose a harder challenge for the DSCC, but she would still have to make it through a tough primary. Democrats would look to their turnout machine to close the deal in the general election.
"Between that and the divisive, extreme primary on the other side, we definitely have a good shot," Cecil said.
Brad Dayspring, a spokesman for the National Republican Senatorial Committee, suggested the model in Georgia would be more pit and less peach for Democrats.
"The last person Democrats wanted as their candidate is Michelle Nunn, who praised the Occupy movement and is actually more liberal than Barack Obama," Dayspring said. "It's not shocking that Nunn was their second choice, even to a guy like Barrow, who is unpopular in the state."
Democrats know that Georgia and Kentucky are tough states for them, but they also note there are not a lot of opportunities for them to play offense in a year in which they currently have 21 seats to defend -- including in the seven red states -- and the GOP only has 14.
They also acknowledge privately that they are likely to lose some seats: The key for them is to keep that number under six.
Cecil thinks the Democrats can do that with a sharp focus on the red-state seats they now hold and the two Southern opportunities. The way he sees it, if Democrats can identify and mobilize about 5 percent to 7 percent more Democratic voters than in a typical midterm election, they will stop the GOP from winning those six contests.
It starts with the ground game.
"We need to rebalance the way that we are structuring our campaigns, our coordinated campaigns at the DSCC ... to focus more of our resources on turnout and to actually put money where our mouth has been over the course of the last 10 years," Cecil said.
"We've got to invest more on the ground," he added, noting that the DSCC spent $19 million on fieldwork in 2012 and intends to spend more next year. "We're spending an inordinate amount of time building a structure that's big enough and strong enough to be engaged in a meaningful and real way in every single one of our races," Cecil said.
Keeping the focus tight also helps.
"The other good thing is we've got nowhere else to go. We've got the resources to invest in races. We're always pressed for money in the sense that we're always outspent everywhere, but we have the resources to make races in places, and we're going to make a pretty good run in [Georgia and Kentucky]," Cecil said.
Kentucky presents a different set of circumstances, but the state does elect Democrats, such as Gov. Steve Beshear. Democrats are also hoping for a woman candidate there, specifically Secretary of State Alison Lundergan Grimes. Democrats think their strong point in Kentucky may well be McConnell himself, in that his approval ratings are among the worst for sitting senators.
"People are inclined to believe what we would need to say about him, and that's the most important thing," Cecil said. "Trying to convince people of something they don't believe is much harder than reaffirming something that they in their gut already sort of intuitively get, and I think that's where we are."
At stake in the 2014 election is control of the Senate. Republicans need to pick up six seats to take over.
Before You Go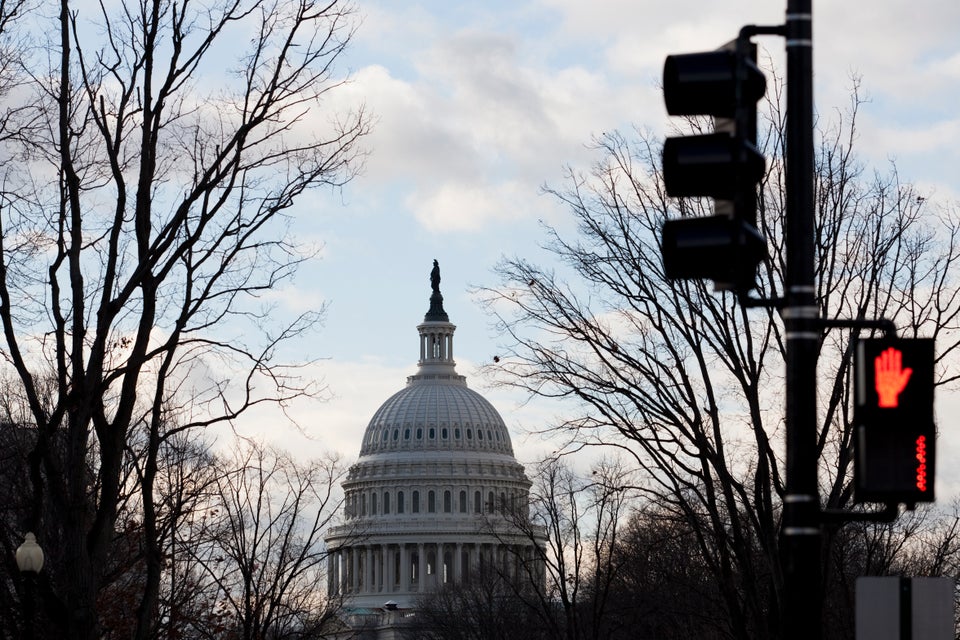 113th Congress Facts
Popular in the Community