WASHINGTON -- President Barack Obama and Senate Majority Leader Harry Reid (D-Nev.) were not on stage Tuesday night for the first Georgia Senate debate, but they might as well have been.
Republican David Perdue brought up the top Democrats over and over during the hour-long showdown, insisting that his opponent for the open seat, Democrat Michelle Nunn, would be nothing but a rubber stamp for their policies.
"David has talked about the failed government policies of President Obama and Harry Reid. In fact, I'm not sure that he recognizes that he's not running against Harry Reid or Barack Obama, he's running against me," said Nunn, who has tried to position herself as a moderate who would work across the aisle if elected, in the model of her father, former Sen. Sam Nunn (D-Ga.).
"Michelle, I have a lot of respect for you, but you're dead wrong: I am absolutely running against Barack Obama and Harry Reid," replied Perdue. "Make no mistake -- no amount of false advertising can remove the fact that Barack Obama hand-picked you, he hand-funded you, he's mentoring you."
WMAZ-13 in Macon hosted Tuesday night's debate at the Georgia National Fair, which was filled with raucous supporters who loudly cheered or booed the candidates. Libertarian candidate Amanda Swafford also participated in the debate.
While Perdue was making Nunn seem as blue as possible, Nunn focused on making sure her opponent couldn't run away from his recent comments about outsourcing. Perdue has run on his record as a businessman, having served as CEO of Dollar General and Pillowtex, among other companies.
This week, Politico reported on comments Perdue made in 2005 during a deposition about the collapse of Pillowtex. At the time, when asked about outsourcing, he replied, "Yeah, I spent most of my career doing that."
Democrats quickly jumped on Perdue's remarks, but the candidate didn't back down.
"Defend it? I'm proud of it," Perdue told reporters Monday afternoon. "This is a part of American business, part of any business. Outsourcing is the procurement of products and services to help your business run. People do that all day."
But Perdue was less interested in talking about his proud career of outsourcing Tuesday night, even though Nunn and the moderators repeatedly brought it up.
One of the first questions to Perdue was on the issue, allowing him a chance to defend outsourcing.
"Don't be confused, folks. This is another attempt by my desperate opposition to use one line out of a 186-page document to define a career," replied Perdue. He then went on to talk about "bad government policies" and "tax policy."
Perdue was asked about outsourcing again later in the debate, pressed to give an answer about what public policy on outsourcing should look like. The candidate repeated that "bad government policy" was decimating U.S. industry.
"Don't be misled by false statements about what I have said or what I haven't said about my career -- one line out of a 185-page document that was taken from 10 years ago," he added.
According to HuffPost Pollster, which averages the publicly available polling in the race, Perdue has a 4-point lead over Nunn. The race is to replace retiring Sen. Saxby Chambliss (R).
*************************
What's happening in your district? The Huffington Post wants to know about all the campaign ads, mailers, robocalls, candidate appearances and other interesting campaign news happening by you. Email any tips, videos, audio files or photos to openreporting@huffingtonpost.com.
Want more updates from Amanda? Sign up for her newsletter, Piping Hot Truth.
Before You Go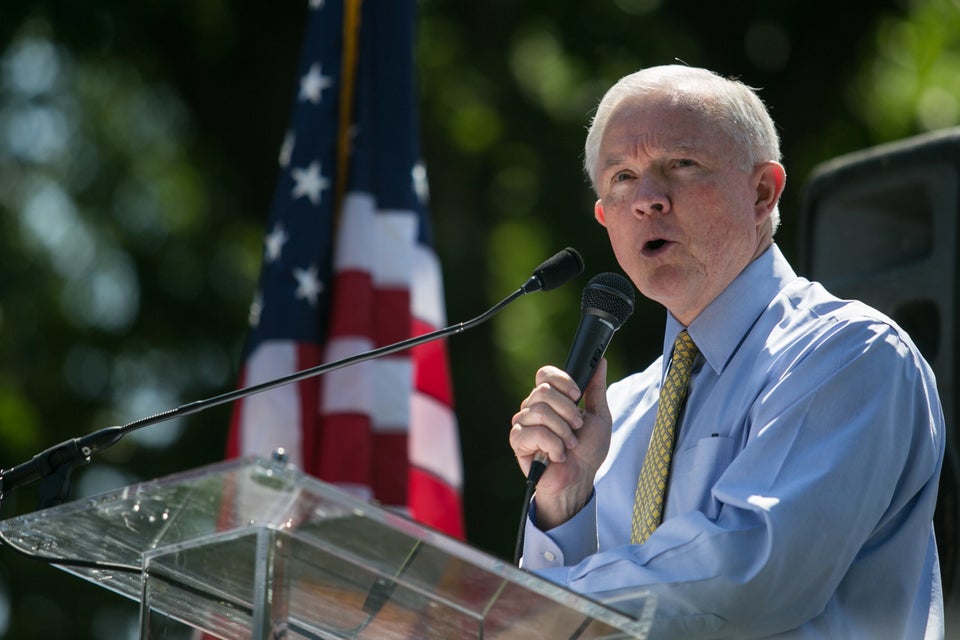 Senate Seats Up For Grabs In 2014
Popular in the Community