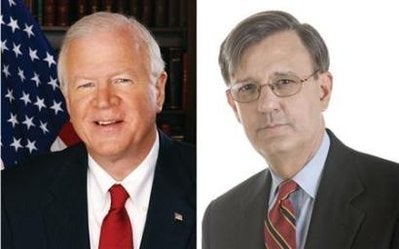 UPDATE 12/2 at 9:07 PM EST:
Georgia Republican Sen. Saxby Chambliss handed the GOP a firewall against Democrats eager to flex their newfound political muscle in Washington, winning a bruising runoff battle Tuesday night that had captured the national limelight. Chambliss' victory thwarted Democrats' hopes of winning a 60 seat filibuster-proof majority in the Senate. It came after a bitter month long runoff against Democrat Jim Martin that drew political luminaries from both parties to the state and flooded the airwaves with fresh attack ads weeks after campaigns elsewhere had ended.
UPDATE 12/2 at 9:00 PM EST:
NBC News is projecting that Chambliss will win the runoff.
UPDATE 12/2 at 8:34 PM EST:
Republican Sen. Saxby Chambliss jumped out to an early lead Tuesday over Democrat Jim Martin in Georgia's U.S. Senate runoff that attracted light voter turnout despite the contest's high stakes on the balance of power in Washington. With 16 percent of precincts reporting, Chambliss had 65 percent of the vote to Martin's 35 percent. The early returns came mostly from rural counties where Republicans traditionally wield significant sway in a still-overwhelmingly red state. None of the urban Democratic strongholds had yet reported results an hour after the polls closed.
UPDATE 12/2 at 7:49 PM EST:
Reports have started to trickle in, mostly from rural areas. Of 26 counties that have reported any results, Republican incumbent Saxby Chambliss leads in 21.
UPDATE 12/2 at 6:00 PM EST:
Voter turnout for today's runoff elections is steady but light, election officials report.

Cobb County checked voting levels at 30 key precincts and by 10 a.m., 5,555 people had gone to the polls. The county tracks voting at 30 of its 175 precincts.

Cobb had 23,345 ballots cast absentee or in early voting, according to county spokesman Robert Quigley.
Election workers across North Georgia say turnout is heavier than they expected.

The last runoff election garnered an 11% turnout. Early voting for this runoff was already at 10% and ballot casters continued to stream to the polls Tuesday.

"We had a lot of people early vote and we had a lot of absentee ballots, so we expected a slower election day," said Catoosa Election Administrator John Campbell. "But it's been busier than we anticipated."

Administrators say there were few if any problems. Many officials believe the heated senate race spurred the high voter turnout.

The latest polling suggests that Sen. Saxby Chambliss will win reelection on Tuesday, denying the Democrats a filibuster-proof 60-seat super-majority in the Senate, mostly due to high support among white voters.
Public Policy Polling's final survey for the Georgia runoff continues to
find incumbent Republican Saxby Chambliss holding a solid advantage. He's now
extended his lead to 53-46 over challenger Jim Martin.


Chambliss is leading 71-28 among whites planning to vote in the runoff. If Martin can't
improve on that, the electorate on Tuesday would have to be 34% African American for
him to win. Given that it was only 30% for the Presidential election and was a little
under 23% during early voting that seems like it would be a stretch.

Chambliss leads 58-41 with those respondents who say they have already voted, not
surprising given the low black turnout during the early voting period.

"It's going to take a shockingly high Democratic turnout for Jim Martin to pull it out on
Tuesday," said Dean Debnam, President of Public Policy Polling. "The early voting
statistics are not in his favor the way they were for the Presidential election, so he'll have
to do a vastly better job than Saxby Chambliss of getting his people out on election day
itself this time if he's going to have any chance."
However, pollsters Public Policy Polling add that the circumstances make polling even more difficult than usual. "Polling a special election is hard," writes Tom Jensen. "You usually don't have a lot of precedent to base turnout projections on, and that makes it difficult to figure out ahead of time what the electorate is going to look like. Polling a special election over a holiday weekend is even harder. People are out of town, at the mall, and generally just harder to reach than usual." Recent polling suggests African-American turnout will be high, but early voting and Nov. 4 turnout suggest it will be low. "Nothing between a 2 point Martin victory and a 16 point Chambliss victory would absolutely shock me," Jensen says.
McClatchy reports on the latest turns in the race, which has attracted high-profile surrogates on both sides of the aisle.
"Chambliss has been campaigning on national issues," said political analyst Jennifer Duffy , who tracks Senate races. He's been painting Martin, a former state legislator and state Department of Human Resources commissioner, as a liberal eager to help Obama tax, spend, appoint permissive judges, fund abortions and take away guns. ...

Tom Baxter , editor of the Southern Political Report in Atlanta , thought that the same grassroots push that helped Obama get 47 percent of the Georgia vote could still boost Martin.

"There are still legions of Obama staffers, and they have a much more sophisticated get-out-the-vote operation than Democrats have had here before," said Baxter.

Obama field operatives who were dispatched to Georgia shortly after Nov. 4 have boosted Martin's presence on the ground.

Chambliss spokeswoman Michelle Grasso countered that the senator's base of support is "excited and energetic."

Perhaps most important, analysts said, is this statistic: About 30 percent of the statewide Georgia vote Nov. 4 was African-American, and they voted for Obama, 98 percent to 2 percent. They backed Martin, 93 percent to 4 percent.

In early voting last week, black turnout was way down. That's why, Duffy found, "a whole lot is going Chambliss' way here."
Calling all HuffPost superfans!
Sign up for membership to become a founding member and help shape HuffPost's next chapter