A Republican state senator is facing a wave of criticism after he appeared in a photo with heavily armed members of an anti-government group during a rally in Georgia on Saturday opposing the Islamic legal and moral code.
In a tweet of the photo shared by the Southern Poverty Law Center's Hatewatch Twitter account, three men can be seen making a hand sign with three fingers extended, which a representative from the law center says represents the III% militia. Williams, who recently announced his candidacy for Georgia's governorship in the 2018 election, is in the middle of the photo, holding a small American flag.
Williams did not respond to HuffPost's request for comment on the photo, but his spokesman told the Atlanta Journal-Constitution that he posed with the group because they appeared to be "pro-gun supporters."
"We don't know about the supposed symbolism, only that a bunch of liberal hate groups were online tweeting about it," Williams spokesman Seth Weathers told the newspaper. "This is the stupidest thing in the world ― that we are debating whether grown men were supposedly holding their fingers the wrong way during a photo."
Williams, the first elected official in Georgia to endorse Trump's presidential candidacy, supports expanding gun rights.
An estimated 30 to 50 people attended the rally, along with a small number of counter-protesters, according to reports from the Southern Poverty Law Center and the Los Angeles Times.
Williams spoke at the rally in Atlanta.
"We all need to come together, put aside some of our petty differences and unite together to fight sharia law," he said, according to the L.A. Times. "We do not need it in our country. Overseas in Europe and other places, they're throwing people off of buildings, they're decapitating people because they do not believe the things they believe."
ACT for America reportedly invited the Georgia III% Security Force to the march to provide security for protestors, the Southern Poverty Law Center reported. The militia members attended the rally armed with handguns and rifles.
A 2016 New York Times profile on the Georgia militia group reported that the group trains rigorously with firearms and believes that liberals, Muslims and immigrants represent some of the biggest threats to America.
Williams' photo with the group spurred several critical tweets.
Clarification: This article has been updated with the SPLC's interpretation of the hand gesture in the photo. This article previously noted the gesture's resemblance to the "OK" sign, which has been disingenuously appropriated by some in the white supremacist movement.
Support HuffPost
The Stakes Have Never Been Higher
Before You Go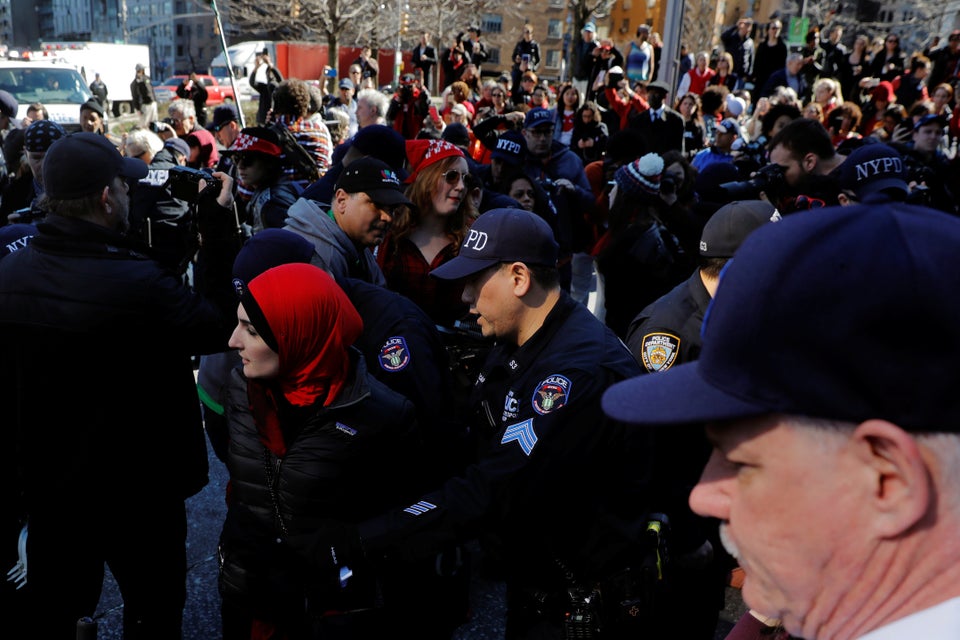 Muslim Women Protesting Around The World
Popular in the Community