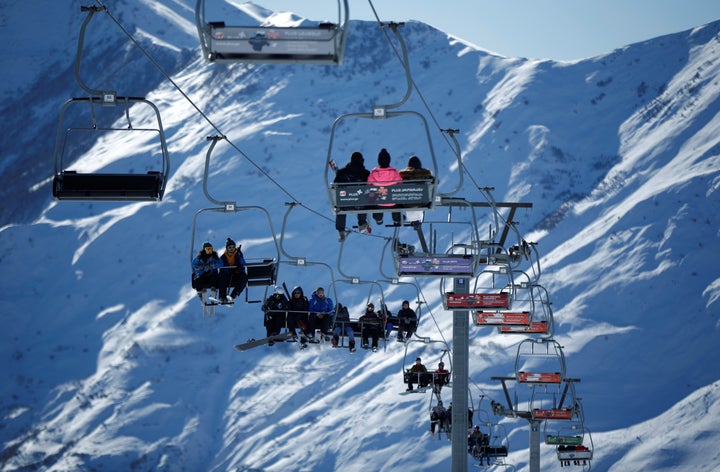 A chairlift at a ski resort in the country of Georgia malfunctioned on Friday, causing panic and chaos as passengers were hurled from their seats at high speeds.
Onlookers posted videos of the violent scene as the incident unfolded at the Gudauri Ski Resort, located in the south-facing area of the Greater Caucus Mountain Range.
The incident left at least 11 people injured, with eight hospitalized in stable condition, Nino Mamaladze, a Georgian ministry of health official, told ABC News. 
Warning: The footage and images below are graphic.
During the malfunction, the chairlift traveled in reverse at a high speed, whipping carriers around the terminal and hurling skiers from their seats.
Some skiers jumped or fell before the carrier reached the terminal, while others clung on and were eventually hurled from their seats. Several carriers detached from the cable, and at least one person appeared to be trapped at the terminal under a carrier as others crashed into it.
Mountain Resorts Development Co., a state-run company, said in a statement that the "Sadzele ski lift in Gudauri stopped working, chairs crashed into each other with riders suspended in the air, causing health injury of medium gravity," according to CNN.
Georgia's Interior Ministry has launched an investigation.
Ryan Wilkinson, who was in line waiting to board when the malfunction began, told The Guardian that the lift stopped briefly, then started slowly moving in reverse before gaining speed. He also said he saw a "guy in the office smashing on a machine and shouting who seemed powerless to stop it."
"The only thing that stopped it getting worse was the friction caused by the pile-up of chairs at the bottom. People would have kept flying round otherwise," Wilkinson told the newspaper.
"One woman in red was too scared to jump," he added. "It looked like she'd been spat out of a washing machine when she hit the bottom. It was like a scene from a 'Final Destination' film."
Georgia Health Minister David Sergeenko said that the victims were of Georgian, Swedish, Ukrainian and Russian citizenship, including one pregnant Swedish woman, according to multiple reports.
One Ukrainian citizen broke his hand and has a head injury, while the pregnant woman had "pain in her waist," Sergeenko said, according to the Telegraph. The woman and another person were airlifted to a hospital in Tbilisi, about 75 miles from the resort.
Mountain Resorts Development has contacted the chairlift's manufacturer, Doppelmayr Garaventa Group, for more information about the malfunction, according to its statement.
A spokesperson for Doppelmayr Garaventa told the Telegraph that it has sent employees to Gudauri to investigate and do not currently know what caused the incident.
REAL LIFE. REAL NEWS. REAL VOICES.
Help us tell more of the stories that matter from voices that too often remain unheard.