If Republicans on Tuesday manage to lose the suburban Atlanta congressional seat they have held consistently since the late 1970s, they can pin some of the blame on Sandy Rosenberg, a longtime resident of Marietta, Georgia.
The House seat was recently vacated by Tom Price, who is now President Donald Trump's health and human services secretary. Before that, it was held by Johnny Isakson, now a senator. Before Isakson, it was the home base of former House Speaker Newt Gingrich.
Rosenberg, a lifelong independent, was a volunteer making campaign calls for Isakson, and was later a strong supporter of Price. Federal records show she gave $200 to Isakson back in 2004. Two years later, she gave $250 to Max Burns, then a one-term GOP congressman in a nearby district.
In the Republican primary in 2016, she cast her ballot for Ohio Gov. John Kasich. On Nov. 4, just a few days before the 2016 presidential election, her long history of Republican activism came to an end, and she wrote a $100 check to Democrat Hillary Clinton.
"During the election, I was called by Isakson's office and invited to attend a fundraiser," Rosenberg said. "I told them that I would not vote for Isakson this go round because he has endorsed Trump." 
Rosenberg has known Isakson for years, and rejecting him wasn't an easy decision. But Isakson and Tom Price were just fine without her. Price went on to win re-election in November by some 24 points. But the man who was the reason Rosenberg had switched sides, Donald Trump, only beat Clinton in the district by less than 2 percentage points.
Rosenberg spent election night in tears, and her 16-year-old daughter cried on the way to school the next day, dreading the prospect of facing a pro-Trump teacher who'd been relentlessly stumping for his man. Rosenberg called the school counselor to make sure her daughter would be OK.
When Trump tapped Price and a special election was called for his vacant congressional seat, Rosenberg jumped into the game. "I am now canvassing for Jon Ossoff because we need to elect a Democrat to send a message to Republicans in Congress that it is not acceptable to bow down to Trump," she said.
Rosenberg in late February met Ossoff, who had become the leading Democratic candidate by virtue of his endorsement by civil rights legend John Lewis and Hank Johnson, both Georgia congressman and former bosses of Ossoff's from his Capitol Hill days. Rosenberg played an extra in a campaign commercial Ossoff was taping that day, and has been canvassing for him ever since.
The week before meeting Ossoff, she had ventured into what had previously been enemy terrain, attending a meeting of Cobb County Democrats. Usually a sleepy affair, party officials were expecting attendance to surge to about 200. Instead, 450 people showed up, Rosenberg said at the time, and a new meeting place had to be found.
Rosenberg, often with her daughter at her side, has been going door to door relentlessly. The Ossoff campaign gave her a list of addresses they believe are Democrats, but often it's the home of a young person ― or, in today's economy, not so young ― who lives at home with parents. Often, the parents are Republicans, Rosenberg said; some cut off the conversation immediately, but others are ready to hear the anti-Trump argument. 
A vote for Ossoff sends a message that Trump's behavior isn't OK, Rosenberg argues at the door. Often, the pitch lands. When one woman recently said she's not a Democrat, Rosenberg was ready.
"I said, 'I'm not either,'" Rosenberg said.
They found a bond: Both, it turned out, had voted for Kasich in the GOP presidential primary. "She was uncommitted by the time I left," said Rosenberg.
Rosenberg is regularly out campaigning with her friend, Dr. Larisa Pearlman, an OB-GYN who lives in the district. Pearlman, 48, worked a 24-hour shift on Friday, and immediately hit the pavement Saturday for Ossoff.  
From Sunday morning until deep into Monday, Pearlman was back at work again, another 24-plus-hour shift. She sounded groggy but determined in an interview just as her shift ended, and said she wouldn't be resting until her work for Ossoff was done. There would be no nap before afternoon canvassing.
"I've never been more politically motivated in my whole life," said Pearlman, a Democrat. She said her sons "have both been very tolerant of my activity, so to speak."
When HuffPost first contacted Pearlman by phone, the call went to voicemail. She returned the call shortly afterward. "Sorry, I thought you were a canvasser," she said, describing a barrage of phone calls to Democrats so ubiquitous that a local group, Cobb Progressives, canceled its phone-banking last weekend after complaints.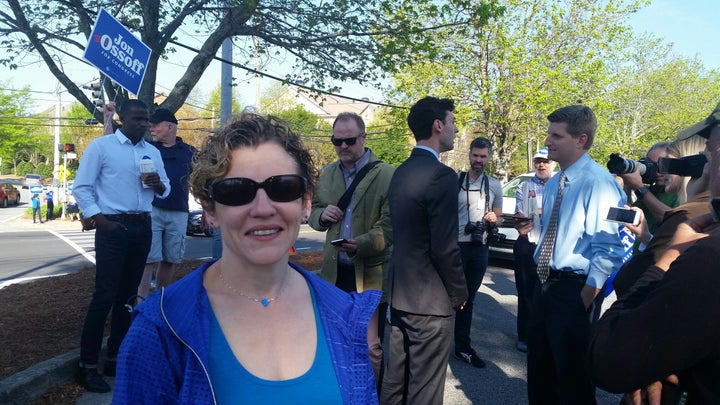 If Democrats manage to steal the seat away, that barrage of phone calls will have helped them do it. Even though Clinton came close to winning the district last fall, national Democrats had no plans to seriously contest the Georgia seat. At the time, they were far from certain that Ossoff would even survive Tuesday's "jungle primary" ― a race that includes more than a dozen candidates. If none of the candidates win 50 percent of the vote, the top two finishers go on to a runoff election in June. Democrats in Washington thought there was a good chance the top two finishers would both be Republicans.
That won't happen. Polls now have Ossoff in the low- to mid-40s, with the closest rival, Republican Karen Handel, in the low-20s and high-teens.
If Ossoff does crack 50 percent to win on Tuesday, it'll be thanks to people like Mindy Miller, a physical therapist from Boulder, Colorado.
The coalition looking to steal the seat can be broadly thought of as folks like Rosenberg, moderate Republicans and independents fed up with the explicit racist and misogynistic turn the party took under Trump; people like Pearlman, longtime local Democrats who became super-engaged after the existential shock of the election; and those like Miller. From her home in Boulder, she has been regularly sending small donations to Ossoff and making get-out-the-vote calls to Georgia voters. 
Before Trump's victory, Miller's activism had been limited to presidential years and to community groups. Now, she founded a local indivisible group, protests at the local office of Sen. Cory Gardner (R-Colo.), and even testified twice at the state capitol.
"The Ossoff race is to me just huge, way bigger than Kansas," said Miller, referring to a surprisingly close special election last week in Wichita in which Democrat James Thompson came within 7 points of winning a deep-red congressional race. "It was a 20-point swing. I'm just praying he wins." 
To win outright on Tuesday, Ossoff will need to do more than that. "I'm not keeping up on the polls because I don't believe them anymore," Miller said.
CORRECTION: A previous version referred to Rosenberg as a registered Republican. In Georgia, voters don't register by party, but choose a primary to vote in; Rosenberg voted in the 2016 Republican primary.
Calling all HuffPost superfans!
Sign up for membership to become a founding member and help shape HuffPost's next chapter
BEFORE YOU GO