An email shared among the members of the Phi Kappa Tau fraternity at Georgia Tech was quickly condemned Monday after it began spreading online.
The email, with a subject line of "Luring your Rapebait," was posted online by TotalFratMove Monday, and in turn picked up by several other websites. It was apparently an attempt by an active member of Phi Kappa Tau to explain how members of the house could get laid at parties:
Ok, if it is before midnight … A group of girls is standing around, grab a bro or pledge bro and go talk to them. First, introduce yourself and get their name, ask if they are having a good time, and then ask if they want anything to drink. If they say yes, walk them to the bar and tell them what we have to drink. If they say no and they look like they are in a sorority, ask them if they are in a sorority (DUH). If not, choose one of the following: where are you living, where are you from, have you been here before, how are classes going, or where all have you been tonight. Then proceed to have a conversation. IF THEY ARE HAMMERED AT ANY POINT BEFORE MIDNIGHT, JUST SKIP THE CHIT CHAT AND GO DANCE.
The email's author is apparently really excited about the prospect of dancing, and a couple paragraphs later he explains dancing to him is essentially just having a lady grind against a brother's crotch. Then he instructs how to "escalate":
Try to twist her hips around to face you and dance front to front. FROM THERE THE OPTIONS ARE UNLIMITED! You can make-out with her (tongue on tongue), you can stick your hand up her shirt (not right away though), you can go for a butt grab (outside or inside the shirts), or use your imagination. ALWAYS START WITH THE MAKING OUT!!!! NO RAPING.
The writer lays out what he calls "the 7 E's of HOOKING UP!" They include "Encounter," "Engage," "Escalate," some words describing male arousal, and then "Expunge (send them out of your room and on their way out when you are finished. [sic]." He concludes, in all capital letters, "IF ANYTHING EVER FAILS, GO GET MORE ALCOHOL."
Some websites have identified a student as the author responsible for the email, but The Huffington Post has been unable to independently verify the writer's identity. WSB-TV reports the Georgia Tech chapter suspended the member who wrote the email.
Georgia Tech learned of the email "a couple of weeks ago," spokesman Matt Nagel told HuffPost Tuesday. He said they were limited in what they could say due to an ongoing investigation.
"[The] Office of Student Integrity is currently engaged in an investigation to determine the facts," a university statement said. "Phi Kappa Tau's national office, as well as Tech's student-led Interfraternity Council, are also reviewing the matter to determine whether to take any independent action. The Institute does not condone this type of behavior and continues to provide resources and education designed to create a supportive campus environment for all students, even those who exercise extremely poor judgment."
Representatives from the Phi Kappa Tau national organization did not immediately respond to requests for comment Tuesday.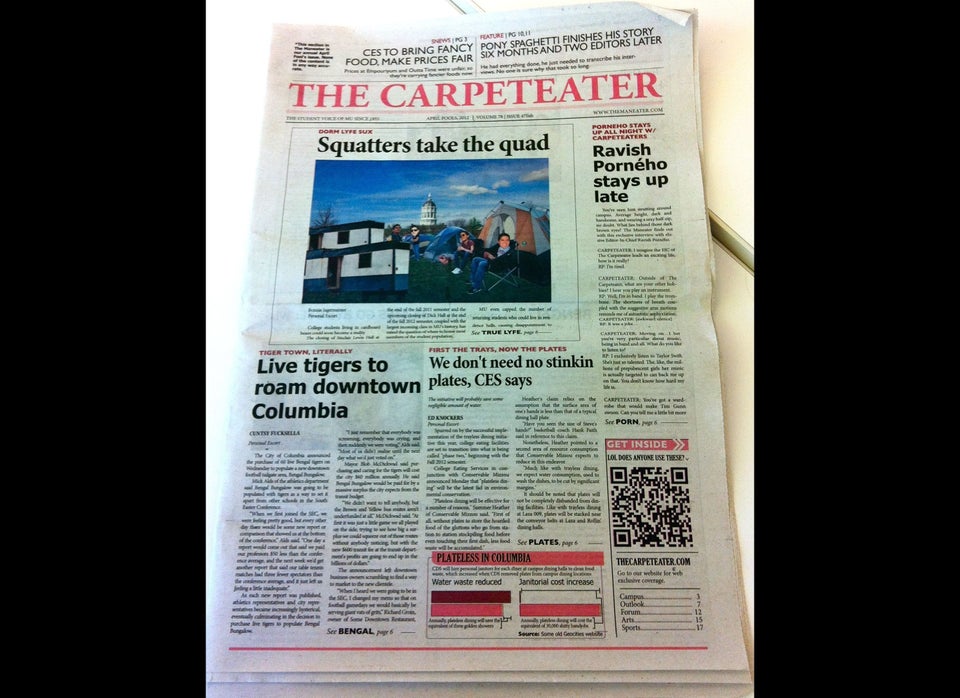 April Fools Fails And Other Student Newspaper Mess-Ups