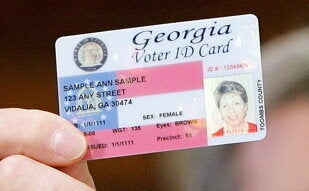 The Georgia Democratic Party has asked the courts for a temporary restraining order against the state's highly partisan voter ID law. The action is intended to stop the state from requiring photo identification of voters in the primary election slated for July 15.
Secretary of State Karen Handel, a Republican, has spoken out against the move describing it as a legal maneuver that is intended to disrupt voting. The move is an attempt to immediately stop action on the law because advance voting will begin Monday and a photo ID will be required.
Nationwide, voter ID laws have been partisan since they first began appearing. Democrats maintain that the laws are used to eliminate low-income and elderly voters who tend to lean toward Democratic candidates. Republicans, in turn, argue that requiring photo identification prevents voter fraud.
More than a month ago the Georgia Democratic Party filed a new lawsuit challenging the law's constitutionality. Now, before the suit has had its first hearing or any depositions taken, they are asking the court to step in because the state's primary election is little more than a week off. Emmet Bondurant, one of the attorneys representing the Democratic Party in the suit, feels that voters who are refused a ballot because they do not have the required identification would suffer "irreparable harm."
The Atlanta Journal-Constitution quotes Bondurant as saying, "The idea is to get an injunction that will prevent the state from enforcing the voter ID act.
The article quotes Handel as saying, "I am truly dismayed by this latest legal maneuver on the part of those opposed to Georgia's common-sense photo ID law. Given the timing of the Democratic Party's motion, this is clearly nothing more than an attempt to create confusion and disrupt the July 15 primary and the November general election. The Democratic Party seems to be more concerned with disrupting the elections process than with the security of the process."
The Georgia law has survived previous court challenges; one filed in Fulton County Superior Court and another decided last year in U.S. District Court. Both cases were brought by individuals filing on behalf of the Democratic Party and in both cases judges said the people bringing the cases were not eligible to bring them.
Since then, the U.S. Supreme Court has said political parties could bring such lawsuits. When the U.S. Supreme Court ruled in favor of Indiana's voter ID law the justices said, in that decision, that political parties have standing to challenge those state laws.
The Georgia Democratic Party brought their current lawsuit several weeks after that Supreme Court decision.
Popular in the Community