The American Civil Liberties Union is threatening legal action against Georgia over what it calls "intimidating" letters asking voters to confirm their address. The ACLU says tens of thousands of Georgia voters who moved within the same county were illegally told they would be considered "inactive" unless they responded to a notice confirming their address.
The dispute centers around whether election officials can send a confirmation notice to individuals who move within the same county, threatening to make them "inactive" voters unless they respond in 30 days. The ACLU says in cases when someone moves within the same election jurisdiction, state officials are obligated to automatically update the rolls and voters shouldn't have to take any action to stay in the rolls.
In Fulton county, election officials sent 48,954 notices to people who had moved in the area in the past two years and submitted a change of address form to the U.S. Postal Service, but did not update their voter registration information. In a letter to Georgia Secretary of State Brian Kemp (R) this month, the ACLU alleged the notices were a violation of federal and state voting law, which they said requires officials to update voter registrations on their own when someone moves within the same election jurisdiction.
The notice gives voters 30 days to return it to state election officials confirming their information. If they fail to return it, the notice tells them they will be placed on a list of "inactive" voters. Being an inactive voter in Georgia does not block someone from voting, but initiates the years-long process by which a voter can be kicked off the rolls.
Megan Harrison, a Fulton county resident, moved a few apartments down the hall in her building in November of 2016. In July, she received the notice from the state telling her she needed to confirm her addressed or else she would become an inactive voter. Harrison told HuffPost she isn't sure if she would respond to the notice, but had alerted the ACLU about it.
In a July 11 letter to Kemp and Mary Carole Cooney, the chair of the Fulton County Board of Registration and Elections the ACLU demanded the officials update the voter registration lists and then inform voters they do not need to take any further action. The ACLU threatened a civil lawsuit if the officials failed to take action in 90 days.
Candice Broce, a Kemp spokeswoman, said 383,487 confirmation notices were sent to voters statewide as part of the state's regular voter list maintenance, but she was unsure of how many were sent to people who had moved within the same county.
Sean Young, legal director of ACLU of Georgia, told HuffPost the organization was aware of at least two additional counties where voters were voters received confirmation notices after moving in the same county. On Friday, ACLU lawyers filed a public records request seeking more information from the state on who was sent confirmation notices.
René Gordon, a math tutor, received the notice recently even though she only moved within Cobb county a little over a year ago. Gordon, who described herself as a frequent voter, said she didn't bother to update her voter registration because her new home was only about 10 minutes from her old one. She did change her address with USPS over a year ago and when she got the notice from the state threatening her with inactive status, she thought it meant she would be blocked from voting when she went to the polls, so she quickly responded to the letter.
"I'm a little embarrassed to even admit it, I had assumed that meant I wouldn't be able to vote. Now, I talked to another reporter last week and she told me actually inactive means you can't vote, but at the time in my shoes when I received the letter, I certainly was alarmed because I thought it was a threat to my ability to vote," she said in an interview. "I thought I'm gonna go to the polls in the next election and they're gonna turn me away. Because they only give me 30 days to respond, it's even more alarming."
""I thought I'm gonna go to the polls in the next election and they're gonna turn me away.""
Stacey Hopkins moved within a 15-minute drive of her old home and within Fulton county in October 2016. But at the beginning of July received the notice saying she was at risk of being put on the inactive voter list. She said the letter looked like a solicitation and had it not been for her previous work on prior campaigns, she might have ignored it.
"To be perfectly honest, I was pissed," Hopkins said in an interview. She added was refusing to respond to the notice as an act of "defiance."
In its letter, the ACLU pointed to a subsection of Section 8 of the 1993 National Voter Registration Act, which says "in the case of a change of address, for voting purposes, of a registrant to another address within the same registrar's jurisdiction, the registrar shall correct the voting registration list accordingly, and the registrant's name may not be removed from the official list of eligible voters by reason of such a change of address." That provision does, however, provide exceptions for states to kick people off the rolls as part of broad efforts to maintain voter lists.
The group also pointed to a section of Georgia law noting that while the secretary of state can compare voter rolls to USPS change of address forms, the voter rolls "shall be changed to reflect the new address." The law requires the secretary of state to send voters a form to correct any errors, but does not say they need to affirm their information in order to stay eligible to vote.
Broce disputed the state couldn't send the notice to voters who moved within the same county.
"Our legal interpretation differs. Under federal and state law, we are required to conduct regular maintenance of Georgia's voter rolls. It ensures that our records are accurate and works to preserve the integrity of our electoral system," she said in a statement. "If an individual files a National Change of Address (NCOA) form with USPS, the Secretary of State's office receives notice of the filing from USPS, and county officials send a letter to the voter to see if his address on file is still accurate. If a voter does not respond to the letter within 30 days, he is moved to inactive status in the voter registration database. Inactive status does not prevent a voter from voting, and it does not make it more difficult to vote. No one is being removed from the rolls as part of the NCOA process, which occurs every other year. Contrary to the ACLU's characterization of this process, it is no 'purge.'"
Earlier this year, a Georgia federal judge dismissed a lawsuit challenging Georgia's voting procedures. In that lawsuit, plaintiffs alleged that Georgia's practice of sending confirmation notices to people who hadn't voted in three years violated NVRA, but U.S. District court judge Timothy Batten sided with the state. The case is being appealed to the U.S. Court of Appeals for the 11th Circuit.
There is also increased attention to voter purge procedures at the federal level. At the end of June, the Department of Justice sent out a letter to all 44 states covered by NVRA asking them to detail their compliance with the law's voter purge procedures, a move that alarmed voting advocates and said it sent a clear signal the department was gearing up an enforcement campaign. The Supreme Court will also hear a case out of Ohio next term dealing with a voter purge program targeting inactive voters that could have big implications for states like Georgia with similar programs.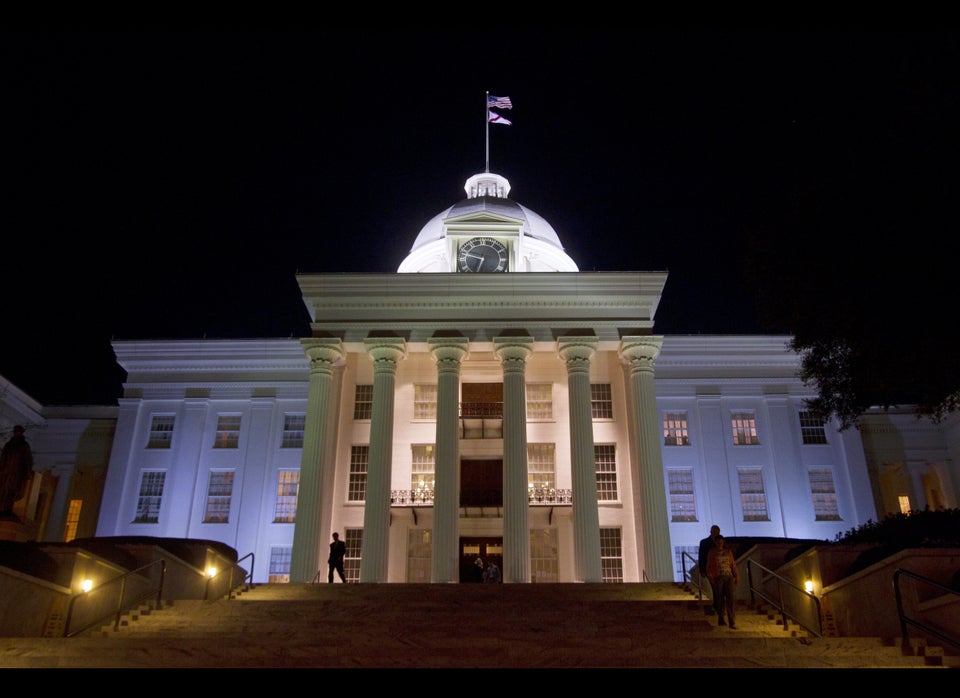 U.S. State Capitol Buildings
Popular in the Community