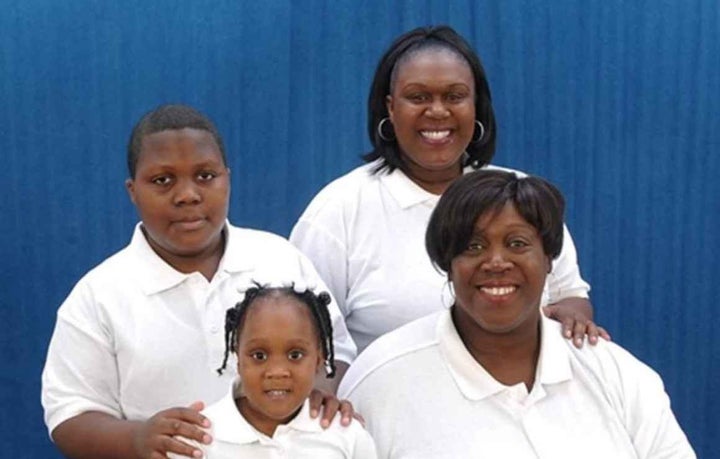 In 2016, Alisha Coleman was fired from her job as a 911 call taker after working at the center for nearly a decade. Now, with the help of the ACLU, Coleman is suing her former employer for unlawful workplace discrimination, claiming she was fired for having two heavy period leaks while she was at work.
"I loved my job at the 911 call center because I got to help people," Coleman said in a statement released by the ACLU. "Every woman dreads getting period symptoms when they're not expecting them, but I never thought I could be fired for it. Getting fired for an accidental period leak was humiliating. I don't want any woman to have to go through what I did, so I'm fighting back."
According to the ACLU, Coleman worked in the call center at the Bobby Dodd Institute in Fort Benning, Georgia but was fired in 2016 for "experiencing two incidents of sudden onset, heavy menstrual flow." Coleman said her heavy periods are a symptom of pre-menopause.
One incident of Coleman's heavy periods happened in Aug. 2015, according to the ACLU. Coleman accidentally leaked menstrual blood onto her office chair and was told by her manager to leave work and change clothes. A few days later, Coleman's site manager and the Bobby Dodd Institute's HR director allegedly gave her a disciplinary write up, warning her "that she would be fired if she ever soiled another chair from sudden onset menstrual flow," the ACLU brief reads.
The second incident of heavy period flow reportedly happened on April 22, 2016 when Coleman got up from her desk to go to the bathroom and some menstrual blood leaked on the carpet. According to the ACLU, Coleman was relieved from working that day by her Site Manager and Site Supervisor. When she came back into work on April 26, she was fired.
"The stated reason for her termination was her alleged failure to 'practice high standards of personal hygiene and maintain a clean, neat appearance while on duty,'" the ACLU brief reads.
On Aug. 17, the ACLU announced that it would retry Coleman's case, after it was dismissed in a district court in February. During the first trial Coleman was not represented by the ACLU and the district court rejected her argument that her pre-menopause was "related to pregnancy or childbirth" under the Pregnancy Discrimination Act. According to the ACLU appeal brief, the district court called her pre-menopause symptoms "excessive menstruation."
The ACLU claims in a brief filed with the Eleventh Circuit Court of Appeals that the lower court failed to recognize that periods and pre-menopause side effects are protected under Title VII of the Civil Rights Act. The legislation prohibits workplace discrimination on the basis of sex. (Scroll to page five here to read more about Coleman's first trial.)
"Employers have no business policing women's bodies or their menstrual cycles," Andrea Young, ACLU of Georgia executive director, said in the ACLU statement. "Firing a woman for getting her period at work is offensive and an insult to every woman in the workplace. A heavy period is something nearly all women will experience, especially as they approach menopause, and Alisha was shamed, demeaned and fired for it. That's wrong and illegal under federal law. We're fighting back."
Related
Popular in the Community