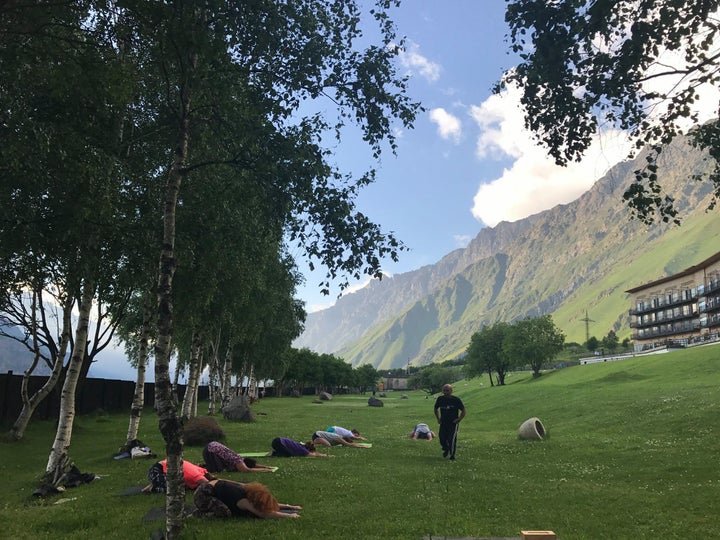 Choosing a yoga retreat can actually be much tougher than it sounds. This is an investment after all so you don't want to spend a lot of money for an experience that does not align with your expectations.
That's why I think sharing my experience will guide you through this bittersweet process.
Generally when people think of Retreat Holidays, most of them immediately think of a week-long trip to Bali, a summer spin through Peru, or a sun-soaked journey to India. There are others, however, who think outside the box and look for a destination that is more unique; a destination where a person can disappear into a mystical land of wonder, beauty, and history.
There is nothing wrong with leaving the classic destinations behind and trying out something new and exciting; particularly if you want to come home with countless stories that won't be the same as every other traveler's tale.
My story starts in Georgia, the gateway between the East and the West, a vibrant nation that bridges the gap between Asia and Europe. I was lucky to discover Georgia is a hidden gem of the fascinating Caucasus region with a fabled history that stretches back tens of centuries. From the soaring peaks of Mt. Shkhara to the evergreen forests of Western Georgia, the natural beauty of this nation is on display in any direction you wander.
Given its biodiversity, numerous balneo-climitc resorts, unique properties of its wine and thalasotherapy as well as abundance of sacred sites, this country is your place of Zen, and the destination for your Mindful Holidays. From ancient ruins to modern luxury, Georgia is truly a cultural and geographic bridge between old and new, and what more can anyone ask for on an unforgettable retreat?
So, If you are one of those people who loves to enjoy a relaxing and worry-free environment while travelling, or someone who wants to unplug and boost mental & emotional wellbeing, keep reading … I have some interesting news for you.
What to expect from retreat holidays in Georgia, you may ask. The imagination can think up scenarios of you doing 1,000 sun salutations and dying of exhaustion OR the romanticism of healthy, calm and meditative yoga holidays in exotic destination can carry you away. In reality, it all depends on what you want to get out of your trip. One thing is sure: these amazing ladies who run retreat programs in Georgia will let you experience this wonderful part of the world, give you a real opportunity for growth and relaxation and simply let you enjoy yourself. They believe in healing power of travel and their retreat programs reflect their passion.
As far as you know, Yoga is not merely a physical practice but a full understanding and respect for all that is living, and where better to explore the living world than in ancient and exotic Georgia? I invite you to discover the beauty of yourself while rediscovering the beauty of Georgia
Alternatively, I name 6 reasons why you should NOT choose Georgia for your next retreat holidays:
1.There's something about the Grandiosity of Georgian Landscape that reminds you of just how small you are compared to this epic world we live in. Who wants that?
2. New cultures, such as Georgian are often confusing, weird and ultimately, different. Why bother?
3. You can travel in Georgia visa-free or easily apply online. But whatever. Everyone likes tacky passports
4. Georgian people are very hospitable considering that guest is the gift of god. But who cares – you are not here for networking, are you?
5. Nature Overload – You might be waking up to the sound of birds, mountain rivers or squirrels. Sleeping in the forest, playing in the sea, being around wildlife – it's a relationship between you and the nature taken to the next level. Not everyone is ready for it
6. Everyone back home will hate you when you return, because all you want to talk about is how you fell in love with Georgia