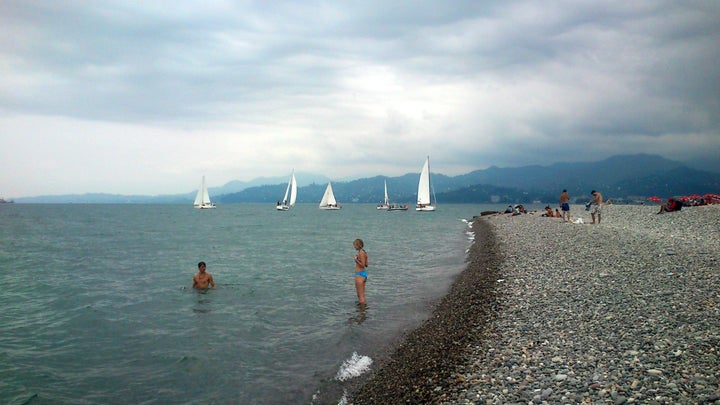 Two years ago, the port city of Batumi, Georgia's pastel-colored playground on the Black Sea Coast, was hardly postcard-worthy. The cobblestone streets were almost uniformly obstructed by rubble, the splendid art nouveau facades hidden beneath layers of scaffolding, plastic sheeting, and an ever-present coating of grime. The few high-end hotels dotting Batumi's main boulevard, which juts out onto a flotsam-dense and particularly oily attempt at a beach, seemed designed for the well-compensated mistresses of oligarchs, a seedy ethos that trickled down to the more economical accommodation options: No sooner had I left the lobby of our ramshackle courtyard hotel than my boyfriend received -- to his superbly Anglo-Saxon befuddlement -- an impromptu lap dance from a member of hotel staff.
I warned all my friends and acquaintances passing through the Caucasus that Batumi's place on the international resort roster was just below Blackpool.
But this summer, I find myself issuing a complete retraction. Construction completed, fresh paint added and the requisite influx of cafes, galleries and bars now in full swing, this new Batumi is balmy and elegant. At its best, along the decadently decaying streets of the old town, the city is reminiscent less of the coastal Dubai its press materials claim it to be than of the nineteenth-century Batoum: a sultry pleasure-garden for the Russian aristocracy . Even Batumi's modern buildings -- like the sleek metallic "alphabet tower", which appears to have emerged wholesale from the subconscious of Fritz Lang, and the curiously carnival "Face House," where carefully situated windows give the impression of eyes, a nose, and mouth -- exhibit a playful sense of whimsy characteristic of Batumi's newfound exuberance.
Here, teenagers kiss in rented rowboats on the city's glimmering lake; posters for new plays, concerts, and exibitions are plastered on every kiosk. The city's landmarks range from the charming (stained glass facades retelling the story of St. George) to the gloriously inexplicable (an entirely upside-down restaurant). While many of the modern developments in Tbilisi, Georgia's decidedly old-world capital, feel insincere, forced upon the city by an overzealous tourism board, in Batumi they seem entirely natural.
Where else, after all, could you find a city that celebrates mythological child-murderess Medea (of Jason and the Argonauts fame -- Medea was allegedly from the kingdom of Colchis, Batumi's ancient progenitor) with an enormous, million-dollar gold statue located in the city's Europe Square? Ever-strange, often invigorating, Batumi's curious charm makes it an ideal seaside destination for travelers in search of the decidedly unconventional.
What to Do

No weekend in Batumi is complete without the requisite stroll along the miles-long Batumi Boulevard, a sprightly pedestrianized walkway lined with innovative modern sculptures (be sure to check out the rotating lovers, termed "Ali and Nino" after the doomed protagonists of the Caucasus's greatest novel), inevitably peopled by a combination of geriatic fishermen, Iranian tourists, and jaunty Vakebi (residents of Tbilisi's posh Vake district). Promenade along the "Bulvar" during a summer twilight - stopping at one of the many seaside bars - to see and be seen, or simply to sit and watch the western sun slip beyond the horizon, transforming the sea into a kaleidoscope of oranges, pinks, and reds.
Swimming in Batumi, however, is somewhat less pleasant: the pebble beaches are uniformly crowded and the sea is littered with refuse from nearby cruise ships. Take the bus twenty minutes south, however, and you'll reach the hamlet of Gonio, where Adjara's mist-dappled mountains slope down to form one of the country's calmest beaches, creating a dramatic juxtaposition of green cliffside and turquoise sea that seems worlds away from the cosmopolitan animation of Batumi. Gonio is also home to one of the best-preserved remnants of the region's classical past: an intact Roman-Byzantine fortress, overgrown with fruit trees and tall grasses, that nevertheless houses a surprisingly well-presented archaeological museum. Or, for a more peaceful outing, visit the acres of lush emerald vegetation at the Botanical Gardens, located on a striking seaside peak a half-hour north of the city centre.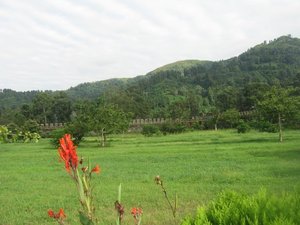 Unfortunately, Adjara's lush climate means rainfall is far from uncommon, even during the summer months. The small but the elegant Adjara Arts Museum, a Neo-Classical building in the city centre, is well worth visiting, as are the city's numerous trendy art galleries. The best of these is the gallery-cafe of former child-prodigy Rusudan Petviashvili, whose wild, colorful treatments of mythological themes are as startling and as innovative as Batumi itself.
In the past few years, Batumi has become inundated with trendy new eateries. The newly- developed Piazza, an arcade-lined square that resembles a cross between Paris's Place des Vosges and Madrid's Plaza Mayor, is home to several of Batumi's most popular, although Cafe Literaturuli, on Gamsakhurdia Avenue, still attracts an artier crowd.
For décor alone, the white stucco lions' heads and ornate blue carvings at Nostalgia, across from the city's main theatre, offer architectural insight into the city's Ottoman past (although the food, as is typical in Batumi, is standard Georgian: ever-reliable if occasionally monotonous fare).
While several posh hotel chains (including the Radisson and Sheraton) have branches here, few are as charming as the boutique Dzveli (Old) Batumi, located in a historic house on Kostava St in the old town. Rooms in the high season run about 80 GEL ($50) for a double.
Batumi Airport regular receives flights from Istanbul, Minsk, and Moscow, as well as Georgia's capital Tbilisi. Regular night-trains and five-hour day trains (a three-hour high-speed train is in development) are available from Tbilisi, along with much less comfortable bus options, for between 20 and 40 Georgian Lari ($12-24) each way.