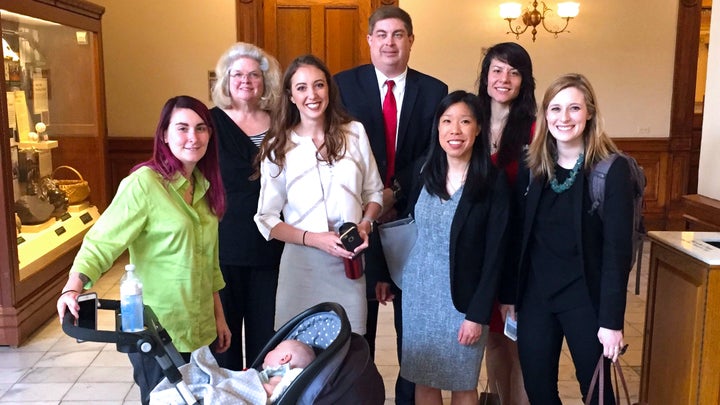 Georgia state Rep. Earl Ehrhart, R-Powder Springs, after the second and final defeat for 2017 of his controversial campus rape bill, House Bill 51, in the Georgia General Assembly said he would continue to push the measure. "It's the bottom of the first," he told The Red & Black, the independent student newspaper at the University of Georgia. "This is a long game."
This comes as no surprise to opponents who will not only continue to oppose provisions that would harm campus sexual assault survivors, but who have now asked the legislature to more comprehensively address the issue of campus sexual violence. The General Assembly should "come back again next year, and try to make a bill that was created for everyone, and not written with an intent to silence a party," said Grace Starling, a survivor, law student, and one of the leaders of Students Against House Bill 51 in testimony before the Senate Judiciary Committee.
Although the measure went through several iterations, including being attached to a wholly unrelated bill, Senate Bill 71, so it could be brought up again after the Senate Judiciary Committee voted to table the measure for the year, all versions contained three primary components. First, colleges and universities would be required to tell law enforcement about any report of campus sexual assault, or other felony, whether or not the survivor consented to that. Second, campus officials would be barred from or at least limited in conducting internal investigations. Third, accused students would be required to be provided with "due process" protections, something already required at state institutions by the 14th Amendment to the U.S. Constitution, that were undefined.
While touted as a measure to protect public safety by requiring reporting to law enforcement, and to uphold the "due process" rights of the accused, survivors along with their advocates argued this bill would not accomplish these things because it would chill reporting. Under this arrangement accused students would be far more likely to benefit from never even facing campus discipline than from redundant, and at best vaguely defined procedural safeguards.
"Survivors overwhelmingly tell us that, if they knew their school had to forward their sexual assault reports to the police, they would tell no one at all," said eleven local, state, and national advocacy organizations in a joint letter sent to the Senate Judiciary Committee. "By discouraging survivors from telling anyone, the bill would result in fewer opportunities for administrators to hold wrongdoers accountable and remove those who pose a continuing threat to the campus community."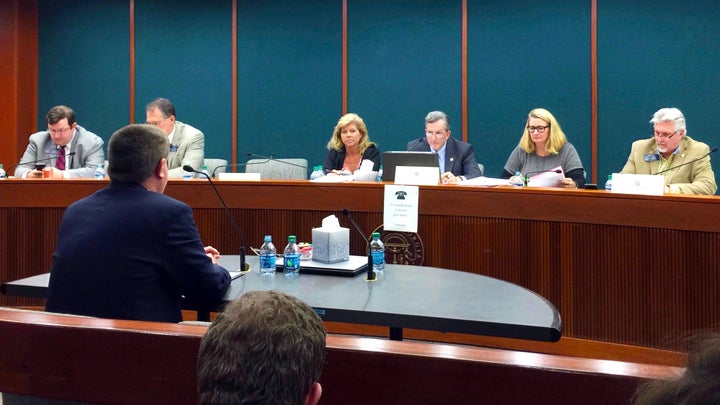 While the bill sailed through the state House relatively quickly, despite significant opposition by student activists, both Republicans and Democrats on the state Senate Judiciary Committee gave the measure its first serious review. Chairman Jesse Stone, a Republican, took the time to make sure all voices were heard, and gathered significant information on the subject as did other Committee members, notably Elena Parent a Democrat.
The call to table the measure for the year was also bi-partisan. "This is truly a complicated matter," said state Sen. Greg Kirk, R-Americus. "I think the proper thing to do at this point…I'd like to table this bill." State Sen. Vincent Fort, D-Atlanta, agreed. "I sense some unreadiness in the room," he said. "I have the same unreadiness." The vote to table was unanimous.
Students, joined at the State Capitol by allies including Atlanta Women for Equality and SurvJustice, continued to lobby against the campus rape bill until the last minute of the last hour on the last day of this year's legislative session. They requested three things were anything to pass this year. First, that there be no mandatory reporting. Second, that campus officials continue to be allowed to conduct independent investigations, something required under federal Title IX requirements. Third, that any procedural safeguards afforded to the accused, such as an opportunity to appeal, also be afforded to the accuser. Not once was there any request to deny accused students due process.
These positions are important, but are only the beginnings of ensuring Georgia's colleges and universities provide safe learning environments for their students, protect sexual assault survivors, and provide for a well-run, truly fair institutional disciplinary process. Given the high level of interest, if done judiciously Georgia could become one of the leading states in the nation on handling campus sexual violence.
Popular in the Community