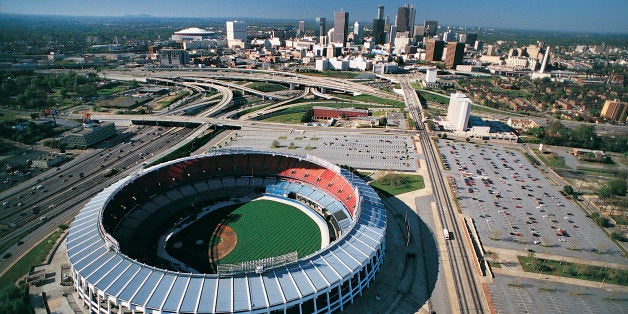 What do you do if your college football coach wins 74 percent of his games in the toughest conference in America, leading the team to seven Top 10 finishes in 15 seasons (with one losing season), a 9-5 Bowl record, and two No. 2 finishes? If you're the University of Georgia, you fire him, of course. Why? The entire state has "Florida Envy" when it comes to sports.
Former Head Coach Mark Richt, a former FSU Coordinator under the legendary Bobby Bowden, was brought on in after years of poor showings by his two predecessors. By all accounts, he rebuilt Georgia as a model team for standards, and holding players accountable, in addition to that success on the field. But he didn't win a championship, so he was fired. For rabid fans, it's been too long since 1980, their last National Championship.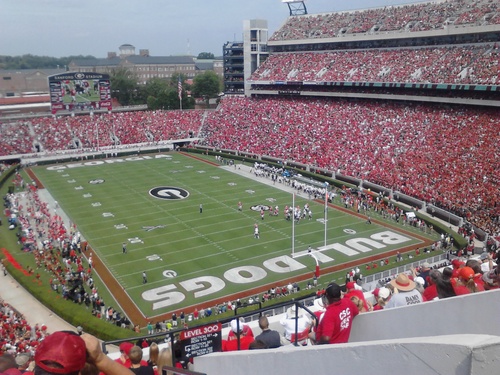 Normally, rational teams don't punish success like this. And the Georgia Bulldogs probably wouldn't have done so, if that state just below them didn't have a rival SEC Team (the Florida Gators) who won a few national championships with two coaches (while hitting rock-bottom with two others as well). In fact, the Peach State's entire outlook on all sports is driven by jealousy of the Sunshine State.
The University of Florida's Steve Spurrier had a lower winning percentage over his career with three teams, but won a National Championship. The school just welcomed him back. Urban Meyer won two with the Gators (and another at Ohio State) despite players with checkered results when it came to law enforcement.
Meanwhile, Georgia Tech's Chan Gailey had a winning record every year, but was fired. Successor Paul Johnson has won nearly 60 percent of his games, but finds himself on the hot seat. That's because that other Florida school (FSU) from the same conference, has three National Championships. The Miami Hurricanes have several as well. Tech shared one in the early 1990s, but it's been a very long time since then, for fans in Atlanta.
It's the same story in professional football. The Atlanta Falcons go through coaches, quarterbacks, and players pretty quickly, never having won the Super Bowl like Florida's Tampa Bay Buccaneers (or the Miami Dolphins years ago). Three coaches with playoff success were let go not long afterwards, as injuries hampered their records.
Even in baseball, the Florida Marlins have two World Series titles to the Atlanta Braves' one. And in college basketball, the Florida Gators have cut down the nets, while the Georgia Bulldogs and Georgia Tech Yellow Jackets have not.
In the NBA, the Miami Heat have won a few championships (and the Orlando Magic reached the finals in two), while the Hawks in Atlanta have never made it to the finals. Despite making the playoffs every year since 2008, the Atlanta Hawks have fired two coaches during that run, and may remove the current one (Mike Budenholzer) if the team doesn't make the finals soon.
In their haste to fire a lot of good coaches in all sports, Georgia teams may have overlooked the need for patience. The Florida State Seminoles didn't remove Bobby Bowden after years of near misses (his career winning percentage is identical to Mark Richt's with the Georgia Bulldogs). And he rewarded them with more than just a No. 1 ranking. He also created a dynasty.
Another example is the Florida Gator basketball coach Billy Donovan, who began his career with two losing seasons, and then only made the also-ran NIT. When the team did make the NCAA, they usually lost to lower seeded teams. It took him ten years, but he finally won his National Championship.
The only time Georgia ever showed patience was with Manager Bobby Cox and the Atlanta Braves, though they fired him on his first tour of duty with the team. After taking the team to a rare playoff appearance, Manager Joe Torre was canned. His record with the New York Yankees and several World Series rings speaks for itself.
Suffering from "Florida Envy," Georgia schools and teams think they're serving their fans with a "win a championship or bust approach," desperate to keep pace with their Southern neighbors. But all the state is doing is making it less likely its teams will ever win a championship.
John A. Tures is a professor of political science at LaGrange College in LaGrange, Ga. He can be reached at jtures@lagrange.edu.
Calling all HuffPost superfans!
Sign up for membership to become a founding member and help shape HuffPost's next chapter