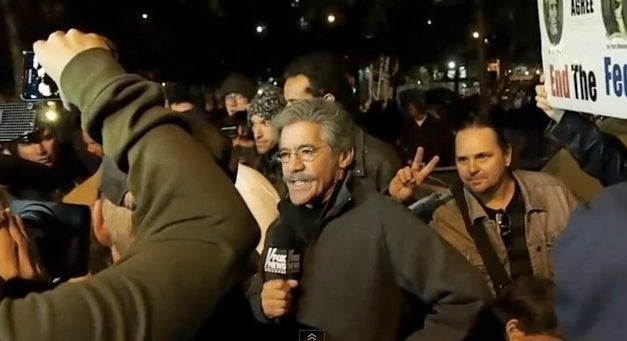 It's becoming as inevitable as a sunset: Geraldo Rivera goes down to Occupy Wall Street and gets heckled and shouted down.
Rivera was met by a disgruntled group of protesters on Sunday night when he reported live from the movement in Zuccotti Park. He has reported from the protests twice before where his presence was met with similar hostility. The protesters chanted "Fox News lies" over him and even attacked him with powder during his previous two trips.
On Sunday night, a protester filmed footage of the latest run-in. Rivera was interviewing a young woman about her reasons for protesting. However, the conversation was barely audible as the crowd mocked Rivera and chanted "mic check" over and over. Some protesters made hand gestures and faces into the camera from behind Rivera's back while others continued to chant "I don't like Fox Five." The protesters were presumably referring to Fox News' local New York City station which is aired locally on channel 5. Rivera maintained his presence, even as protesters chanted "why is Geraldo still allowed in the park?"
The actual Fox News cameras also caught a protester dropping the f-bomb on live television as he was speaking to Rivera. Producers had no delay that enabled them to edit out the profanity before it reached viewers at home. Rivera looked visibly upset and told protesters "you guys swore to me, no cursing!"
Later, he referred to that protester's "obscenity" as "so lame" and warned viewers at home and the demonstrators around him that he hoped he would still be able to cover Occupy Wall Street after the protester cursed during his show on live television.
WATCH:
Watch (
):
Popular in the Community