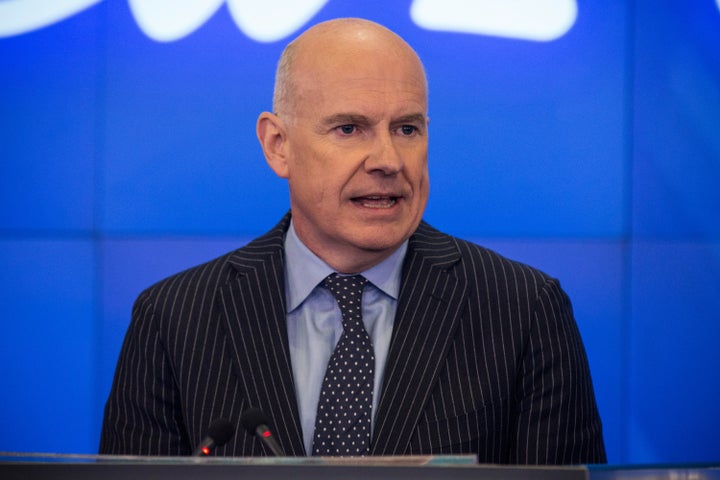 NEW YORK ― Wall Street Journal Editor-in-Chief Gerard Baker defended his paper's coverage of President Donald Trump during a Monday staff town hall and said it would be "fake news" to claim the publication hasn't been tough enough, according to Journal sources.
"Don't let anybody get away with saying our reporting of Donald Trump has been soft," Baker told attendees.
Journal staffers have sought an audience with Baker amid internal concerns the paper hasn't been as aggressive in covering Trump as competitors or as direct in calling out falsehoods, such as the president's bogus claim about widespread voter fraud. Baker recently came under scrutiny after urging editors to avoid using the term "majority-Muslim" to describe the countries affected by Trump's travel ban.
During the Monday meeting, Baker argued that the Journal's role is not to be "oppositional," as some news organizations appear to be, but to provide objective coverage. He said the paper shouldn't be "dragged into the political fight."
Baker suggested staffers unhappy with the Journal's coverage should go elsewhere, according to sources. David Enrich, a Wall Street Journal editor, tweeted after the meeting that Baker was broadly speaking about "staffers unhappy with our approach - i.e. objective rather than oppositional." Some staffers viewed Baker's remarks on going elsewhere as less an ultimatum and more his reiterating the paper's long-held standards for fairness.
In his remarks, Baker expressed irritation with criticism of the paper's Trump coverage. He read through a long list of Journal stories spanning from his campaign to his presidency as evidence the paper hasn't given Trump a free ride.
The Monday town hall was announced to address a range of issues, including the paper's reorganization plans, which have recently led to layoffs. It also came just a week after the abrupt departure of Deputy Editor-in-Chief Rebecca Blumenstein to The New York Times and following reports about Journal owner Rupert Murdoch's close ties to Trump.
Baker's comments Monday echoed an argument he's made in recent months about how, in his view, the Journal has provided more fair coverage of Trump than some competitors.
"While many other news organizations seem to have largely abandoned any last effort to be fair in their coverage, ours has been conspicuously objective, penetrating, intelligent, and, yes, fair," he said a day before the election. He made a similar claim in a TV advertisement a month later. And last month, Baker urged caution in calling even Trump's repeated falsehoods "lies," a word the Times has done with regard to the conspiracy theory about voter fraud.
Baker suggested Monday that all White Houses shade the truth to some degree, but acknowledged the Trump administration has stood out for its "extraordinary disregard for facts" and frequent falsehoods.
Still, Baker reiterated his hesitancy to use the word "lie," which he has said requires knowing the speaker's intent and noted that the Times has only twice categorized false Trump claims as "lies."
Baker said the Journal should present facts, such as in the case of Trump's inauguration crowd size claims, and let readers decide for themselves if the president is lying.
He also addressed the request that editors not use the term "majority-Muslim" to describe the seven countries on Trump's ban, an email he said was sent in haste one night. Baker said it was "testable" whether the countries selected were chosen specifically because of their Muslim populations or for another reason.
Trump, who ran for president on a policy of temporarily barring all Muslims from entering the United States, has claimed his recent executive order, which has been twice ruled against in the courts, is not a Muslim ban.
This post has been updated with more details from the meeting and reaction to it.
Related
Popular in the Community