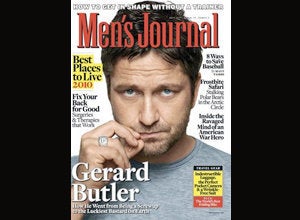 Gerard Butler covers the April issue of Men's Journal, and inside he discusses his sex life and continues to provocatively insinuate he is involved with 'Bounty Hunter' costar Jennifer Aniston.
Here are some highlights from the interview:
On getting laid:
"I think I get laid less now than I used to, because I'm way more paranoid now - look at f-cking Tiger Woods! I mean, I'm nowhere near as naughty as I used to be, partly because I did a lot of that when I was drinking."
On his commitment problems:
"In the last five years since coming out here, I've had two relationships. I'm not a big relationship guy. One of my vices is, I'm too wrapped up in myself and not always in a good way."
On holiday fun with Jennifer Aniston:
"Over Christmas she had a tree-trimming party that I went to. Yeah, I trimmed her bush... Shit. Please don't put that in."
On his anxiety addiction:
"I was born into a world of anxiety... I am slightly addicted to anxiety. When I'm feeling anxious, I'll create more anxiety for myself. Like I might call all these people about what's fun to do tonight and end up with four different options, which in itself would put me into a blind panic; but then I'll make another four calls just to make it 10 times more anxiety-ridden."
Popular in the Community