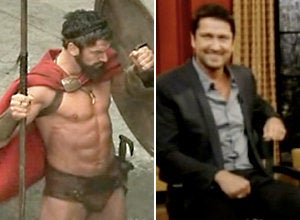 Gerard Butler got supremely ripped to play a Spartan warrior in the 2007 film '300' - then he inevitably softened up a bit when he laid off the grueling workouts and Spartan diet.
Page Six reports that Butler has been hitting the gym lately on the sly to get his body back in fighting form.
"He's so embarrassed that his six-pack abs have gone, he works out wearing a baseball cap and sunglasses," gushed our spy. "Can you imagine the ladies' response when they think they scored a Spartan warrior but instead see that gut! He joined a private gym in Chelsea, Peak Performance, that's so discreet, it's on the eighth floor and strictly limited to approved members" -- one of whom ratted Butler out.
"I'm internally cleansing," he said. "I have to do it every now and then because I'm not always the healthiest of guys...I don't drink anymore, I don't smoke anymore, I don't really have a life. So then I'll binge out and have burgers and fries and Coca-Colas and then I'll say 'I can't do that anymore, I have to cleanse.'"
Popular in the Community