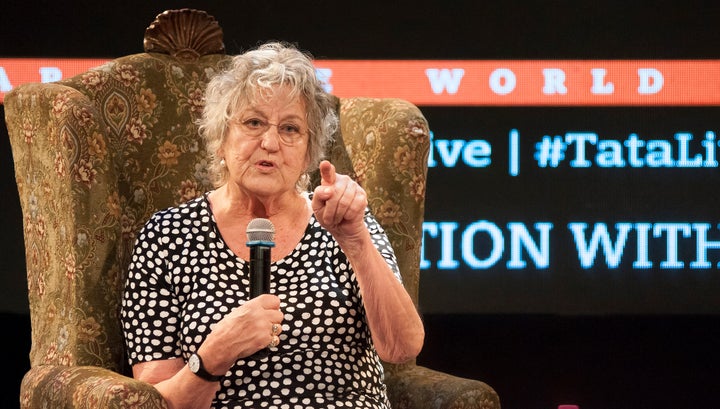 Australian author and feminist academic Germaine Greer gave a bizarre speech about rape and sexual assault at the Hay literary festival in Hay-on-Wye, England, on Wednesday that has many people up in arms.
"Instead of thinking of rape as a spectacularly violent crime ― and some rapes are ― think about it as nonconsensual, that is, bad sex. Sex where there is no communication, no tenderness, no mention of love," Greer, 79, said. "We used to talk about love making, once upon a time we knew you had to make it."
In what seemed to be an attempt to say that not all rapes are overtly violent, she characterized "most rape" as simply "lazy" and "careless." She pointed to violent movies, like those of director Quentin Tarantino, as giving people the wrong idea about what rape really is.
"An expert, like Quentin Tarantino, will tell us that when you use the word rape you're talking about violent, throwing them down... It's like one of the most violent crimes in the world, [he would say]. Bullshit, Tarantino," Greer said. "Most rape is just lazy, just careless, just insensitive. Every time a man rolls over on his exhausted wife and insists on enjoying his conjugal rape, he is raping her. It will never end up in a court of law." 
Greer did not immediately respond to HuffPost's request for comment.
She spoke at the festival to promote her upcoming book titled On Rape, which she wrote in response to the recent Me Too movement. The second-wave feminist is best known for her controversial 1970 feminist book The Female Eunuch. She is also well-known for past inflammatory comments, including saying that transgender women are "not women" and her statement that Harvey Weinstein's victims are "career rapees" because of the "extraordinary exposure" they've received. 
Her speech at the Hay festival was similarly controversial.
Greer, a survivor of rape herself, did recognize that law enforcement has historically failed victims of sexual assault.
"Once upon a time you were expected to show up with your clothing torn, your hair disheveled and complain that you have been attacked by a man. And people would judge by your injuries whether you were telling the truth," she said.
She added that sexual assault and rape are so common in our culture because the justice system doesn't know how to prosecute these types of crimes. But while it's true that many legal systems are wildly problematic in their approach to sexually violent crimes, Greer offered a rather bizarre alternative.
"If we are going to say trust us, believe us, if we do say that our accusation should stand as evidence, then we do have to reduce the tariff for rape," she said.
She also argued that rapists should be sentenced to 200 hours of community service and have the letter "R" tattooed on their hand, arm or cheek.
Many people were upset by Greer's comments, including former British cabinet minister Priti Patel who told The Daily Mail that the Australian author's views are "sickening."
"These comments are an affront to the victims of appalling crimes such as rape. We should have zero tolerance of sexual violence," Patel said.
Others voiced their frustration and anger on Twitter. 
Calling all HuffPost superfans!
Sign up for membership to become a founding member and help shape HuffPost's next chapter