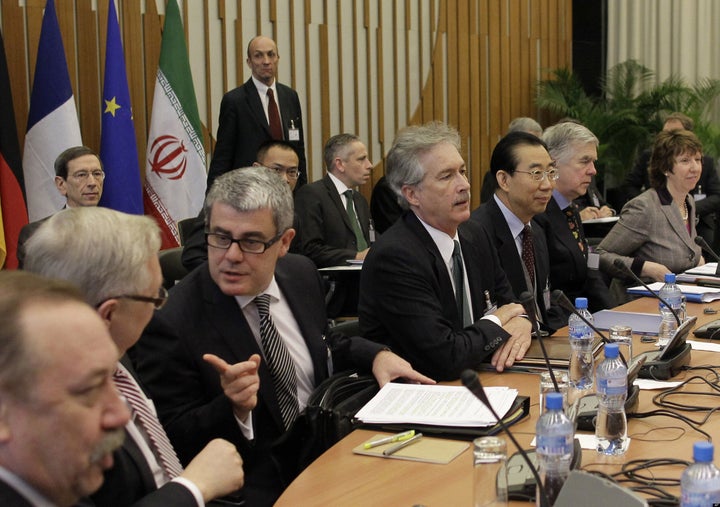 German activists are raising an outcry over what they characterize as a growing "offensive of promoting German-Iran relations" on the part of German politicians and businesspeople that they believe is undercutting hard-won gains in the cooperative EU and U.S. effort to isolate Iran's government via sanctions.
Members of Stop the Bomb, a coalition of German intellectuals dedicated to preventing Iran from attaining nuclear weapons, protested a November 22 meeting of the Iran Business Forum, a business networking group that hosted numerous Iranian officials at a Courtyard Marriott Hotel in Hamburg, Germany. Iranian Ambassador to Germany Ali Reza Sheikh Attar, a close confidant of Iranian President Mahmoud Ahmadinejad and a member of Iran's Revolutionary Guard, which has been designated as a terrorist organization by the U.S. State Department, reportedly gave the event's opening speech, according to the event program.
"It is very important to demonstrate that these kinds of events cannot take place without protests, and to blame the hosts and organizers of these events for what they are doing: giving the Iranian regime a platform in Germany," said Ulrike Becker, a founding member of Stop the Bomb. "Germany has... so far made good business in Iran, but this policy [has] strengthened the Iranian regime and made their nuclear program possible."
Especially galling to protesters of the Hamburg gathering was The Iran Business Forum's invitation of Alireza Beyghi, governor of Eastern Azerbaijan. Beyghi, who according to the event program was a featured speaker, oversees the province where Sakineh Mohammadi Ashtiani, a 43-year-old mother of two, is threatened with death for alleged adultery, and where her son, who spoke out on her behalf, has reportedly been tortured by Iran's government. (Ashtiani's plight has been widely publicized in an international media campaign that shined a spotlight on Tehran's human rights abuses. While the date set for her execution has passed, she remains alive. Activists believe the publicity campaign thus far may have saved Ashtiani's life).
Ashtiani's son's lawyer, and two German journalists who traveled to Iran to report on the story for the German tabloid Bild am Sonntag, are presently also imprisoned by the Iranian regime.
For Germany to host the perpetrators of these abuses, including the detention of two German citizens, is unacceptable, say activists.
"It is particularly shocking that German businessmen are schmoozing with the one who is responsible for the death threats to Sakineh Ashtiani and for the imprisonment of her son, his lawyer, and the two journalists," said Becker.
Joining Stop the Bomb in protest was United Against a Nuclear Iran (UANI), a nonprofit that advocates preventing Iran from attaining nuclear capability. UANI's director, former U.S. Ambassador to the United Nations (under George Bush Sr.) Mark D. Wallace, sent a blistering letter to the head of the Marriott hotel chain, J.W. Marriott Jr., threatening to organize a worldwide boycott of Marriott hotels due to Courtyard Marriott Hamburg's hosting of the meeting.
The letter argues that hosting Iran's leaders undermines international cooperation designed to isolate the regime via sanctions, and international efforts to counter human rights abuse.
"Ambassador Attar represents a criminal regime that flouts international law in developing an illegal nuclear weapon, brutally represses its own people and is the world's leading state sponsor of terrorism," reads an excerpt from the letter, circulated by members of Stop the Bomb.
UANI's Board of Advisors includes Irwin Cotler, Canadian member of Parliament and former attorney general and minister of justice of Canada; former CIA head James Woolsey, and Fouad Ajami, middle east commentator, professor, and former director of middle east studies at Johns Hopkins University.
German activists are not alone in objecting to Germany's hosting of Iranian leaders at a business forum.
Andrew Apostolou, a Senior Program Manager at Freedom House, a Washington D.C.-based organization that advocates for democracy, political freedom, and human rights, commented, "Conferences promoting business with Iran serve to whitewash the Iranian regime's human rights abuses. Germany should be following the U.S. lead and imposing human rights sanctions, not providing a platform to regime speakers."
In addition to the meeting, Becker and other German activists oppose recent visits by German politicians to Iran, which Becker says have taken place under a cloud of secrecy. Last month, for instance, five lawmakers traveled to Iran reportedly to promote "cultural exchange" and negotiate the release of the two journalists. After the German politicians returned, Iran charged the reporters with espionage. In recent days, however, Tehran has reversed that charge and signaled that in its view the journalists are not spies. Instead, a regime representative said the journalists broke Iranian law, claiming that they came to Iran on tourist visas and worked as journalists.
Stop the Bomb activists disagree with what they characterize as German politicians' secret travels to Iran and tendency, while there, to downplay Iran's human rights abuses (there has been, they assert, a virtual blackout in German media of German lawmakers' recent travels to Iran). Stop the Bomb would like to see an international campaign to free the German journalists akin to the one to free Sakineh Ashtiani, which they believe may be working to save her life.
The identities of the German journalists have not been released by any major media source.
Earlier this month Elke Hoff, a member of the German Bundestag, traveled to Iran. Becker and other activists say her visit has been used by the Iranian regime as a public relations tool to camouflage Iran's problematic human rights record, and create what activists consider to be a false moral equivalency between the regime's extreme and systematic human rights abuse and other countries' imperfections. However, Becker added, "It is possible [Elke Hoff] made her trip... in connection with the imprisonment of the two journalists."
Elke Hoff's office did not respond to requests for comment via phone and e-mail.
While Stop the Bomb activists say they understand the need for sensitivity concerning extremely recent visits on the part of German politicians, they remain concerned that the trend of German politicians' visiting Iran and allegedly downplaying Tehran's human rights abuses while there, as well as German businesspeople's participation in cooperative events with Iran's regime, not be used by Tehran to undermine the isolating effect of sanctions.
"Right now the Iranian regime has taken the offensive and tries to blackmail the German government with the imprisoned journalists," said Stop the Bomb spokesman Jonathan Weckerle. "This is also a result of the ongoing events promoting trade with Iran and of the uncritical journeys to Iran by German members of Parliament, by which the German side undermines the sanctions and signals weakness and indetermination."
Support HuffPost
The Stakes Have Never Been Higher
Related
Popular in the Community