BERLIN -- At dusk, the Sluggers warm up for the second practice of the season.
Gray apartment buildings loom over the team from right field. Their windows reflect the orange sun descending behind the third-base line. The players get into two facing rows in center field. Gloves start to pop. In a thin grove of trees beyond the fence, birds chirp.
"Jungs," yells 32 year-old player-manager Benjamin Kleiner, between throws. "Spread out a little more."
Jungs -- that's German for boys. The Sluggers play in the second German baseball league, on one of the few diamonds in this city. For most of Kleiner's jungs, the goal for the season is to advance to the first German league. (They fell a game short last year.) But one of them is aiming a little higher. Former Slugger Max Kepler-Rozycki, 17, is a top prospect for the Minnesota Twins, signed last year for a reported bonus of $775,000.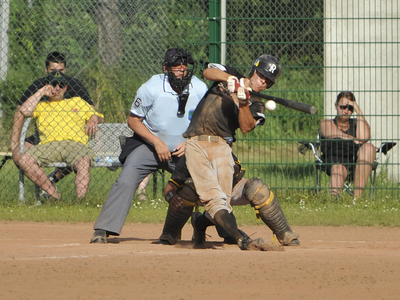 Kepler-Rozycki batting. Photo: Deutscher Baseball und Softball Verband e.V. / Gregor Eisenhuth
If Kepler-Rozycki makes it to the show - and former teammates here seem confident he will - he could give baseball a sorely-needed popularity boost in this nation of soccer fans. There is even talk of a "Dirk Nowitzki effect" -- the hope that Kepler-Rozycki or another native son in Big League cleats could draw the same kind of attention here as the German NBA star.
"We believe in that. We dream of it," says Stefan Hoffman, the equivalent of Germany's baseball commissioner.
The roughly 300 clubs in the German Baseball and Softball Association have some 26,000 members. Hoffman says the quality of play has steadily improved, but it's still hard to get attention from the other 82 million people in this country. An average game at Germany's highest level of play draws between 500 and 1,000 visitors.
Fortunately, the Sluggers seem comfortable toiling in obscurity, knowing that most of the people who live in the gray buildings around them have no idea what's going on down below.
One advantage of experiencing baseball abroad is that it turns the game into a fun, bilingual stew. White Sox pitcher Mark Buehrle's amazing opening-day play comes up as the Sluggers play catch. "Das war krank," one player says, handily transforming American slang -- "That was sick" -- into German.
I mention to pitcher Thomas Bieber, who spent half a year on a baseball team in Nicaragua, that playing in Germany seems a little different.
"You mean when the masses start cheering?" he says.
It's not just the crowds that are small. For better or for worse, so is the talent pool. Recruitment is a haphazard exercise when hardly anyone knows your sport. Bieber, for example, was pulled into a Sluggers practice one day when he walked past the field after school.
Earlier in the evening, I knelt in the infield with Sluggers newcomer Travis Leer to help him pull weeds from the dirt around the shortstop position, where he hopes to play. Leer, a 28-year-old American who recently moved to Berlin with his German wife, said joining the Sluggers had given a rare opportunity to play competitive, recreational hardball.

"And it's Bundesliga (national league)!" he said.
Well, it's the second Bundesliga. But Leer has a point. During high school I played left field and bench for the Bonn Capitals. Undoubtedly, I would have been cut from the baseball team at the average American high school. This makes Kepler-Rozycki's feat all the more impressive. Of course there are good players in Germany, but the place is hardly known for exporting talent.
In fact, many foreigners come to Germany to play, often receiving modest support from their teams. The league has even set up rules restricting the phenomenon -- to develop the local talent, commissioner Hoffmann says. This adds an interesting layer of strategy to the game. In Germany's top league, no more than two foreigners can be on the field at once, and only one of them can be playing shortstop or catcher.
Who knows? Maybe someday Major League Baseball will need similar rules for German players. Kai Gronauer, of the Single-A Savannah Sand Gnats, has gotten as far as a spring training game with his parent club, the New York Mets. And teammates say Kepler-Rozycki, an outfielder whose mother is American, has the stuff to survive at the highest level. As the Wall Street Journal explains, the young phenom inherited many of his talents from his parents, both ballet dancers.
So if Kepler-Rozycki's baseball gifts don't take here in Germany, perhaps his family background will help him pick up a few more fans, like my mom. She is German and doesn't follow any team sports -- but especially not baseball. When I took her to a Harrisburg Senators game in Pennsylvania one summer, her favorite part was the rain delay. She couldn't stop marveling at the spectacle of the crew covering up the field, running back and forth in unison to unfold the billowing tarp.
Her comment: "It's like a ballet!"
Related
Popular in the Community