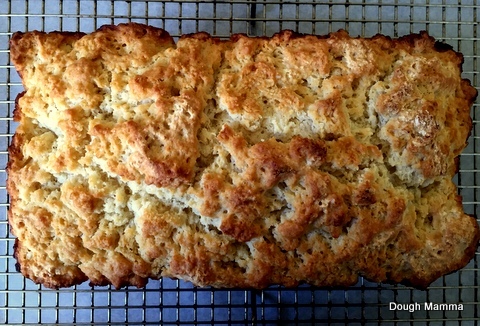 This German Beer Bread is "knock-your-socks-off" delicious and is the perfect companion for almost any meal. Made with organic ingredients, this German Pilsner made by Pinkus, is cool light and crisp, the perfect base for this divine bread. Over the years I have found, the lighter the beer (in color, not calories) the better the bread. Pale ales, Pilsners, Hefeweizens and Blondes lead the pack in "most preferred beer" for this bread. My mom used to make beer bread with Budweiser and I have to say, it was pretty darn good, so if you don't have access to fine craft beers, by all means, use what you have on hand.
Even if you have never baked before, you will be amazed at how easy this bread is to produce. No mixer, yeast or kneading is required. Simply take your dry ingredients, give them a swirl, add your beer and throw it in a loaf pan - now that's what I call baking.
If you have never had the pleasure of eating beer bread before, it should be noted, it is best enjoyed toasted, like that of an English Muffin. The crunchy crust exterior and the billowy dough on the inside, makes this a perfect accompaniment to a hot bowl of chili or a seasonal soup.
For those of you interested in our giveaway, there is still time, so check out the post here.
Enjoy!


Title: German Beer Bread with Rosemary Butter
Author: Doughmamma
Prep time: 10 mins
Cook time: 35 mins
Total time: 45 mins
Serves: 10
Notes: I'm a fan of German beer, especially Pinkus because of their Organic farming and production practices. Again, any light beer will do. Once you are ready to throw your bread into the oven, take a handfull of ice cubes, place them in a cake pan and place it in the corner of your oven. This will produce steam, which will in turn, help to produce a nice beautiful crunchy crust.
Ingredients
2 cups (10 oz) of All-Purpose flour
1 cup (5 oz) of bread flour
3 tsp of baking powder
1 tsp of salt
¼ cup of sugar
12 oz of Pinkus Pilsner
8 Tbsp of butter melted
2 Tbsp of honey
1 tsp of freshly chopped Rosemary - optional
Instructions
Pre-heat your oven to 375 degrees. Butter a loaf pan and place a piece of parchment paper on the bottom of the pan. Set aside.
In a large bowl mix your first 5 ingredients. Add your beer and mix until just incorporated. Take a spatula and slide the dough into the loaf pan.
Melt butter and add honey, mix. Pour 4 Tbsp of butter on top of the unbaked bread. Take the other 4 Tbsp of butter and mix in rosemary. Place in refrigerator to harden and use later as a topping.

Place loaf pan in oven and bake for about 35 minutes or until a rich golden brown color. You will know when its ready when you hear a hollow sound as you tap the top of your bread.

Remove from oven and allow to cool in the pan for 15 minutes. Remove from pan and cool on wire rack. Store in an airtight container. Toast before serving.