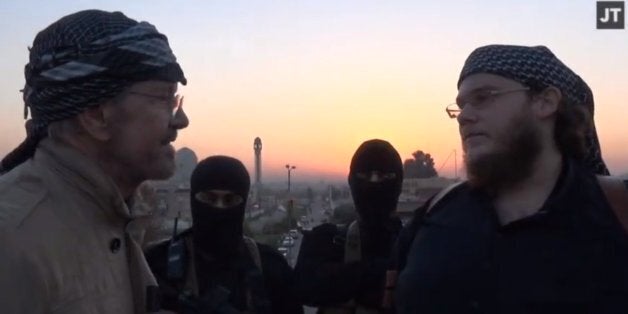 Author and former German Parliamentarian Jürgen Todenhöfer posted a video on his Facebook page on Wednesday showing an interview with a fellow countryman-turned-jihadist.
The interview was filmed inside the Iraqi city of Mosul during Todenhöfer's 10-day trip into Islamic State territory this past December. Todenhöfer and his son Frederic were allowed to visit several cities in Iraq and Syria under the jihadists' rule, an extremely unusual event given the militant group's harsh treatment of journalists.
The German fighter interviewed in the footage is Abu Qatadah, a Muslim-convert formerly known as Christian Emde. Awkwardly shuffling from side to side, Abu Qatadah answers a series of questions about the goals and laws of the Islamic State, as three balaclava-clad gunmen stand watch in the background.
"He who doesn't accept our beliefs doesn't accept Islam" Abu Qatadah states, before fielding questions on beheadings ("we will continue to practice this"), and whether the Islamic State's institution of slavery is progress for mankind ("definitely").
Abu Qatadah also outlines some of the supposed laws of the Islamic State, detailing how Christians and Jews must pay a protective tax or convert to Sunni Islam, but that Shia Muslims need to convert or will be killed. As for the Islamic State's plans for expansion, Abu Qatadah says his group "will one day conquer Europe. We don't just want to. We will."
Speaking to HuffPost Media's Michael Calderone last December, Todenhöfer said he embarked on the December trip because he wanted to write a book on the Islamic State group, but found there was "almost no information from the ground."
Upon his return, Todenhöfer wrote on his website he believes the West is "dramatically underestimating" the threat the extremist group poses.
Calling all HuffPost superfans!
Sign up for membership to become a founding member and help shape HuffPost's next chapter
BEFORE YOU GO
PHOTO GALLERY
Syria War In January