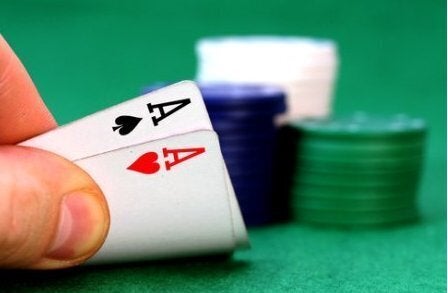 SCROLL DOWN FOR VIDEO OF THE HEIST
JUERGEN BAETZ, Associated Press
BERLIN — A heavily armed group stormed a poker tournament in a German luxury hotel Saturday afternoon and made off with a jackpot, a police spokesman said.
Several participants at the tournament in Berlin's Grand Hyatt hotel were slightly injured when they panicked and fled following the daring afternoon heist, Carsten Mueller said.
Mueller said four robbers in disguises forced employees to hand over money, and then managed to escape. Mueller declined to give details, including how much money the men got away with.
The jackpot for the tournament stood at euro1 million ($1.36 million), according to a European Poker Tour Web site. The EPT confirmed the heist on the event's blog in an official statement, saying there had been "an armed robbery executed by six men." It was unclear why the number differed from the police count.
The B.Z. daily quoted witnesses as saying that the robbers were armed with automatic weapons, machetes and hand grenades.
Mueller declined to comment on the weapons, citing the ongoing investigation.
German news website Spiegel Online quoted witness Claudia Sommerey as saying that panic spread in the room at the five-star hotel in downtown Berlin.
Sommerey told Spiegel Online she hid under a table. "I saw three disguised men with rifles," she was quoted as saying.
The tournament was organized by the European Poker Tour, which calls it the biggest such event in Germany. The tournament was to be continued in the late afternoon.
According to the organization's website, about 400 participants started into the five days long competition on Wednesday. Most of them, however, had already dropped out of the game by Saturday, among them tennis great Boris Becker.
Calling all HuffPost superfans!
Sign up for membership to become a founding member and help shape HuffPost's next chapter