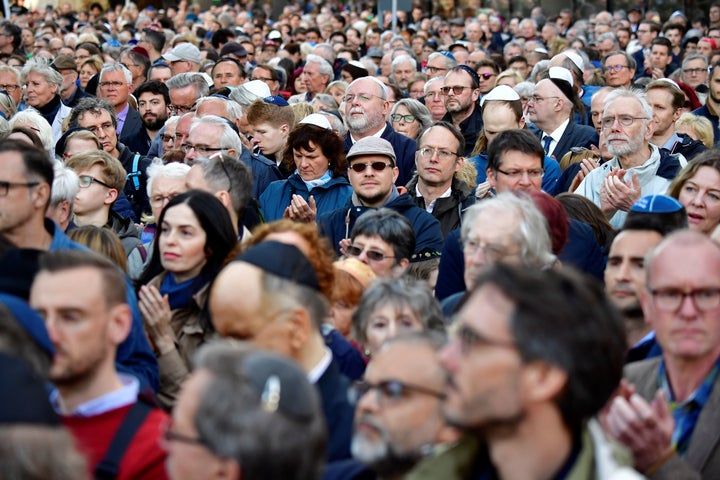 Jews and their allies donned kippas and joined in public marches across Germany Wednesday, a response to growing concerns about anti-Semitism in the country.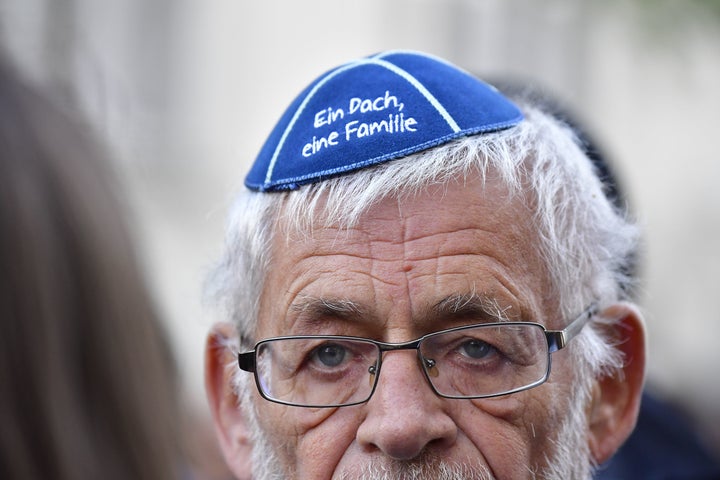 But other Jewish leaders are urging the community to march in public and wear the kippa with pride.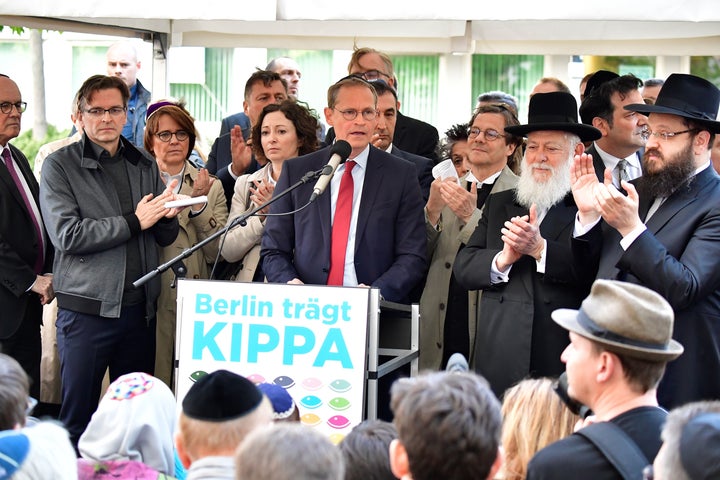 "Jewish identity is not something we should hide," Rabbi Yehuda Teichtal, an Orthodox rabbi in Berlin, told the AP. "We have to be proud of who we are and at the same time fight anti-Semitism."
More than 2,000 people took part in Wednesday's "Berlin Wears Kippa" event in the capital, according to Reuters. The event featured speeches from Jewish and Christian leaders, as well as local politicians.
In the eastern city of Erfurt, about 150 people joined a solidarity rally, according to the AP. A representative for ACHAVA Festspiele Thüringen, the interfaith group that organized the city's march, told HuffPost it was attended by local politicians and Catholic, Protestant and Muslim community leaders. 
The German daily newspaper Tagesspiegel offered a photo of a kippa on its website for readers to print, cut out and wear for the solidarity marches.
Anti-immigrant groups in Germany have blamed the anti-Semitic attacks on the arrival of more than 1.6 million migrants since 2014, many from the Middle East.
German Muslim groups have spoken out against the rise of anti-Semitism in their country. The country's Central Council of Muslims is listed as a supporter of Wednesday's solidarity march and has long condemned anti-Semitic attacks in Europe. Its president, Aiman Mazyek, told a regional newspaper that "there is anti-Semitism present among some refugees." Mazyek said that the council was running educational programs for refugees, including organizing trips to former concentration camps and meetings with Jewish neighbors. 
"Anti-Semitism, racism and hatred are great sins in Islam, therefore we will also never tolerate that," Mazyek told the regional Rheinische Post.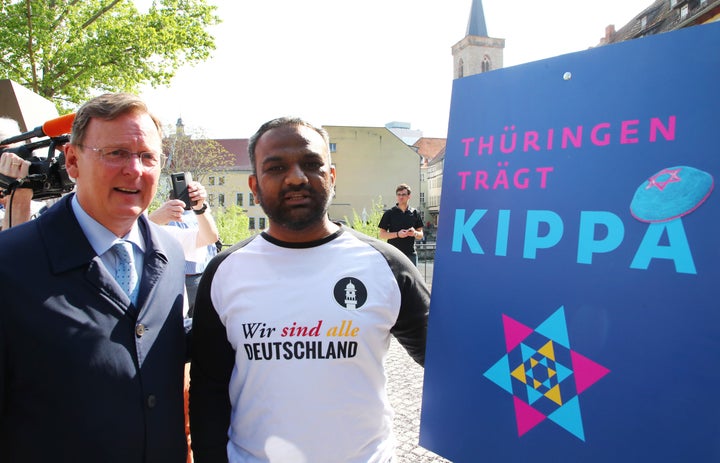 Gokay Sofuoglu, the leader of Turkish Communities in Germany, an umbrella organization for Turkish groups in the country, told a local paper that the fight against anti-Semitism is crucial. 
"If you want to fight Islamophobia, then you can't tolerate anti-Semitism either. And we know where anti-Semitism ended up in German history," Sofuoglu said, according to Reuters.
See more photos from the solidarity marches in Germany below. 
REAL LIFE. REAL NEWS. REAL VOICES.
Help us tell more of the stories that matter from voices that too often remain unheard.
BEFORE YOU GO
PHOTO GALLERY
Jewish Social Justice Organizations