A shooting near a synagogue in the eastern German city of Halle killed at least two people and wounded several others Wednesday in what authorities said appeared to be an anti-Semitic attack.
The dead included a woman who was shot near the synagogue and its cemetery, as well as a man killed in a nearby kebab eatery, a police spokeswoman told German newspaper Die Zeit.
The violence occurred around noon on Yom Kippur, one of the holiest days in Judaism, when dozens of people were worshipping inside the synagogue. A shooter attempted to storm the synagogue but was unable to get inside, officials said.
At least two injured people were taken to Halle University Hospital, the German news magazine Der Spiegel reported. Halle Mayor Bernd Wiegand described the shooting as "rampage," and declared an emergency situation.
"Based on the information that we have at this point, we must assume that at the least, this was an anti-Semitic attack," German Interior Minister Horst Seehofer said.
The suspected shooter, identified by police as a 27-year-old German man, was arrested shortly after the attack. Police initially reported there may have been other assailants, but said after the suspect's capture that there was no longer a public threat.
The shooter apparently livestreamed the attack on Twitch. The video, taken down by the streaming platform several hours later, showed the suspected shooter making anti-Semitic, anti-feminist comments.
The video additionally shows the suspect unsuccessfully attempting to enter the synagogue before shooting a woman outside, and driving to the kebab restaurant, where he entered and opened fire. The footage continued to circulate on social media and messaging platforms hours after the attack.
Pictures of the shooting scene show a body covered by a tarp in the street. Reuters said it had obtained amateur video and images showing one suspected shooter dressed in combat gear, firing rounds off and hiding behind a car.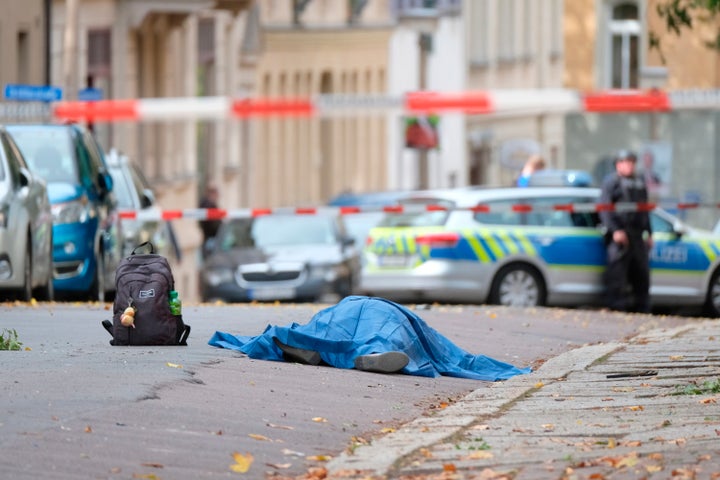 There were 70 to 80 people inside the synagogue at the time of the attack, Max Privorotzki, a leader of the local Jewish community, told Der Spiegel. Ten of the worshippers were American citizens, according to U.S. Ambassador Richard Grenell.
"The assailant shot several times at the door and also threw several Molotov cocktails, firecrackers or grenades to force his way in," Privorotzki said, according to AP. "But the door remained closed — God protected us. The whole thing lasted perhaps five to 10 minutes."
Police in Halle, a city of about 240,000 about 100 miles southwest of Berlin, urged community members to stay indoors, but lifted the warning hours later, tweeting there was no longer a threat. Additional police officers were sent to neighboring synagogues as a precaution, reported The Washington Post.
The German prosecutor general's office took command of the investigation. The agency steps in when there's a potential national security threat or terrorism, Die Zeit reported.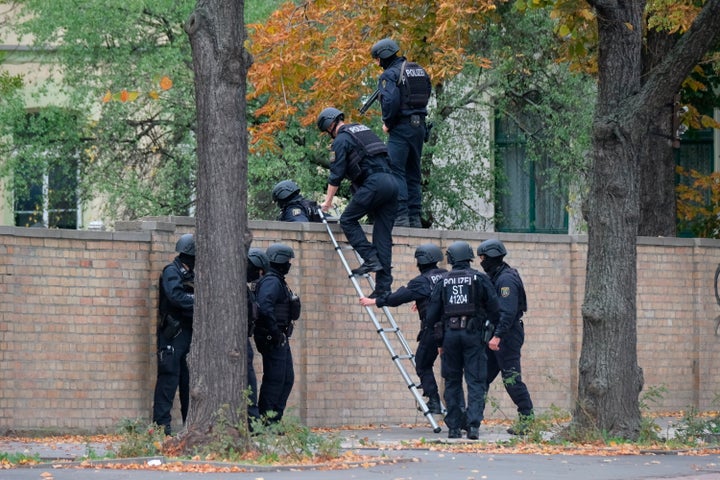 Politicians across Europe, including members of German parliament, quickly offered condolences and condemned anti-Semitism. European Parliament stood for a minute of silence.
"That on the Day of Atonement a synagogue was shot at hits us in the heart," German Foreign Minister Heiko Maas tweeted. "We must all act against anti-Semitism in our country."
Anti-Semitism has been a growing concern in Germany in recent years, with the country's interior ministry reporting a 20% rise in anti-Semitic attacks in 2018 from the previous year. Authorities attributed the vast majority of the attacks to far-right extremists, viewed as an increasing threat in Germany.
In a killing that shocked the country earlier this year, a far-right attacker assassinated a regional politician who supported Chancellor Angela Merkel's policies on refugees.
Far-right extremists in Europe and the U.S. have taken to livestreaming attacks and releasing manifestos online. Social media companies have been unable to prevent the spread of violent, hateful content on their platforms.
"We are shocked and saddened by the tragedy that took place in Germany today, and our deepest condolences go out to all those affected," Twitch said in a statement to HuffPost. "Twitch has a zero-tolerance policy against hateful conduct, and any act of violence is taken extremely seriously."
Mass shootings and other gun-related crimes are relatively rare in Germany, which implemented strict firearm laws after a series of school shootings in the 2000s.
Andy Campbell contributed reporting.
This article has been updated to note that authorities now believe a lone gunman carried out the shootings.
Related
Popular in the Community