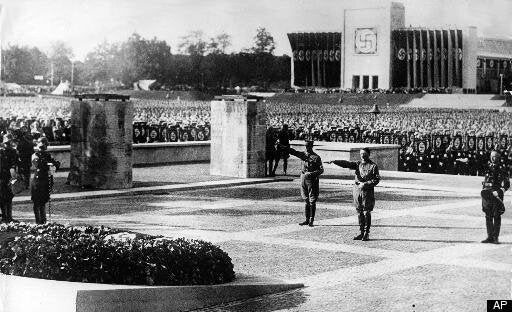 Allan Hall | The Independent
Germany's far-right National Democratic party (NPD) has triggered outrage with plans for a Third Reich-style "training centre" in a small village.
The mastermind of the scheme is Jürgen Rieger, a lawyer and deputy leader of the anti-immigrant, anti-EU party that is steeped in pride for Adolf Hitler and the "achievements" of the Nazi regime. The idea is for the old Hotel Gerhus at Fassberg, near Hanover, to become a place of pilgrimage for NPD devotees, where they can learn about the "menace" of immigration, the "criminality" of Roma gypsies and the "innate decency of law-abiding German nationalists".
Mr Rieger, 61, has also tried to open Boys From Brazil-style "breeding centres" in other locations; the plan being for all white, Ayran racists like himself to produce offspring to people the Fourth Reich, which he believes is coming one day.
The abandoned hotel went into receivership 24 hours before Mr Rieger signed a 10-year lease on it with the debt-ridden owners. The receiver, Jens Wilhelm, had hoped to be granted an order this week to force the neo-Nazis off the property, but a court rejected his move. It means Mr Rieger and the NPD are there until another court hearing can be convened.
His refusal to give up his plan is likely to cause a furore in Fassberg. Left-wing, anti-Nazi groups are already promising marches that would inevitably lead to violence near the 80-room property.
A foretaste came at the weekend when shots were fired near the hotel and young people from the left and right faced off with pepper sprays and batons. Police have mobilised 24-hour patrols.
Mr Rieger is also trying to open a museum in Wolfsburg dedicated to the Nazi leisure organisation Strength Through Joy.
The NPD has about 7,000 members and lawmakers sitting in regional parliaments, but none in the Bundestag.
Calling all HuffPost superfans!
Sign up for membership to become a founding member and help shape HuffPost's next chapter