After decades on the political fringe, Germany's far-right is set to enter parliament and could even be the main opposition party following the country's election this Sunday.
The anti-immigrant, anti-Islam Alternative for Germany party, or AfD, is currently polling at around 11 percent ahead of the vote. The party has seen a surge in recent week, despite being mired in political scandal and infighting throughout the year.
The AfD's potential success at the polls this weekend is a major shift for Germany, highlighting how deeply populist far-right movements have engrained themselves in European politics even as they fail to actually win elections.
This year has seen the collapse of the far-right narrative that a populist wave ― along the lines of the U.K.'s Brexit vote and the 2016 election of U.S. President Donald Trump ― would overtake European governments. Far-right candidates such as the Netherland's Geert Wilders and France's Marine Le Pen have instead fallen short in their respective elections, and the AfD is certain to be shut out of any potential coalition government.
But even as the majority of voters in European countries still oppose far-right candidates, many right wing populist parties have reached unprecedented levels of support. Around a third of French voters wanted Le Pen to be president, for instance, a tally that would have been unthinkable many years ago.
"We're still in an upward trend" for European populist parties, said Terri Givens, a professor at Menlo College and an expert on the radical right.
"This is the strongest we've seen any far-right party in [post-war] Germany."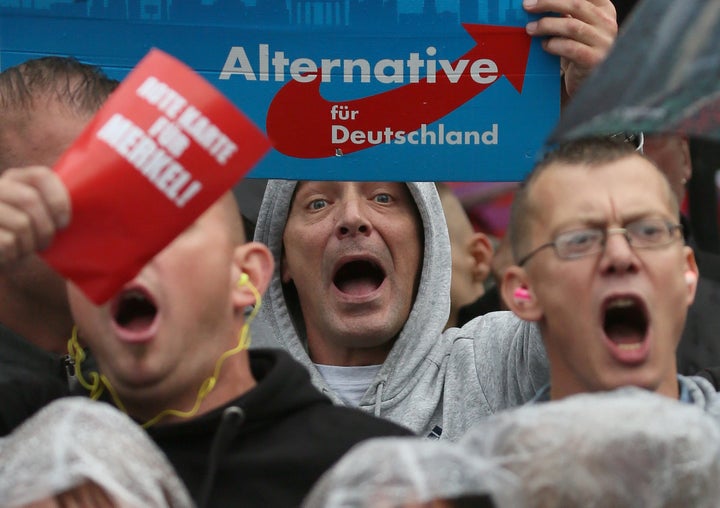 Even the moderate success of the AfD represents a fracture of Germany's political landscape. Since 1945, the country has essentially rejected far-right parties, in large part because of the devastating legacy of Nazism and the country's culture of acknowledging the atrocities committed under fascist rule.
But the AfD, which was founded in 2013 as an anti-eurozone party before shifting further to the right, has seen it's popularity grow in recent years as it plays to nationalist and anti-Islam sentiment. The effects on political debate in Germany have been destabilizing and brought once-taboo, radical views into the mainstream discourse.
AfD candidates have repeatedly challenged Germany's continued atonement for its past and still maintained popularity. Last week, one of the party's lead candidates, 76-year-old Alexander Gauland, said the country has the right to be proud of the "achievements" of its soldiers in both world wars.
Earlier in the year, regional leader Bjorn Hocke called for a "180 degree turnaround in our memory politics" and referred to Berlin's Holocaust memorial as a "monument to shame."
The AfD's extreme rhetoric has drawn widespread outrage from established parties, with German Foreign Minister Sigmar Gabriel comparing the party's candidates to Nazis ― a rare and serious accusation in German politics. Germany's parliament even changed a rule that the oldest member of the chamber gives an opening speech following the election, a move seen as a way to ensure that 77-year-old AfD candidate Wilhelm von Gottberg cannot hold the honor.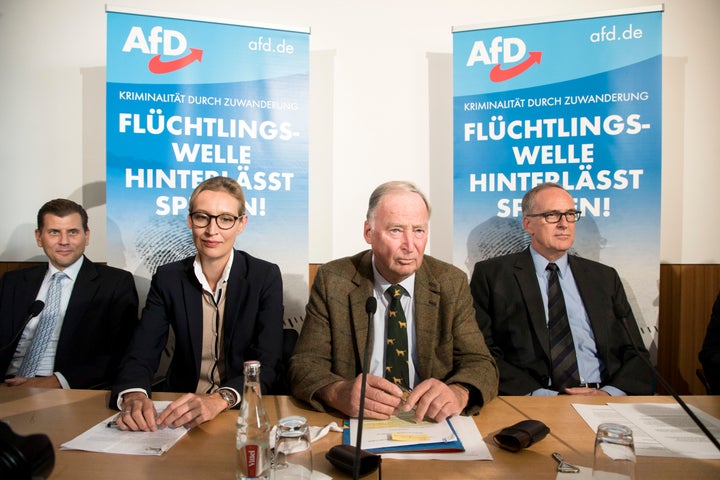 As the vote on Sunday approaches, the AfD has embraced some of its more extreme and Islamophobic talking points in a bid to stir up more support. The AfD held a press conference on Monday, in which Gauland and co-leader Alice Weidel claimed that Islam was incompatible with German democracy, called for increased border security to target migration and vowed to tighten rules around citizenship.
There is little chance that the AfD will be allowed to implement its policies, as German Chancellor Angela Merkel is expected to easily win her fourth term in office and form a coalition government that would exclude the far-right party. But the certainty around Merkel's reelection has potentially buoyed the AfD, with supporters voicing discontent with the continuation of the political status quo.
A large part of the AfD's rhetoric has also focused on attacking Merkel and her decision to let in hundreds of thousands of asylum-seekers during the height of Europe's refugee crisis in 2015. Although asylum numbers have dramatically fallen since then and support for Merkel remains strong, polls show issues around immigration, integration and refugees are still the top concern for voters in the election.
If the AfD lives up to polling predictions and manages to gain around 10 percent of the vote, it will have dozens of members in Germany's 703-seat parliament. The party would also find itself in a position familiar to other far-right parties in Europe, dragging policy and debate to the right while its position as an opposition party means it doesn't have to figure out how to implement its ideas.