BERLIN (AP) - Germany's president celebrated the country's new-found national pride but also stressed that more needs to be done to integrate Muslim and other immigrants as he marked the 20th anniversary of reunification on Sunday. (Scroll down for photos)
Germany's post-World War II division ended with reunification on Oct. 3, 1990 -- less than 11 months after communist East Germany opened the Berlin Wall amid pressure from massive demonstrations.
President Christian Wulff paid tribute to East Germans who protested against the regime, saying that "their courage impressed the world."
He said their chants of "we are one people" as communism crumbled awoke "a national feeling that was long buried, for understandable historical reasons" after the Nazi era.
"Now, a new self-confidence has grown in all of Germany, an uninhibited patriotism, an open commitment to our country, which is aware of its great responsibility for the past," Wulff said in a speech in the western city of Bremen, which hosted this year's main anniversary event.
Germans have become more comfortable with displays of patriotism in recent years -- illustrated notably by their enthusiastic flag-waving during the 2006 football World Cup, which Germany hosted.
But Wulff -- addressing an audience that included Chancellor Angela Merkel, the first leader of reunited Germany to grow up in the communist east -- made clear that there is still more to be done despite the achievements of the past 20 years.
Referring to a recent debate over difficulties in integrating immigrants, he said that Germany "must be open to those who come to us from all parts of the world -- Germany needs them."
Last month, Thilo Sarrazin, a board member at Germany's central bank, quit his post amid controversy over a book he wrote claiming that German society was being made "dumber" by Muslim immigrants. The book has become a best-seller.
Wulff said that there needs to be "greater consistency in applying rules and obligations."However, "because people with foreign roots are important to us, I don't want them to be hurt in what are necessary debates" about the successes and failures of integration, Wulff said. "We must not allow the cementing of prejudice and exclusion."
"We need a clear position: an understanding of Germany that isn't confined to a passport, a family history or a belief," he added. "There is no doubt that Christianity belongs to Germany; there is no doubt that Judaism belongs to Germany ... but Islam now also belongs to Germany."
Germany has long been home to a large Turkish community.
The president highlighted the contributions to Germany's swift reunification made by then-U.S. President George H. W. Bush and Soviet leader Mikhail Gorbachev, who spoke at another event in Frankfurt.
"I don't want to undervalue the role of politicians -- it was very big," Gorbachev said, the German news agency DAPD reported.
"But the people played the most important role here, or rather two different peoples," he added -- pointing to Germans' desire for reunification and Russians' readiness to accept it.Wulff's speech was preceded by a service at the St. Petri Cathedral in Bremen. The city-state hosted this year's event because it currently holds the rotating presidency of the German parliament's upper house.
Germany's parliament was holding a separate event in Berlin later Sunday to commemorate the anniversary, with former Chancellor Helmut Kohl among others expected to attend.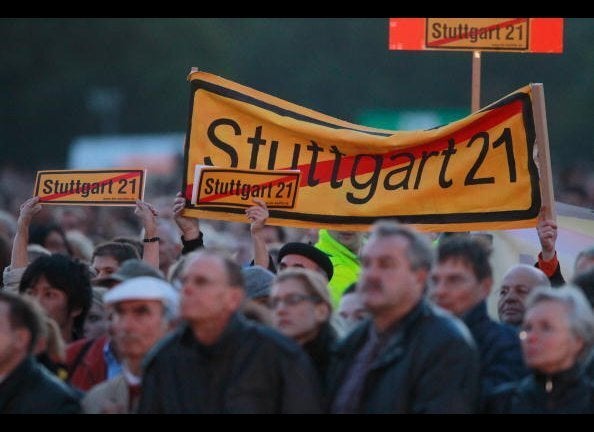 Germany Celebrates Reunification
Related
Popular in the Community