If you're searching for a place to get you in the mood for Christmas, look no further than Germany. With hundreds of Christmas markets (Weihnachtsmärkte), a mouth-watering selection of festive dishes, and perfect conditions for winter sports, you'll quickly fall in love with this enchanting destination. Christmas is a wonderful time to visit Germany--the locals embrace the season of goodwill by adorning the streets with colorful decorations and inviting visitors to sample the tasty local cuisine, as well as a glass or two of the famous Glühwein (mulled wine).
There are hundreds of Christmas markets all over Germany, which typically open at the end of November and run until Christmas Eve. Opening hours vary but the markets are open daily, usually from 10am until around 8pm or 9pm.
The markets have been a long-standing tradition and embrace many local customs. German Christmas carols are sung and small wooden huts are decorated with nutcrackers, glass baubles, candles and festive textiles. You can buy a variety of local handicrafts that demonstrate gifted local craftsmanship, such as wood carvings, tablecloths, children's toys and sheepskin winter clothing. As you walk down the street, the scent of cinnamon from freshly baked gingerbread biscuits fills the air, and it's impossible to resist the delicious German sausages roasting over an open fire. Germany at Christmas time is a magical place to be.
The weather in Germany can get cold so be sure to wrap up warm. Daytime temperatures in December average between 32°C and 40°C, but at night, temperatures often drop below freezing. The locals stay warm by wearing thick layers and drinking the hot drinks on offer at the street stalls.
If you book a few weeks in advance, you can find excellent flight deals from the UK with budget airlines such as easyJet, Ryanair and Monarch Airlines. Special winter promotions can be found on many hotel sites when staying three or more nights.
Top Christmas Markets
The Weihnachtsmärkte in Germany are world famous and every city, town and village has its own Christmas market with unique surprises such as miniature railways, medieval stalls, walk through advent calendars and circus performances. The larger cities in Germany typically have several different themed markets, whereas the smaller cities offer more intimate, charming markets, usually based around the old town market square.
November 30th-December 24th, 2012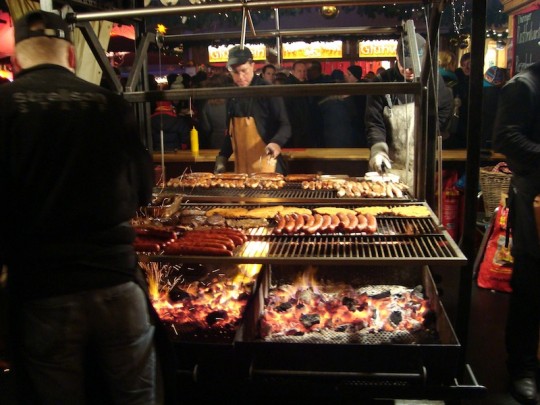 Germany's most famous Christmas Market is often referred to as the "Little Town from Wood and Clot," due to the 180 wooden market stalls decorated with red and white fabrics in the picturesque old town. The market is known as "Christkindlesmarkt" and attracts over 2 million visitors each year. Every two years, there is a tradition where a girl aged between 16 and 19 years old is chosen as the Nuremberg Christmas Angel (Christkind). She opens the market, spreads Christmas cheer around the town and visits charities and children's hospitals.
Nuremberg is often labelled as the prettiest Christmas market in Germany and each year there is a competition between stall owners to win the award for the most beautiful stall design. The market is famous for its Lebkuchen (spicy gingerbread cakes) and Nuremberg Bratwursts (small charcoal-grilled sausages) which are served with a portion of sauerkraut. Unusual souvenirs you can buy include "Nuremberg Plum People," (Zwetcshgenmännle) which are tiny statues made from prunes.
The Kinderweihnact is the children's market and offers attractions such as a Ferris wheel, steam train and carousel. There is an emphasis on quality at this market, and the Nuremberg Market Council have banned mass produced goods, taped music and plastic fir garlands. It is the place to come if you want to buy top quality goods in a quaint setting.
November 26th-December 31st, 2012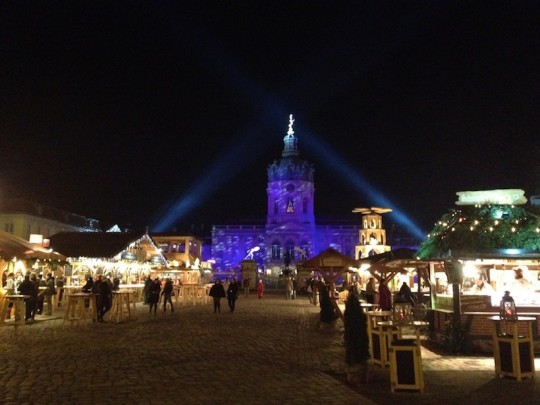 With over 50 Christmas markets each year, Germany's capital has the most extensive range of markets to visit. There is at least one market in each of the city's twelve districts, so you can be sure that there is something for everyone.
For an upscale market, you should go to The Gendarmenmarkt--a large Christmas market set in Berlin's most beautiful square. There is a small entry fee, but you'll find yourself in a world of live music, colorful market stalls and food stands from Berlin's top chefs.
You should also visit the Scandinavian influenced Lucia Christmas Market at the Kulturbrauerei where you can buy unique hand carved wooden goods and try out the heated capes when you feel cold. Berlin's largest market is in Altstadt Spandau, which has 200 stalls on weekdays and 400 at weekends. The market celebrates Advent every day and the nativity displays are unforgettable.
For a unique market, The Berlin Environmental and Christmas Market is the place to go. It showcases environmentally friendly handmade good such as bags, jewelery and household ornaments. Charlottenburg Market is a beautiful place to go in the evening. The market is set around a castle which is lit up by multicolored lights once it gets dark.
To launch yourself into a winter wonderland of ice skating and tobogganing, you should take a stroll to the Winter World at Potsdamer Platz, and for children's entertainment, Alexanderplatz market is full of rides and a petting zoo.
You can be sure to be involved in some serious market-hopping if you visit Berlin.
November 30th-December 24th, 2012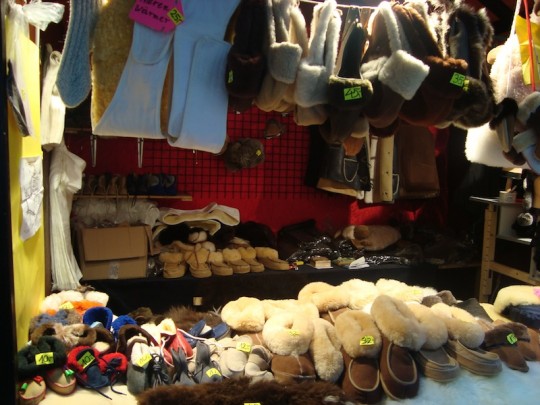 Bavaria's capital plays host to a historical Christkindlmarkt in the famous Marienplatz. The market has been open since the 17th century and Munich's cathedral provides the beautiful backdrop to this popular market in the heart of the old town. The market is a particularly good place to buy authentic Bavarian handicrafts such as wood carvings from Oberammergau, bees' wax candles and chimney sweep figures made from almonds and plums.
The market's focal point is a 30-meter Christmas tree lit by 2500 candles, and nearby, live Christmas concerts are played from the town hall's balcony at 5:30pm daily. Inside the town hall, children can get involved in arts, crafts and Christmas cookie baking.
To witness one of the largest Christmas manger markets in Germany, you should go to the Kripperlmarkt, where you can buy Christmas angels, animals, religious figures, lanterns and gifts from the three kings to make up your own unique nativity scene.
There are many unusual outdoor performances you can watch, including the Krampuslauf (Krampus Run), where St Nicholas' trolls run through the market in brightly colored costumes. Also, if you've got a sweet tooth, make sure you try the delicious local specialty, Honigkuchen (honey cake).
November 30th-December 24th, 2012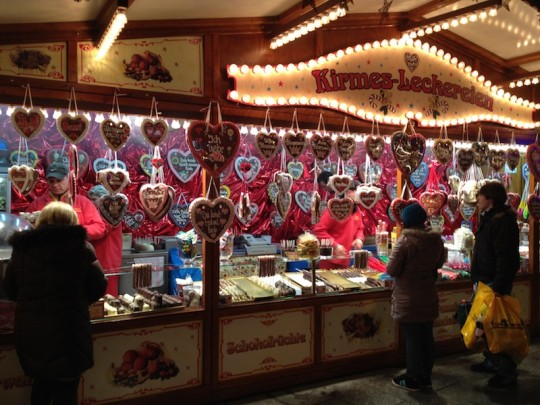 Dresden boasts Germany's oldest Christmas Market called "Striezelmarkt" which began in 1434 as a one day meat market, then eventually evolved to a magical Christmas market.
The Striezelmarkt was given its name because of the traditional Christmas cake, Striezel, which is more commonly known as Stollen. If you come to Dresden on December 8th, you'll witness the Stollen festival. This is a unique festival where a four-ton stollen makes its way to the city's baroque Altstadt (Old Town), lead by a procession of bakers and pastry chefs. The stollen is unveiled and weighed before being cut and sold by the Stollenmädchen (stollen girl).
Dresden has the world's tallest wooden Christmas pyramid - a 45 foot high wooden carousel with life-sized figurines and beautiful nativity scenes. You can climb this pyramid to witness beautiful views of the city and the famous Frauenkirche. As well as the pyramid, Dresden is home to the world's biggest nutcracker, so you'll never be short of things to see.
Dresden has many unique handcrafts that you won't find at other markets. You should go to the Münzgasse area to find products made from wood carvers of the Erzgebirge mountain villages, beautiful textiles and folk art from Lusatia, lace products from Plauen and blown glass from Lauscha.
Make sure you visit the beautiful market stalls in the stable yards at Residenzschloss (Dresden Castle) and to witness jugglers, musical performances and guild craftsmen, Dresden Royal Palace is the place to go.
November 29th-December 23rd, 2012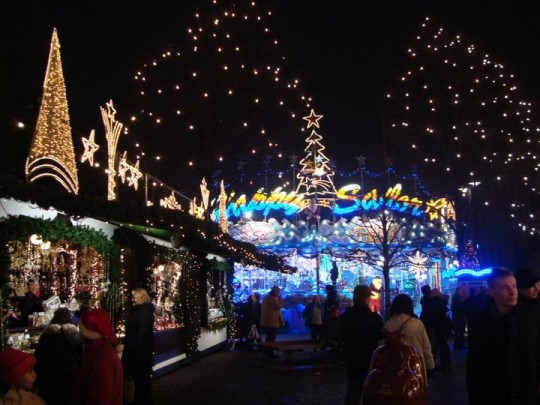 If you're looking for a romantic German city, Bremen is your perfect choice. Germany's oldest maritime city has plenty to charm you--there is a medieval market along the river Weser (The Schlachte Magic Christmas Market) with old fashioned taverns and people dressed in medieval clothing carving wood and performing demonstrations to passers-by. There is also a walk-through advent calendar on the maritime promenade, and each day a new surprise is revealed as a door is opened.
Dom St Petri (Cathedral of St Peter) is a highlight of the town square and it is over 1200 years old. Also on the square is the Rathaus (town hall) which has made it on to the UNESCO World Heritage List. The Rathaus is the backdrop to over 170 festive stalls providing everything from local foods, to traditional handicrafts to unique Christmas decorations.
Whilst you're in Bremen, you should take a stroll to The Schnoor District which is the oldest quarter of the city. Here you will find idyllic alleyways and tiny shops full of unique Christmas gifts.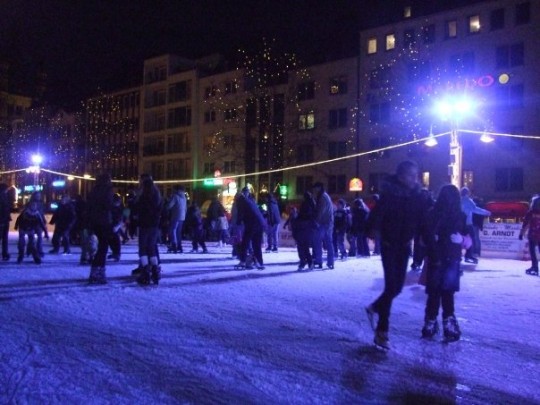 If you're a fan of winter sports, Germany provides the perfect backdrop for snow lovers. From The Black Forest to The Alps, there are plenty of places to get your snow fix. The ski season usually begins early to mid-December and lasts until March. Go to the Garmisch-Partenkirchen for 47 miles of downhill runs and 7 miles of cross country skiing with heights of up to 7000 feet. Germany's highest peak is the famous Zugspitze, which lies 1 hour 15 minutes south of Munich. It is almost 10,000 feet high and is usually open from the end of November with an annual winter festival showcasing unusual attractions such as hot air ballooning and horse and carriage racing.
Sample Local Food and Drink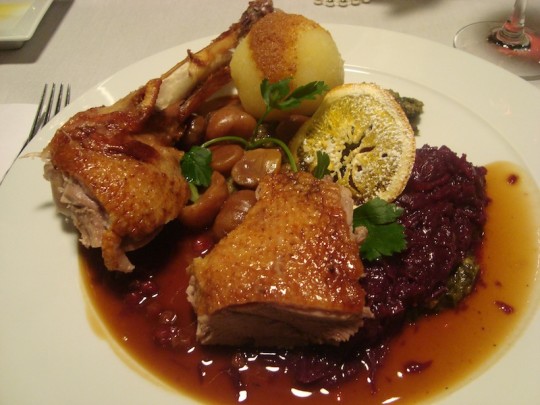 During the festive period, many traditional dishes such as roast goose, white sausage and suckling pig start appearing on local menus.
Be sure to sample Bratkartoffeln (fried potato with bacon and onion), Bratwurst (German sausage), Gans (roast goose), Kartoffelpuffer (potato pancakes served with apple), Lebkuchen (spicy gingerbread), Sauerkraut (fermented shredded cabbage), Schweinshaxe (roasted pork hock), Stollen (German Christmas cake) and Weisswurst (sausages with veal and bacon).
A visit to Germany wouldn't be the same without a visit to a traditional Bierkeller. Disappear down the steps of a dimly lit cellar and weave your way past huge barrels to sit down and enjoy the locally brewed beers. Whilst you're on the market, make sure you try some of the hot drinks on offer such as Eierpunsch (egg punch) and Glühwein. For children wanting to try a traditional drink, get them a glass of Kinderpunsch - a non-alcoholic punch made with tea, apple juice and honey.
Germany is an enchanting place during the festive season, so wrap up warm, grab a Glühwein and get ready to experience true German hospitality.
Photos courtesy of Alicia Drewnicki.
- Alicia Drewnicki for Viator