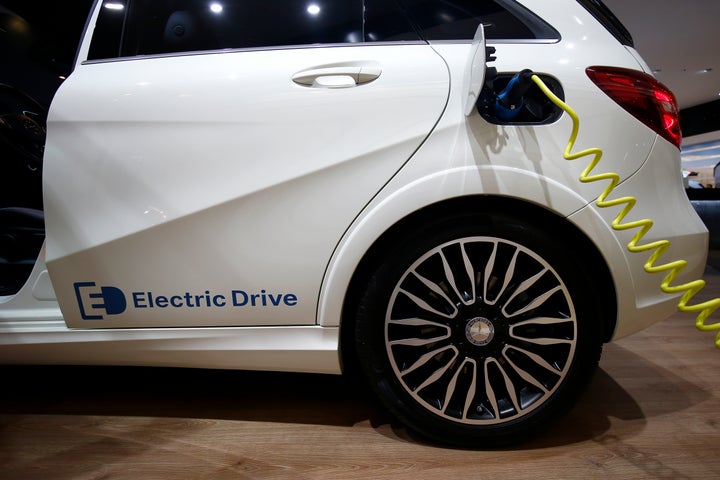 Germany currently lags behind many of its European neighbors when it comes to reducing carbon emissions. But some people in the country have proposals to help the country catch up -- without hurting its auto industry, which is one of the largest in the world. 
Member of Parliament Dieter Janecek, who belongs to the Green Party, told HuffPost Germany this week that he has a plan to ban gasoline- and diesel-powered vehicles by 2025.
"The federal government must have the courage to enforce changes in the transport sector, to set the pace for innovation and set a clear direction for the transportation market," Janecek said. 
One way to increase these numbers would be for the government to offer subsidies to people buying more environmentally friendly vehicles, according to a proposal by Green Party member MP Stephan Kühn. He recently asked parliament to apply a 5,000-euro subsidy for drivers interested in purchasing electric cars, and a 2,000-euro subsidy for those interested in buying hybrid vehicles, German news site The Local reported.
Janecek's vision could be considered rather radical for a country with an automobile industry that employs some 750,000 people. In 2014, the revenue of Germany's three largest carmakers -- Volkswagen, Daimler and BMW -- amounted to 413 billion euros, around 100 billion euros more than the country's federal budget. 
However, leaders in the automative market said earlier this year that Germany needs to boost demand for electric vehicles to maintain its dominance in the automative market.
The industry was rocked late last year when VW admitted to fitting diesel engines with software designed to cheat emission tests in the U.S. Negotiations between VW and the Environmental Protection Agency are ongoing, following the Justice Department's announcement that it was suing the company for violating U.S. environmental laws.  
If Germany does commit to an all-green car plan, it would be the largest European country to do so. It's currently behind such countries as Norway, Denmark and the Netherlands when it comes to converting to electric- and hydrogen-powered cars.
Norway already has set a transport goal that aims for all new cars purchased by 2025 to be 100 percent emission-free. All passenger automobiles, buses and commercial vehicles would be battery-powered or run on hydrogen fuel cell technology. As part of its plan, Norway heavily taxes regular cars and offers tax exemptions to green car owners. Last year, zero-emission cars made up 17.1 percent of the country's new car registrations -- the highest market share for green cars in the world.
The Netherlands also has a 2025 goal to convert entirely to green vehicles. The lower house recently supported the Dutch Labour Party's motion to ensure that all cars run on eco-friendly engines by the end of next decade, despite opposition from the more conservative People's Party for Freedom and Democracy. It is now up to the cabinet to formulate an action plan.
Germany also needs to develop a specific plan if it's really dedicated to complying with stringent climate protection provisions and reducing its carbon emissions.
Janecek said he wants to build hundreds of thousands of charging stations, which would be financed by new taxes on fuel. The tax would start at 2 percent of the fuel price, and increase at an annual rate of 2 percent until 2025, he explained.
Changing transportation policies would also benefit the German auto industry, he added.
"This is the only way we will remain the transportation industry world-market leader in the future, and secure long-term jobs," Janecek said. Every seventh job in Germany is connected to the auto industry.
If increasing incentives and charging areas won't win over drivers in Germany, Janecek said, maybe the "sheer driving pleasure" associated with electric cars will.
A version of this post originally appeared on HuffPost Germany and has been translated into English.
REAL LIFE. REAL NEWS. REAL VOICES.
Help us tell more of the stories that matter from voices that too often remain unheard.